Oscar 2014: todo lo bueno y lo malo del show
Ellen DeGeneres abrió la ceremonia 86 de los Premios Oscar como solo ella lo sabe hacer: con humor. ¿Qué se podía esperar?
"Ha estado lloviendo", fue el primer chiste de la noche de DeGeneres al hacer referencia a la lluvia que no cesa desde hace días en California. Y, por supuesto, enseguida dijo que no podía creer que Jennifer Lawrence se volviera a caer, ésta vez a la llegada a la alfombra roja. Y acertadamente dijo que lo ideal fuera que alguien subiera al escenario por ella para evitar una tercera caída.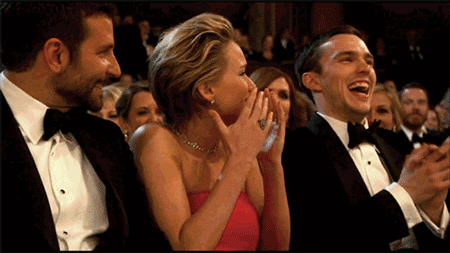 Y vino otro chiste de DeGeneres, un poquito más ácido:
"¿Quién tiene la posibilidad #1 de ganar la Mejor Película? Pues '12 Years A Slave' y ¿la posibilidad número 2?: 'Todos ustedes son unos racistas'", dijo DeGeneres.
Jared Leto se llevó el primer Oscar de la noche como Mejor Actor de Reparto con su magistral papel de Rayon en la película "Dallas Buyers Club". El actor se refirió al conflicto en Venezuela y Ucrania y el premio se lo dedicó a su madre y hermano y a los "a los 36 millones de personas que han perdido la batalla contra el SIDA".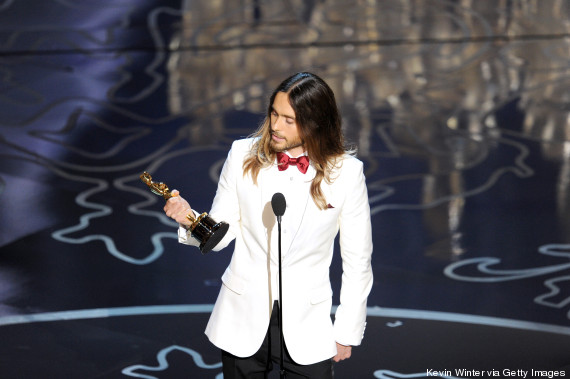 El primer musical de la noche estuvo a cargo de Pharrell Williams. Puso hasta Meryl Streep a bailar cuando cantó "Happy" de "Despicable Me 2".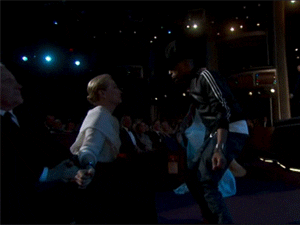 Pero también bailó con Lupita Nyong'o:
Y con Amy Adams:
La presentación al Mejor Vestuario estuvo a cargo de Samuel L. Jackson y Naomi Watts y se lo llevó Catherine Martin por "The Great Gatsby". "Dallas Buyers Club" lo logró en Mejor Maquillaje.
El Oscar en Mejor Corto Animado lo obtuvo "Mr Hublot", categoría presentada por Kim Novak y Matthew McConaughey. "Frozen" obtuvo su estatuilla como Mejor Película Animada.
"Gravity" tuvo su primera estatuilla con Mejores Efectos Visuales. Tim Webber, junto al resto del equipo [Chris Lawrence, David Shirk y Neil Corbould] tuvo especial agradecimiento para el director mexicano Alfonso Cuarón.
El segundo musical de la noche fue con Karen O, quien cantó '"The Moon Song'" de la cinta "Her".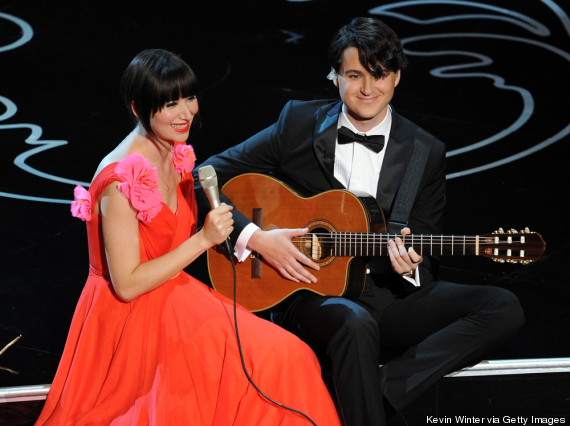 El director Paolo Sorrentino, de Italia, se adjudicó el premio como Mejor Película Extranjera con "The Great Beauty" y así se corona como el país que más estatuillas tiene en casa de la industria de Hollywood. Agradecimiento especial para Martin Scorsese.
Uno de los momentos más especiales de la noche fue cuando U2 se adueño del escenario con la voz inconfundible de Bono y su interpretación de "Ordinary Love" de la película: "Mandela: Long Walk to Freedom".
Pero uno de los momentos en que DeGeneres demostró que nadie como ella para romper libretos y ser original fue con la foto del selfie colectivo, que ya había prometido tomar durante la transmisión en vivo de los Oscar 2014. Primero la quería con Meryl Streep y le dijo a Julia Roberts, quien se encontraba detrás, que se uniera, y terminó un grupo de lo mejor de Hollywood -que sin lugar a dudas- es una de las fotos de la noche, o la foto de la noche.
The photo behind the photo @TheEllenShow #Oscars2014 pic.twitter.com/Ymc05hFZ5y

— MXPhotographer™ (@MXPhotographer) March 3, 2014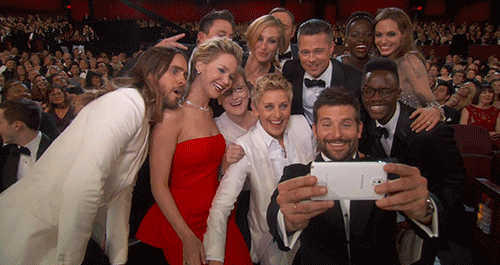 El segundo Oscar de la noche para "Gravity" fue gracias a Glenn Freemantle por "Mejor Edición de Sonido"; apenas Cuarón y su equipo se recuperaban de la emoción cuando vino el tercero por Mejor Mezcla de Sonido.
Y como muchos esperaban, deseaban, Lupita Nyong'o se adueñó de la forma más hermosa posible del Oscar por su genial interpretación como Mejor Actriz de Reparto en "12 Years A Slave". "Soy keniana y mexicana al mismo tiempo", dijo con emoción, con lágrimas que le cortaban su discurso de agradecimiento a la Academia. "No importa de dónde sean, sus sueños son válidos". Y llegó la esperada pizza que Ellen DeGeneres prometió porque estaba convencida que todos estaban hambrientos en la ceremonia de los Oscar. Literalmente repartió pizza en los Oscar.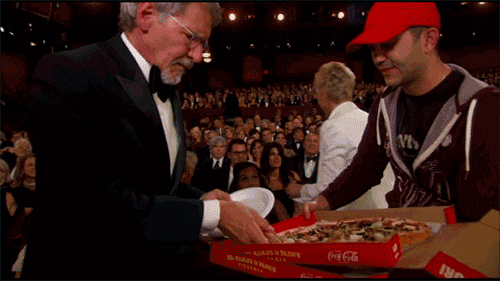 "Mejor Fotografía" fue para "Gravity". Emmanuel Lubezki emocionado recibió el cuarto premio de la película del director mexicano.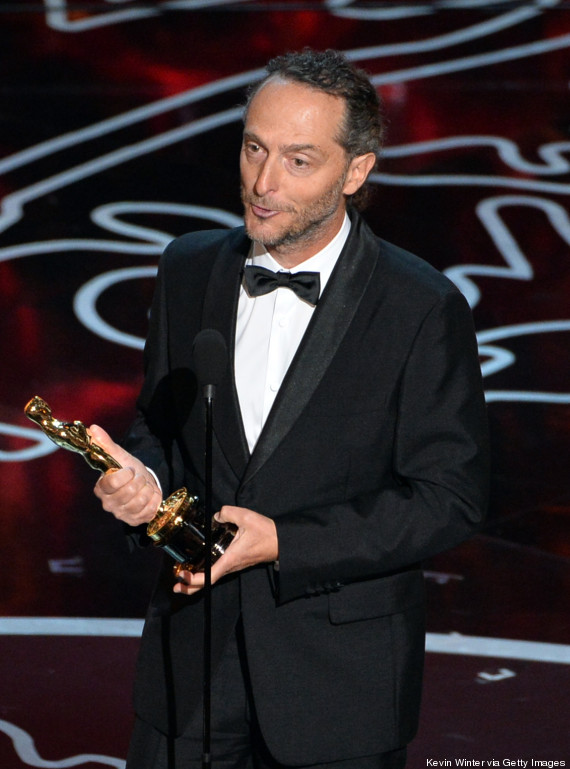 "Mejor Edición Fílmica" también fue para Alfonso Cuarón y Mark Sanger, quienes recogieron la estatuilla y, sin lugar a dudas, en este momento, ya era la película que se había robado la noche de los Oscar 2014.
Y no hubo mejor homenaje al 75 aniversario de un clásico como "El Mago de Oz" que la interpretación de Pink de "Over The Rainbow". ¡Genial!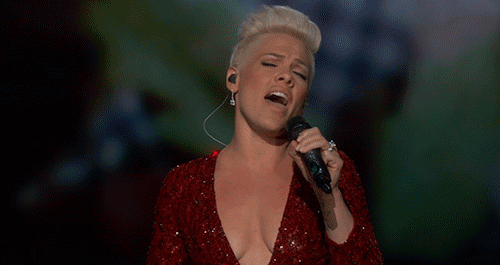 Y para el 2015, el zapato que deja DeGeneres es demasiado grande. ¿Qué nos dicen del vestuario al mejor estilo de "Glinda, la buena" de "El Mago de Oz" en su tercer cambio de ropa?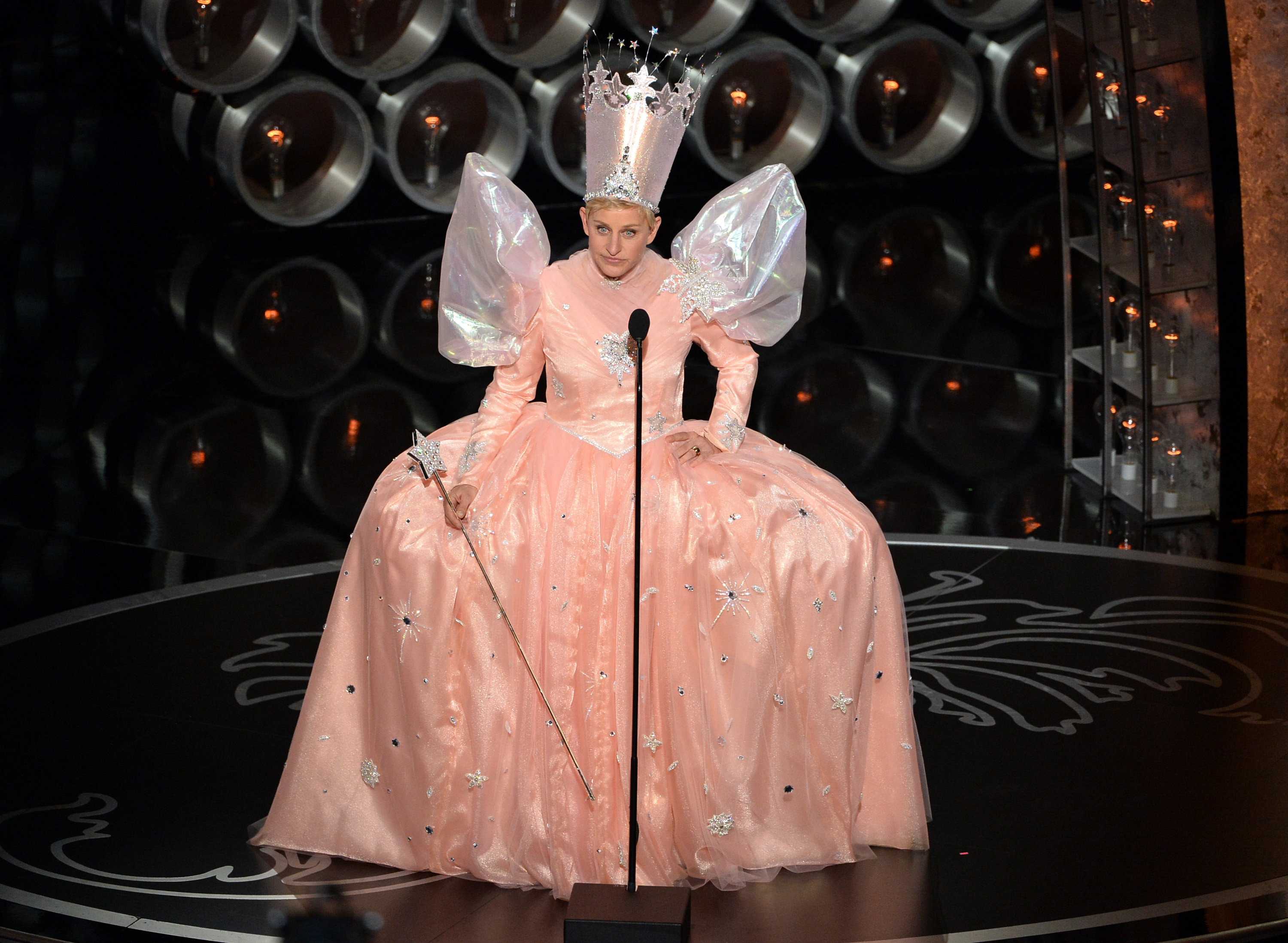 Glenn Close tuvo uno de los momentos más difíciles de la noche: El tributo a quienes murieron en el 2013. "Este año perdimos a muchos compañeros. Los amamos, los extrañamos y sobre todo, les agradecemos". La emoción y el recuerdo de quedó magistralmente plasmado con Bette Midler cantando "Wind Beneath My Wings". Todos de pie la aplaudieron. Ella emocionada. El memorial de los premios Oscar 2014 cerró con la imagen de Philip Seymour Hoffman.
Y a las 11:00 p.m (ET) la ya famosa foto del selfie de DeGeneres había superado el millón de retweets:
If only Bradley's arm was longer. Best photo ever. #oscars pic.twitter.com/C9U5NOtGap

— Ellen DeGeneres (@TheEllenShow) March 3, 2014
Otro premio para "Gravity" con "Mejor Banda Sonora". Steven Price le agradeció a un emocionado Alfonso Cuarón en la audiencia.
Un dueto divertido fue el de Robert Lopez y Kristen Anderson Lopez quienes se llevaron el Oscar por "Mejor Canción Original" con "Let It Go" de "Frozen".
Robert DeNiro y una guapísima Penélope Cruz entregaron la estatuilla a John Ridley por "Mejor Guión Adaptado" por "12 Years a Slave" y a Spike Jonze por "Mejor Guión Original" con "Her".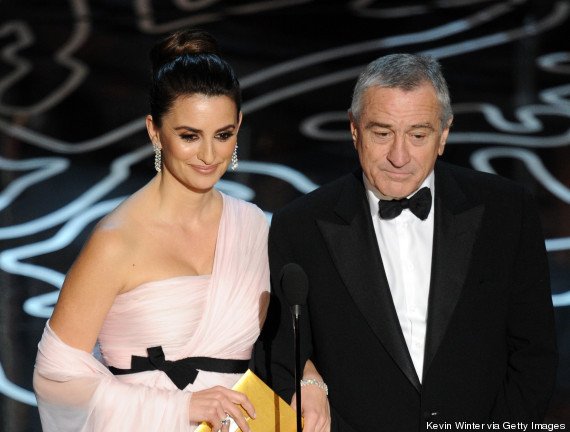 Otro momento único fue Sidney Poitier de la mano de Angelina Jolie para presentar la categoría de "Mejor Director". Un verdadero momento de Hollywood en todos los sentidos. Y el premio fue para Alfonso Cuarón, quien se convierte en el primer latinoamericano en llevarse un Oscar en la tan disputada categoría.
"Gracias. Gracias a la Academia. Fue una experiencia que nos transformó a todos los que estuvimos involucrados. Esta transformación para algunos fue sabiduría, para mí fue que el pelo se me puso con más canas", dijo con emoción, con informalidad Cuarón. Y su discurso, en particular, fue para Sandra Bullock. "Sandy, tú eres 'Gravity'".
Y no podía faltar el agradecimiento en español del director mexicano:
"Y esto es gracias a ti mamá, si estoy aquí es por ti, te amo".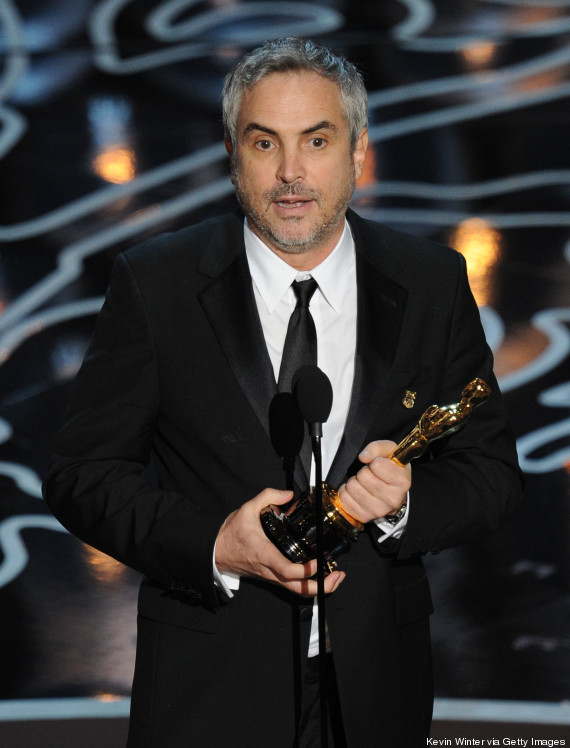 Cate Blanchett se coronó como la "Mejor Actriz" por su papel en "Blue Jasmine".
Matthew McConaughey como "Mejor Actor" con "Dallas Buyers Club". Beso memorable entre McConaughey y Leonardo DiCaprio, quien también estaba nominado por "The Wolf of Wall Street". Una de las categorías más difíciles de la noche en la que también competían Christian Bale con "American Hustle", Chiwetel Ejiofor con "12 Years A Slave" y Bruce Dern con "Nebraska".
La ganadora del premio mayor, el Oscar a la "Mejor Película", fue "12 Years of Slave", de Steve McQueen. Brad Pitt fue productor del filme y de esta manera logró su primer Oscar después de estar nominado en cinco oportunidades anteriores.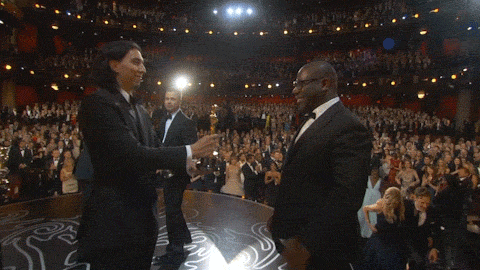 Premios Oscar 2014: La ceremonia
HOLLYWOOD, CA - MARCH 02: Actor/producer Brad Pitt (C) accepts the Best Picture award for '12 Years a Slave' with (back row) actors Benedict Cumberbatch, Lupita Nyong'o, Chiwetel Ejiofor, producers Dede Gardner, Jeremy Kleiner and Anthony Katagas onstage during the Oscars at the Dolby Theatre on March 2, 2014 in Hollywood, California. (Photo by Kevin Winter/Getty Images)

HOLLYWOOD, CA - MARCH 02: Actor Will Smith speaks onstage during the Oscars at the Dolby Theatre on March 2, 2014 in Hollywood, California. (Photo by Kevin Winter/Getty Images)

HOLLYWOOD, CA - MARCH 02: Actor Matthew McConaughey accepts the Best Performance by an Actor in a Leading Role award for 'Dallas Buyers Club' onstage during the Oscars at the Dolby Theatre on March 2, 2014 in Hollywood, California. (Photo by Kevin Winter/Getty Images)

HOLLYWOOD, CA - MARCH 02: Actress Jennifer Lawrence speaks onstage during the Oscars at the Dolby Theatre on March 2, 2014 in Hollywood, California. (Photo by Kevin Winter/Getty Images)

HOLLYWOOD, CA - MARCH 02: Actress Cate Blanchett accepts the Best Performance by an Actress in a Leading Role award for 'Blue Jasmine' onstage during the Oscars at the Dolby Theatre on March 2, 2014 in Hollywood, California. (Photo by Kevin Winter/Getty Images)

HOLLYWOOD, CA - MARCH 02: Actor Daniel Day-Lewis speaks onstage during the Oscars at the Dolby Theatre on March 2, 2014 in Hollywood, California. (Photo by Kevin Winter/Getty Images)

HOLLYWOOD, CA - MARCH 02: Director Alfonso Cuaron accepts the Best Achievement in Directing award for 'Gravity' onstage during the Oscars at the Dolby Theatre on March 2, 2014 in Hollywood, California. (Photo by Kevin Winter/Getty Images)

HOLLYWOOD, CA - MARCH 02: Actors Angelina Jolie (L) and Sidney Poitier walk onstage during the Oscars at the Dolby Theatre on March 2, 2014 in Hollywood, California. (Photo by Kevin Winter/Getty Images)

HOLLYWOOD, CA - MARCH 02: Actors Angelina Jolie (L) and Sidney Poitier walk onstage during the Oscars at the Dolby Theatre on March 2, 2014 in Hollywood, California. (Photo by Kevin Winter/Getty Images)

HOLLYWOOD, CA - MARCH 02: Screenwriter/director Spike Jonze accepts the Best Screenplay Written Directly for the Screen award for 'Her' onstage during the Oscars at the Dolby Theatre on March 2, 2014 in Hollywood, California. (Photo by Kevin Winter/Getty Images)

Actors Penelope Cruz (L) and Robert De Niro speak onstage during the Oscars at the Dolby Theatre on March 2, 2014 in Hollywood, California.

HOLLYWOOD, CA - MARCH 02: Actors Jamie Foxx (L) and Jessica Biel speak onstage during the Oscars at the Dolby Theatre on March 2, 2014 in Hollywood, California. (Photo by Kevin Winter/Getty Images)

HOLLYWOOD, CA - MARCH 02: Actress/singer Idina Menzel performs onstage during the Oscars at the Dolby Theatre on March 2, 2014 in Hollywood, California. (Photo by Kevin Winter/Getty Images)

HOLLYWOOD, CA - MARCH 02: Actor John Travolta speaks onstage during the Oscars at the Dolby Theatre on March 2, 2014 in Hollywood, California. (Photo by Kevin Winter/Getty Images)

HOLLYWOOD, CA - MARCH 02: Actress Goldie Hawn speaks onstage during the Oscars at the Dolby Theatre on March 2, 2014 in Hollywood, California. (Photo by Kevin Winter/Getty Images)

HOLLYWOOD, CA - MARCH 02: Actress/singer Bette Midler performs onstage during the Oscars at the Dolby Theatre on March 2, 2014 in Hollywood, California. (Photo by Kevin Winter/Getty Images)

HOLLYWOOD, CA - MARCH 02: Actress Glenn Close speaks onstage during the Oscars at the Dolby Theatre on March 2, 2014 in Hollywood, California. (Photo by Kevin Winter/Getty Images)

HOLLYWOOD, CA - MARCH 02: Host Ellen DeGeneres speaks onstage during the Oscars at the Dolby Theatre on March 2, 2014 in Hollywood, California. (Photo by Kevin Winter/Getty Images)

HOLLYWOOD, CA - MARCH 02: Actors Jennifer Garner and Benedict Cumberbatch speak onstage during the Oscars at the Dolby Theatre on March 2, 2014 in Hollywood, California. (Photo by Kevin Winter/Getty Images)

HOLLYWOOD, CA - MARCH 02: Singer Pink performs onstage during the Oscars at the Dolby Theatre on March 2, 2014 in Hollywood, California. (Photo by Kevin Winter/Getty Images)

HOLLYWOOD, CA - MARCH 02: TV personality/actress Whoopi Goldberg speaks onstage during the Oscars at the Dolby Theatre on March 2, 2014 in Hollywood, California. (Photo by Kevin Winter/Getty Images)

HOLLYWOOD, CA - MARCH 02: Director/editor Alfonso Cuaron (L) and editor Mark Sanger accept the Best Achievement in Editing award for 'Gravity' onstage during the Oscars at the Dolby Theatre on March 2, 2014 in Hollywood, California. (Photo by Kevin Winter/Getty Images)

HOLLYWOOD, CA - MARCH 02: Actresses Anna Kendrick (L) and Gabourey Sidibe speak onstage during the Oscars at the Dolby Theatre on March 2, 2014 in Hollywood, California. (Photo by Kevin Winter/Getty Images)

HOLLYWOOD, CA - MARCH 02: Cinematographer Emmanuel Lubezki accepts the Best Achievement in Cinematography award for 'Gravity' onstage during the Oscars at the Dolby Theatre on March 2, 2014 in Hollywood, California. (Photo by Kevin Winter/Getty Images)

HOLLYWOOD, CA - MARCH 02: Actors Amy Adams (L) and Bill Murray speak onstage during the Oscars at the Dolby Theatre on March 2, 2014 in Hollywood, California. (Photo by Kevin Winter/Getty Images)

HOLLYWOOD, CA - MARCH 02: Actress Lupita Nyong'o (L) accepts the Best Performance by an Actress in a Supporting Role award for '12 Years a Slave' from actor Christoph Waltz onstage during the Oscars at the Dolby Theatre on March 2, 2014 in Hollywood, California. (Photo by Kevin Winter/Getty Images)

HOLLYWOOD, CA - MARCH 02: Actor Christoph Waltz speaks onstage during the Oscars at the Dolby Theatre on March 2, 2014 in Hollywood, California. (Photo by Kevin Winter/Getty Images)

HOLLYWOOD, CA - MARCH 02: Actors Chris Hemsworth (L) and Charlize Theron speak onstage during the Oscars at the Dolby Theatre on March 2, 2014 in Hollywood, California. (Photo by Kevin Winter/Getty Images)

HOLLYWOOD, CA - MARCH 02: Singer Bono of U2 performs onstage during the Oscars at the Dolby Theatre on March 2, 2014 in Hollywood, California. (Photo by Kevin Winter/Getty Images)

HOLLYWOOD, CA - MARCH 02: (L-R) Musicians The Edge, Bono, Larry Mullen Jr., and Adam Clayton of U2 perform onstage during the Oscars at the Dolby Theatre on March 2, 2014 in Hollywood, California. (Photo by Kevin Winter/Getty Images)

HOLLYWOOD, CA - MARCH 02: Actor Brad Pitt speaks onstage during the Oscars at the Dolby Theatre on March 2, 2014 in Hollywood, California. (Photo by Kevin Winter/Getty Images)

HOLLYWOOD, CA - MARCH 02: Actors Ewan McGregor (L) and Viola Davis speak onstage during the Oscars at the Dolby Theatre on March 2, 2014 in Hollywood, California. (Photo by Kevin Winter/Getty Images)

HOLLYWOOD, CA - MARCH 02: Actor Kevin Spacey speaks onstage during the Oscars at the Dolby Theatre on March 2, 2014 in Hollywood, California. (Photo by Kevin Winter/Getty Images)

HOLLYWOOD, CA - MARCH 02: Actor Bradley Cooper speaks onstage during the Oscars at the Dolby Theatre on March 2, 2014 in Hollywood, California. (Photo by Kevin Winter/Getty Images)

HOLLYWOOD, CA - MARCH 02: Actors Kate Hudson and Jason Sudeikis speak onstage during the Oscars at the Dolby Theatre on March 2, 2014 in Hollywood, California. (Photo by Kevin Winter/Getty Images)

HOLLYWOOD, CA - MARCH 02: Singer Karen O and musician Ezra Koenig perform onstage during the Oscars at the Dolby Theatre on March 2, 2014 in Hollywood, California. (Photo by Kevin Winter/Getty Images)

HOLLYWOOD, CA - MARCH 02: Actor Zac Efron speaks onstage during the Oscars at the Dolby Theatre on March 2, 2014 in Hollywood, California. (Photo by Kevin Winter/Getty Images)

HOLLYWOOD, CA - MARCH 02: Actors Joseph Gordon-Levitt and Emma Watson speak onstage during the Oscars at the Dolby Theatre on March 2, 2014 in Hollywood, California. (Photo by Kevin Winter/Getty Images)

HOLLYWOOD, CA - MARCH 02: Actress Sally Field speaks onstage during the Oscars at the Dolby Theatre on March 2, 2014 in Hollywood, California. (Photo by Kevin Winter/Getty Images)

HOLLYWOOD, CA - MARCH 02: Actors Kim Novak (L) and Matthew McConaughey speak onstage during the Oscars at the Dolby Theatre on March 2, 2014 in Hollywood, California. (Photo by Kevin Winter/Getty Images)

HOLLYWOOD, CA - MARCH 02: Actor Channing Tatum speaks onstage during the Oscars at the Dolby Theatre on March 2, 2014 in Hollywood, California. (Photo by Kevin Winter/Getty Images)

HOLLYWOOD, CA - MARCH 02: Actor Harrison Ford speaks onstage during the Oscars at the Dolby Theatre on March 2, 2014 in Hollywood, California. (Photo by Kevin Winter/Getty Images)

HOLLYWOOD, CA - MARCH 02: Actors Naomi Watts and Samuel L. Jackson speak onstage during the Oscars at the Dolby Theatre on March 2, 2014 in Hollywood, California. (Photo by Kevin Winter/Getty Images)

HOLLYWOOD, CA - MARCH 02: Singer Pharrell Williams performs onstage during the Oscars at the Dolby Theatre on March 2, 2014 in Hollywood, California. (Photo by Kevin Winter/Getty Images)

HOLLYWOOD, CA - MARCH 02: Singer Pharrell Williams performs onstage during the Oscars at the Dolby Theatre on March 2, 2014 in Hollywood, California. (Photo by Kevin Winter/Getty Images)

HOLLYWOOD, CA - MARCH 02: Singer Pharrell Williams performs onstage during the Oscars at the Dolby Theatre on March 2, 2014 in Hollywood, California. (Photo by Kevin Winter/Getty Images)

HOLLYWOOD, CA - MARCH 02: Actress Kerry Washington speaks onstage during the Oscars at the Dolby Theatre on March 2, 2014 in Hollywood, California. (Photo by Kevin Winter/Getty Images)

HOLLYWOOD, CA - MARCH 02: Actor Jim Carrey speaks onstage during the Oscars at the Dolby Theatre on March 2, 2014 in Hollywood, California. (Photo by Kevin Winter/Getty Images)

HOLLYWOOD, CA - MARCH 02: Actor Jim Carrey speaks onstage during the Oscars at the Dolby Theatre on March 2, 2014 in Hollywood, California. (Photo by Kevin Winter/Getty Images)

HOLLYWOOD, CA - MARCH 02: Actor Jared Leto accepts the Best Performance by an Actor in a Supporting Role award for 'Dallas Buyers Club' onstage during the Oscars at the Dolby Theatre on March 2, 2014 in Hollywood, California. (Photo by Kevin Winter/Getty Images)

HOLLYWOOD, CA - MARCH 02: Actor Jared Leto (R) accepts the Best Performance by an Actor in a Supporting Role award for 'Dallas Buyers Club' from actress Anne Hathaway (L) onstage during the Oscars at the Dolby Theatre on March 2, 2014 in Hollywood, California. (Photo by Kevin Winter/Getty Images)

HOLLYWOOD, CA - MARCH 02: Actress Anne Hathaway speaks onstage during the Oscars at the Dolby Theatre on March 2, 2014 in Hollywood, California. (Photo by Kevin Winter/Getty Images)

HOLLYWOOD, CA - MARCH 02: Actress Anne Hathaway speaks onstage during the Oscars at the Dolby Theatre on March 2, 2014 in Hollywood, California. (Photo by Kevin Winter/Getty Images)

HOLLYWOOD, CA - MARCH 02: Host Ellen DeGeneres speaks onstage during the Oscars at the Dolby Theatre on March 2, 2014 in Hollywood, California. (Photo by Kevin Winter/Getty Images)

HOLLYWOOD, CA - MARCH 02: Host Ellen DeGeneres speaks onstage during the Oscars at the Dolby Theatre on March 2, 2014 in Hollywood, California. (Photo by Kevin Winter/Getty Images)

HOLLYWOOD, CA - MARCH 02: Host Ellen DeGeneres speaks onstage during the Oscars at the Dolby Theatre on March 2, 2014 in Hollywood, California. (Photo by Kevin Winter/Getty Images)

HOLLYWOOD, CA - MARCH 02: Host Ellen DeGeneres speaks onstage during the Oscars at the Dolby Theatre on March 2, 2014 in Hollywood, California. (Photo by Kevin Winter/Getty Images)

The giant statue of Oscar remains covered up before an illustration of US entertainer Ellen DeGeneres amid continuing preparations along Hollywood Boulevard on February 27, 2014 in Hollywood, California, for the 86th Academy Awards which takes place on Sunday, March 2. DeGeneres will be hosting the event. AFP PHOTO/Frederic J. BROWN (Photo credit should read FREDERIC J. BROWN/AFP/Getty Images)