Paul Walker: famosos reaccionan a su muerte (FOTOS)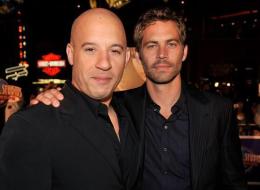 La repentina muerte de Paul Walker sorprendió al mundo, los famosos no fueron la excepción y muchos de sus amigos, colegas, compañeros o simplemente celebridades conmovidas reaccionaron a su fallecimiento.
Mira lo que tienen que decir los famosos sobre la muerte del protagonista de "Fast and The Furious" que falleció el sábado (30 de noviembre) en un accidente automovilístico cuando el auto deportivo en el que iba con un amigo perdió el control, se estrelló, explotó y se incendió. Descanse en paz Paul Walker.
Brother I will miss you very much. I am absolutely speechless.
Heaven has gained a new Angel. RIP. pic.twitter.com/leCBT0sZkG

— Vin Diesel (@OffVinDiesel) diciembre 1, 2013
My brother and I.....
We aimed for the stars together....and achieved more than we ever hoped we could with F&F pic.twitter.com/c57j1kqjio

— Vin Diesel (@OffVinDiesel) diciembre 1, 2013
RIP @RealPaulWalker your in a better place now papo now show the heavens who is fast and furious

— Pitbull (@Pitbull) diciembre 1, 2013
A very sad day indeed. R.I.P. Paul Walker. Our prayers are with you and your family.

— Zoe Saldana (@zoesaldana) diciembre 1, 2013
All my strength, love & faith to the Walker family during this heartbreaking time. We find our strength.. in his light. Love you brother.

— Dwayne Johnson (@TheRock) December 1, 2013
Thoughts and prayers tonight are with Paul Walker's friends and family, especially his little girl. So sad. Very heavy heart tonight.

— James Van Der Beek (@vanderjames) December 1, 2013
I just remember him as being so effortlessly golden. He had that way about him, that "thing"... #rippaulwalker #TeamPW

— James Van Der Beek (@vanderjames) December 1, 2013
So shocked and saddened to hear about the tragic loss of Paul Walker. My love to his family. http://t.co/J1n95Pw2fe - #TeamPW

— Ali Larter (@TheRealAliL) December 1, 2013
#RIPPaulWalker -he was a lovely person -so sweet and grounded. My heart goes out to his family. pic.twitter.com/w8Ep7AcKOZ

— Jessica Alba (@jessicaalba) December 1, 2013
I'm Heart broken Paul Walker, he was a mate of mine, very sad. My heart goes out to his daughter.

— Idris Elba (@idriselba) December 1, 2013
Paul was a good dude. Conscientious & not caught up in Hollywood. He knew there was more to life & lived like it.

Brother I will miss you very much. I am absolutely speechless.
Heaven has gained a new Angel. RIP. pic.twitter.com/leCBT0sZkG

— Vin Diesel (@OffVinDiesel) diciembre 1, 2013

My brother and I.....
We aimed for the stars together....and achieved more than we ever hoped we could with F&F pic.twitter.com/c57j1kqjio

— Vin Diesel (@OffVinDiesel) diciembre 1, 2013

Dicha Ludacris, otro de los actores que participaron en la saga afirmó a través de Instagram: "Tu espíritu humilde se notaba desde el primer momento, donde quiera que nos bendecías con tu presencia siempre dejabas huella. Éramos como hermanos y nuestros cumpleaños son solo con un día de diferencia, ahora siempre tienen un lugar en todos nuestros conrazones. El legado de @paulwalker vivirá para siempre. R.I.P.". El actor y rapero acompañó este mensaje con una fotografía de varias de las estrellas de la saga sentados rezando antes de comer.

"Mi corazón me duele tanto nadie puede hacerme creer que esto es real. Dios Padre te pido que me ilumines sobre esto porque yo simplemente no lo entiendo. Mi corazón duele, está roto y nadie me puede convencerme de que esto es real... Guerreros de oración por favor recen con todas sus ganas por su hija y su familia... HeartOfAnAngel13YrsFamilyForever. Dios mío... Dios mío... No puedo creer que esté escribiendo esto".

RIP @RealPaulWalker your in a better place now papo now show the heavens who is fast and furious

— Pitbull (@Pitbull) diciembre 1, 2013

A very sad day indeed. R.I.P. Paul Walker. Our prayers are with you and your family.

— Zoe Saldana (@zoesaldana) diciembre 1, 2013

RIP Paul Walker.. Eerie that the star of The Fast & The Furious died in a car accident.. God Bless his daughter

— Mario Lopez (@MarioLopezExtra) diciembre 1, 2013

Nice to know you brotha.

— Ryan Phillippe (@RyanPhillippe) December 1, 2013
Had the pleasure of meeting Paul when we worked together on Flags Of Our Fathers. My thoughts are with his family & friends. #RIP

— Jamie Bell (@1jamiebell) December 1, 2013
Paul was a truly good person in a town of questionable characters.
..A real life tragedy if there ever was one.

— Rachael Leigh Cook (@RachaelLCook) December 1, 2013
Paul Walker. No.

— matthew lillard (@MatthewLillard) December 1, 2013
Paul Walker

jpistudios.com

Paul Walker

jpistudios.com

Paul Walker

jpistudios.com

Paul Walker

jpistudios.com

Paul Walker

jpistudios.com

Paul Walker junto a Vin Diesel

AP

Paul Walker

AP

Paul Walker

AP

Paul Walker

AP

Paul Walker

AP

Así quedó el Porsche donde viajaba

AP

Explotó y se incendió

AP

La policía trabajando en el lugar del hecho

AP