IMPACTANTE: Rey Ricardo III tenía lombrices intestinales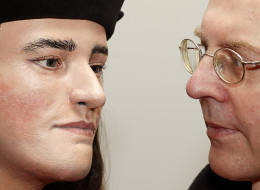 Y hasta la realeza tiene lombrices. Expertos universitarios concluyeron que el rey inglés Ricardo III tenía lombrices intestinales.
El pasado año, los restos mortales de Ricardo III, quien gobernó de 1452 a 1485, fueron encontrados en Leicester, en el centro de Inglaterra.
Ahora los expertos universitarios aseguran por estudios practicados en los restos del esqueleto de Ricardo III que éste padecía de una infección intestinal a causa de los parásitos.
Y MIENTRAS UNOS TIENEN LOMBRICES, OTROS SE TRAGAN UNA LOMBRIZ SOLITARIA
Human remains found in an excavation of the ruins of the Medieval Grey Friars church were later confirmed to belong to King Richard III, the 15th-century English monarch.

Richard III's skeleton.

A penetrating injury to the top of the head.

The skull has been shaved off by a sharp blade, exposing spongy bone beneath.

Penetrating injury to the skull.

Lower jaw showing cut mark below teeth.

A hole left by the largest skull wound exposes flaps of bone associated with the puncture wound at the top of the skull.

A blade wound to the pelvis.

A wound to the cheek, possibly caused by a dagger.

Two potentially fatal injuries at the base of the skull. In the lower right, a section of skull has been sliced off.

Skull, after excavation.

Skeleton, after excavation.

Spine, showing curvature.

Two vertebrae showing abnormal features related to scoliosis.

A cut mark on the right rib.

Skeleton, with scale.

Skeleton, with scale.

A 14th-century inlaid floor tile from the church of the Grey Friars.

Michael Ibsen (genetic descendant of Richard III) swabs his cheek for DNA with geneticist Dr. Turi King.

University of Leicester staff remove tarmac from the parking lot above the ruins of the church.

University of Leicester staff member inspects the excavation.

Letter made from copper alloy, possibly from a tomb inscription.

Medieval silver penny found at the site.

This 1864 engraving depicts Richard III (center) at the Battle of Bosworth Field, where the king was defeated and killed.

This posthumous portrait, created in the 16th century, depicts the King.