La Voz Kids ya tiene a sus finalistas: comienzan los shows (VIDEO Y FOTOS)
"La Voz Kids" ya terminó la última ronda de batallas y la presión fue la nota dominante del concurso donde los coaches, Paulina Rubio, Prince Royce y Roberto Tapia, tuvieron que elegir con mucho dolor a los últimos seis concursantes que les representaran en los Shows en Vivo este próximo domingo.

En la primera batalla de la noche, el #TeamRoyce comenzó con mucha fuerza con su trío mexicano con la canción "Cielito Lindo". Hurielzu de 12 años, Brian de 11 años ambos de California y Antonio de 7 años de Mexicali arrancaron de Roberto Tapia, palabras de orgullo mexicano por verlos representar su género.
Prince Royce les felicitó por hacer la presentación perfecta y eligió a Hurielzu como la ganadora, aunque Antonio, el más chiquito le partió el corazón al despedirse cuando le dijo "Gracias por entrenarme para ser una mejor persona".
En la segunda actuación del equipo, Paola de 11 años, Lisbet de 14 años ambas de Florida y Eloy de 14 años de Colorado, dejaron a todos con la boca abierta con la canción "Part of me" siendo muy difícil para Royce elegir el ganador porque todos llegaron a su meta, pero al final ganó Paola. "Me quedé con la mejor voz pero perdí a dos de los mejores alumnos", dijo Prince Royce completando su equipo de seis participantes en total.

#TeamRubio tuvo también que elegir la mejor voz y hasta pedir ayuda de los otros coaches en su primera presentación con Kemily de 13 años, Nicole de 11 años ambas de Florida y Montserrat de 12 años de California, con la canción "Without you".
Al final Paulina, dándoles la enhorabuena por superar lo que habían trabajado en los ensayos, eligió a Kemily como la ganadora de la batalla. "Es una muy buena candidata para ganar 'La Voz Kids', esta noche ha sido muy importante y decisiva para su carrera", dijo Pau.

Paulina culminó su noche de actuaciones con la canción "Vivir lo nuestro", con el trio de Stephanie de 14 años de California, Adam de 12 años e Iris de 14 años, ambos de Tejas. Después de oír los comentarios de los otros coaches, que se inclinaban por Adam, lo nombró por fin ganador de la batalla y dijo emocionada, "Ustedes me han enseñado más de lo que yo he podido enseñarles a ustedes, aquí no va a ver un fracaso, las puertas se van a abrir para los tres". Paulina ya tiene las seis voces de su dream team y está lista para los Shows en Vivo.

#TeamTapia venía con todo para las batallas con las mejores voces de su equipo con la canción en inglés "Somebody That I Used to Know" que le dio mucha dificultad a Eric de 13 años de Puerto Rico, que no habla el inglés, en comparación a sus compañeras Martha de 12 años de Tejas y Ariana de 10 años de Florida. "Me encantó", dijo Roberto muy orgulloso cuando terminó la batalla.
"Eric lo hiciste muy bien a pesar de no ser tu idioma. Recuerden que la unión hace la fuerza. Ariana, tienes una voz tan dulce, trasmites mucha paz y armonía, enamoras con tu voz. Martha, tienes una seguridad increíble y te desenvuelves muy bien en el escenario", dijo Roberto eligiendo a Martha como ganadora.
La última actuación de la noche vino con mucha fuerza con el #TeamTapia. "Tengo una tarea muy complicada, puse las tres mejores voces juntas y ahora me aguanto". Johana de 12 años y Gabriela de 13 años de California, junto a Alan de 14 años de Arizona, dieron todo un espectáculo de emoción con la canción "Bésame" dejando tanto a los otros coaches como el público impresionados con la presentación.
"Eso es para que sepan cómo anda el #TeamTapia", haciendo que Paulina se quitara el sombrero y a Prince Royce le motivara a seguir cantando al ver la actuación de estos pequeños. Roberto eligió a Alan, como el ganador de la batalla, no sin antes mencionar: "Pase lo que pase, me gustaría ser parte de su trayectoria en lo que yo pueda ayudarles. Nos enamoró a todos la voz de Alan, lo hizo increíble". Con este último concursante Roberto Tapia tiene ya a sus seis gallos de oro listos para ganar en la siguiente etapa final de los Shows en Vivo.
Los equipos ya están formados con 6 integrantes cada uno que pasarán a la etapa de los "Shows en Vivo", que empezarán éste domingo 7 de julio y durarán todo el mes de julio a las 8/7 PM Centro por Telemundo.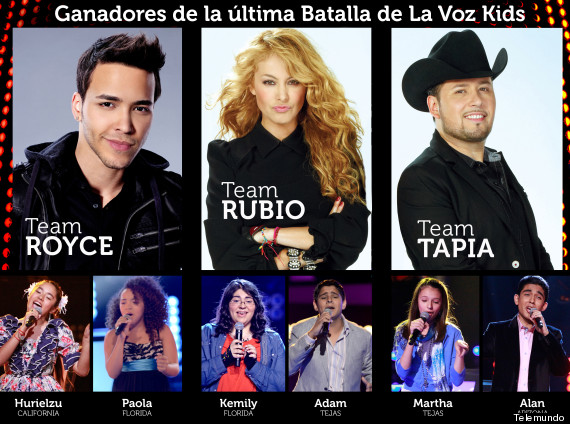 LOS FINALISTAS DE CADA EQUIPO:
TEAM ROYCE
Angela Rodriguez (Florida), Amanda Pineda( Puerto Rico), Geoffrey de la Cruz (Nueva Jersey), Sean Oliu (California), Hurielzu Larios ( California), Paola Guanche( Florida)
TEAM RUBIO
Alondra Santos (California), Alanis Gonzalez (Florida), Kim Lozano (Miami), Jennifer Ruby ( Puerto Rico), Kemily Corrales (Florida), Adam Diaz (Tejas)
TEAM TAPIA
Emily Sanchez (Illinois), Brian Torres ( California), Hugo Ramos(California), Jeidimar Rijos (Puerto Rico), Martha Llama (Tejas), Alan Ponce (Arizona)
NEW YORK, NY - FEBRUARY 05: Daisy Fuentes attends the John Varvatos Celebration of The New JohnVarvatos.com on February 5, 2013 in New York, United States. (Photo by Dimitrios Kambouris/Getty Images for John Varvatos)

NEW YORK, NY - FEBRUARY 05: Daisy Fuentes poses for a picture as she Celebrates The New JohnVarvatos.com on February 5, 2013 in New York City. (Photo by Mike Coppola/Getty Images for John Varvatos)

FILE - This Oct. 20, 2012 file photo shows actress and businesswoman Daisy Fuentes at The Carousel of Hope at The Beverly Hilton Hotel in Beverly Hills. Fuentes narrates a "EMPUJE", a new series that debuts Sunday, Nov.11, on channel Tr3s which follows three young Latinos who in order to improve their general health and physical condition who receive counseling from famous athletes. (Photo by Jordan Strauss/Invision/AP, file)

Daisy Fuentes The 26th Carousel Of Hope Gala To Benefit The Barbara Davis Center For Childhood Diabetes The Beverly Hilton Hotel Beverly Hills, CA 10/20/12 © Jill Johnson/jpistudios.com 310-657-9661

LOS ANGELES, CA - SEPTEMBER 15: Actress Daisy Fuentes arrives at The Eva Longoria Foundation's Pre-ALMA Awards Dinner Presented By Target on September 15, 2012 in Los Angeles, California. (Photo by Valerie Macon/Getty Images)

Jorge Bernal Telemundo International NATPE VIP Party at Bamboo Miami, Florida January 28, 2013 1/28/13 © Orlando Garcia/jpistudios.com 310-657-9661

Jorge Bernal Telemundo International NATPE VIP Party at Bamboo Miami, Florida January 28, 2013 1/28/13 © Orlando Garcia/jpistudios.com 310-657-9661

Jorge Bernal Tu Mundo Premios Arrivals Fillmore Miami Beach at the Jackie Gleason Theatre Miami Beach, FL 08/30/2012 © Argoimages/jpistudios.com 310-657-9661

Jorge Bernal El Rostro de la Venganza VIP Premire at the Four Seasons Hotel Miami,FL. 07/24/12?© Argoimages/jpistudios.com?310-657-9661

MIAMI, FL - APRIL 26: Jorge Bernal arrives at the Billboard Latin Music Awards 2012 at Bank United Center on April 26, 2012 in Miami, Florida. (Photo by Rodrigo Varela/Getty Images)

Jorge Bernal Telemundo Celebrates NAPTE 2012 Miami Beach, FL 01/23/2012 © Argoimages/jpistudios.com 310-657-9661

Jorge Bernal, Karla Birdbragher People en Espanol Las Estrellas del Ano Party Red Carpet MIAMI, Fl 12/08/11 © Alberto Tamargo/jpistudios.com 310-657-9661

Jorge Bernal People en Espanol Las Estrellas del Ano Party Red Carpet MIAMI, Fl 12/08/11 © Alberto Tamargo/jpistudios.com 310-657-9661

Jorge Bernal and Jessie Camacho 2011 Billboard Mexican Music Awards Presented by State Farm and produced by Telemundo, held at TheOrpheum Theater in Downtown Los Angeles, CA 10/20/2011 © Jill Johnson/jpistudios.com 310-657-9661

Dalia Fernandez, Jorge Bernal Jencarlos Canela New Single "Baila Baila" Behind the Scenes Filming and Press Conference MIAMI, FL 08/09/11 © Alberto Tamargo/jpistudios.com 310-657-9661

Jorge Bernal Amigos for Kids' 2011 ING Celebrity Domino Night Jungle Island Miami, FL 6/18/11 © Argoimages/jpistudios.com 310-657-9661

Jorge Bernal, Pitbull Women of Tomorrow Mentor & Scholarship Program 10th Annual Gala at the Mandarin Hotel in Miami Mandarin Hotel Miami, FL 03/19/11 © Argoimages/jpistudios.com 310-657-9661

Jorge Bernal, Karla Birbragher Women of Tomorrow Mentor & Scholarship Program 10th Annual Gala at the Mandarin Hotel in Miami Mandarin Hotel Miami, FL 03/19/11 © Argoimages/jpistudios.com 310-657-9661

La estrella pop Paulina Rubio hace un corazón con la mano en una conferencia de prensa en la Ciudad de México en una fotografía de archivo del 21 de agosto de 2012. Rubio será una de los tres coaches del nuevo programa estadounidense "La Voz Kids", anunció la cadena Telemundo el lunes 18 de marzo de 2013. La cantante mexicana fue coach de "La Voz...México" y comenzó su carrera cuando era niña, como los futuros participantes de "La Voz Kids". (Foto AP/Eduardo Verdugo, archivo)

FILE - In this May 5, 2012 file photo, Paulina Rubio performs at the New Orleans Jazz and Heritage Festival in New Orleans. (AP Photo/Gerald Herbert, File)

LOS ANGELES, CA - AUGUST 25: Singer Paulina Rubio performs her hit song 'Mio' onstage during Univision Radios H2O Music Festival sponsored by MiO at Los Angeles State Historic Park on August 25, 2012 in Los Angeles, California. (Photo by Christopher Polk/Getty Images for MiO)

Mexico's pop star and coach Paulina Rubio speaks at a press conference promoting the second season of reality show, "La Voz Mexico" in Mexico City, Tuesday, Aug. 21, 2012. (AP Photo/Eduardo Verdugo)

Coaches for the reality show, "La Voz Mexico," from left; Spanish singer Miguel Bose, Mexico's pop star Paulina Rubio, and former singer of the Chilean band La Ley, Beto Cuevas, smile as Mexican singer Jenni Rivera, using her cane as a makeshift pool stick, demostrates how she plans to intimidate her fellow coaches, at a press conference promoting the second season of the reality show music show, in Mexico City, Tuesday, Aug. 21, 2012. (AP Photo/Eduardo Verdugo)

This Thursday, Aug. 9, 2012 photo released by Starpix shows Mexican singer Paulina Rubio Zumba performs at the 2012 Zumbathoon Fitness Concert on the first day of the 2012 Zumba Instructor Convention at the Orange County Convention Center in Orlando, Fla. The concert was held for the thousands of attendees to raise money for breast cancer for Zumba's Annual Party in Pink Campaign. Zumba is a Latin-inspired dance fitness program created by Alberto "Beto" Perez. Thousands of instructors from around the world are attending the convention through Sunday. (AP Photo/Starpix, Marion Curtis)

FILE - In this April 16, 2012 file photo, Mexico's pop star Paulina Rubio flashes the hand heart symbol at a photo call in Mexico City. Rubio's trial for alleged breach of contract after failing to show up for a concert in Colombia in 2010 has been postponed until November. (AP Photo/Eduardo Verdugo, File)

Paulina Rubio performs at the New Orleans Jazz and Heritage Festival in New Orleans, Saturday, May 5, 2012. (AP Photo/Gerald Herbert)

Mexico's pop star Paulina Rubio blows a kiss during a news conference promoting her newest album, "Brava!" in Mexico City, Monday Nov. 14, 2011. (AP Photo/Eduardo Verdugo)

Mexico's pop star Paulina Rubio flashes the hand heart symbol during a news conference promoting her newest album, "Brava!" in Mexico City on Monday Nov. 14, 2011. (AP Photo/Eduardo Verdugo)

Paulina Rubio 12th annual Latin GRAMMY Awards - Arrivals at the Mandalay Bay Resort & Casino on November 10, 2011 in Las Vegas, Nevada. 11/10/2011 © Argoimages/jpistudios.com 310-657-9661

Paulina Rubio 2011 Latin Recording Academy Person of the Year Mandalay Bay Hotel and Casino Las Vegas, NV 11-9-11 © Argoimages/jpistudios.com 310-657-9661

Paulina Rubio 2011 Latin Recording Academy Person of the Year Mandalay Bay Hotel and Casino Las Vegas, NV 11-9-11 © Argoimages/jpistudios.com 310-657-9661

Paulina Rubio poses backstage at the 12th Annual Latin Grammy Awards on Thursday Nov. 10, 2011 in Las Vegas. (AP Photo/Chris Pizzello)

En esta foto de archivo del 26 de abril del 2012, Prince Royce acepta un Premio Billboard a la Música Latina en Coral Gables, Florida. El cantante y compositor de origen dominicano será "coach" en la competencia de canto "La Voz Kids", que comenzará a transmitirse próximamente en Estados Unidos por Telemundo. (AP Foto/Lynne Sladky, Archivo)

FILE - This April 26, 2012 file photo shows Prince Royce speaking during the Latin Billboard Awards in Coral Gables, Fla. Royce will be a judge on the singing competition series "La Voz Kids." (AP Photo/Lynne Sladky, file)

Thalía posa con Prince Royce el lunes 18 de marzo del 2013 en Nueva York. Prince Royce colaboró con el tema "Te perdiste mi amor" en el nuevo álbum de Thalía, "Habítame siempre". La estrella mexicana inicia este fin de semana su primera gira musical en una década. (AP Foto/Seth Wenig)

Prince Royce 2013 Premio Lo Nuestro a La Musica Latina Awards - Pressroom American Airlines Arena Miami, Fl 2/21/13 © Orlando Garcia/jpistudios.com 310-657-9661

Prince Royce 2013 Premio Lo Nuestro a La Musica Latina Awards - Pressroom American Airlines Arena Miami, Fl 2/21/13 © Orlando Garcia/jpistudios.com 310-657-9661

Prince Royce 2013 Premio Lo Nuestro a La Musica Latina Awards American Airlines Arena Miami, Fl 2/21/13 © Orlando Garcia/jpistudios.com 310-657-9661

MIAMI, FL - FEBRUARY 21: Prince Royce arrives at the 25th Anniversary Of Univision's 'Premio Lo Nuestro A La Musica Latina' on February 21, 2013 in Miami, Florida. (Photo by Gustavo Caballero/Getty Images for Univision)

WASHINGTON, DC - JANUARY 20: Singer-songwriter Prince Royce attends Latino Inaugural 2013: In Performance at Kennedy Center at The Kennedy Center on January 20, 2013 in Washington, DC. (Photo by Rick Diamond/Getty Images for Latino Inaugural 2013)

WASHINGTON, DC - JANUARY 20: Singer-songwriter Prince Royce attends Latino Inaugural 2013: In Performance at Kennedy Center at The Kennedy Center on January 20, 2013 in Washington, DC. (Photo by Rick Diamond/Getty Images for Latino Inaugural 2013)

NEW YORK, NY - SEPTEMBER 28: Singer Prince Royce performs at Radio City Music Hall on September 28, 2012 in New York City. (Photo by Mike Coppola/Getty Images)

NEW YORK, NY - SEPTEMBER 28: Singer Prince Royce performs at Radio City Music Hall on September 28, 2012 in New York City. (Photo by Mike Coppola/Getty Images)

NEW YORK, NY - SEPTEMBER 28: Singer Prince Royce performs at Radio City Music Hall on September 28, 2012 in New York City. (Photo by Mike Coppola/Getty Images)

Roberto Tapia durante una entrevista en Los Angeles el 28 de septiembre del 2010. El cantante de música regional mexicana será "coach" de "The Voice Kids" de Telemundo, anunció la cadena el lunes 25 de marzo del 2013. (AP Foto/Richard Vogel, Archivo)

Roberto Tapia Tu Mundo Premios Show Fillmore Miami Beach at the Jackie Gleason Theatre Miami Beach, FL 08/30/2012 © Argoimages/jpistudios.com 310-657-9661

Roberto Tapia Tu Mundo Premios Show Fillmore Miami Beach at the Jackie Gleason Theatre Miami Beach, FL 08/30/2012 © Argoimages/jpistudios.com 310-657-9661

Roberto Tapia Tu Mundo Premios Arrivals Fillmore Miami Beach at the Jackie Gleason Theatre Miami Beach, FL 08/30/2012 © Argoimages/jpistudios.com 310-657-9661

Roberto Tapia 2011 Billboard Mexican Music Awards Presented by State Farm and produced by Telemundo, held at The Orpheum Theater in Downtown Los Angeles, CA 10/20/2011 © Jill Johnson/jpistudios.com 310-657-9661

Roberto Tapia 2011 Billboard Mexican Music Awards Presented by State Farm and produced by Telemundo, held at The Orpheum Theater in Downtown Los Angeles, CA 10/20/2011 © Jill Johnson/jpistudios.com 310-657-9661

Roberto Tapia 2011 Billboard Mexican Music Awards Presented by State Farm and produced by Telemundo, held at The Orpheum Theater in Downtown Los Angeles, CA 10/20/2011 © Jill Johnson/jpistudios.com 310-657-9661

From left, Jorge Bernal, background, Prince Royce, foreground, Paulina Rubio, Daisy Fuentes, and Roberto Tapia pose for photographers in Miami, Thursday, May 2, 2013. Telemundo announced that the singing competition La Voz Kids will premiere on Sunday, May 5th. (AP Photo/Alan Diaz)

Los coaches de "La Voz Kids" Prince Royce, izquierda, Paulina Rubio, centro, y Roberto Tapia posan para un retrato tras una conferencia de prensa en Miami, el jueves 2 de mayo de 2013. "La Voz Kids" se estrena el domingo 5 de mayo de 2013. (Foto AP/Alan Diaz)

Los presentadores de "La Voz Kids" Jorge Bernal, izquierda y Daisy Fuentes posan para un retrato tras una conferencia de prensa en Miami, el jueves 2 de mayo de 2013. "La Voz Kids" se estrena el domingo 5 de mayo de 2013. (Foto AP/Alan Diaz)

La Voz Kids music coaches, Prince Royce, left, Paulina Rubio, center, and Roberto Tapia pose for photographers after a news conference in Miami, Thursday, May 2, 2013. Telemundo announced that the singing competition La Voz Kids will premiere on Sunday, May 5th. (AP Photo/Alan Diaz)

La Voz Kids hosts, Jorge Bernal, left, and Daisy Fuentes, pose for photographers after a news conference in Miami, Thursday, May 2, 2013. Telemundo announced that the singing competition La Voz Kids will premiere on Sunday, May 5th. (AP Photo/Alan Diaz)

MIAMI, FL - MAY 02: Paulina Rubio attends a press conference for Telemundo's 'La Voz Kids' on May 2, 2013 in Miami, Florida. (Photo by Gustavo Caballero/Getty Images)

MIAMI, FL - MAY 02: Paulina Rubio attends a press conference for Telemundo's 'La Voz Kids' on May 2, 2013 in Miami, Florida. (Photo by Gustavo Caballero/Getty Images)

MIAMI, FL - MAY 02: (L-R) Prince Royce, Paulina Rubio and Roberto Tapia attends a press conference for Telemundo's 'La Voz Kids' on May 2, 2013 in Miami, Florida. (Photo by Gustavo Caballero/Getty Images)

MIAMI, FL - MAY 02: (L-R) Prince Royce, Paulina Rubio and Roberto Tapia attends a press conference for Telemundo's 'La Voz Kids' on May 2, 2013 in Miami, Florida. (Photo by Gustavo Caballero/Getty Images)

MIAMI, FL - MAY 02: Prince Royce attends a press conference for Telemundo's 'La Voz Kids' on May 2, 2013 in Miami, Florida. (Photo by Gustavo Caballero/Getty Images)

MIAMI, FL - MAY 02: Prince Royce attends a press conference for Telemundo's 'La Voz Kids' on May 2, 2013 in Miami, Florida. (Photo by Gustavo Caballero/Getty Images)

MIAMI, FL - MAY 02: Daisy Fuentes attends a press conference for Telemundo's 'La Voz Kids' on May 2, 2013 in Miami, Florida. (Photo by Gustavo Caballero/Getty Images)

MIAMI, FL - MAY 02: (L-R) Prince Royce, Jorge Bernal, Paulina Rubio, Daisy Fuentes and Roberto Tapia attend a press conference for Telemundo's 'La Voz Kids' on May 2, 2013 in Miami, Florida. (Photo by Gustavo Caballero/Getty Images)

MIAMI, FL - MAY 02: Daisy Fuentes attends a press conference for Telemundo's 'La Voz Kids' on May 2, 2013 in Miami, Florida. (Photo by Gustavo Caballero/Getty Images)

MIAMI, FL - MAY 02: (L-R) Prince Royce, Paulina Rubio and Roberto Tapia attend Telemundos 'La Voz Kids' press conference on May 2, 2013 in Miami, Florida. (Photo by Europa Press/Europa Press via Getty Images)

MIAMI, FL - MAY 02: Paulina Rubio attends Telemundos 'La Voz Kids' press conference on May 2, 2013 in Miami, Florida. (Photo by Europa Press/Europa Press via Getty Images)

MIAMI, FL - MAY 02: Daisy Fuentes attends Telemundos 'La Voz Kids' press conference on May 2, 2013 in Miami, Florida. (Photo by Europa Press/Europa Press via Getty Images)

MIAMI, FL - MAY 02: Daisy Fuentes attends a press conference for Telemundo's 'La Voz Kids' on May 2, 2013 in Miami, Florida. (Photo by Gustavo Caballero/Getty Images)

MIAMI, FL - MAY 02: Jorge Bernal attends a press conference for Telemundo's 'La Voz Kids' on May 2, 2013 in Miami, Florida. (Photo by Gustavo Caballero/Getty Images)

MIAMI, FL - MAY 02: Prince Royce attends a press conference for Telemundo's 'La Voz Kids' on May 2, 2013 in Miami, Florida. (Photo by Gustavo Caballero/Getty Images)

MIAMI, FL - MAY 02: Daisy Fuentes attends a press conference for Telemundo's 'La Voz Kids' on May 2, 2013 in Miami, Florida. (Photo by Gustavo Caballero/Getty Images)

MIAMI, FL - MAY 02: (L-R) Prince Royce, Paulina Rubio and Roberto Tapia attends a press conference for Telemundo's 'La Voz Kids' on May 2, 2013 in Miami, Florida. (Photo by Gustavo Caballero/Getty Images)