Heather Graham en 'The Hangover Part III': la actriz nos comparte sus lugares favoritos de México (Entrevista)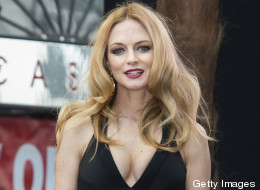 Heather Graham se convirtió en la adoración de millones de adolescentes (y está bien, también muchísimos adultos) con su participación en cintas como "License to Drive" (junto a Corey Haim y Corey Feldman), la galardonada "Boogie Nights" y "Austin Powers: The Spy Who Shagged Me".
Pero la rubia (espectacular a sus 43 años) encontró un nuevo público internacional gracias al éxito mundial de "The Hangover", en donde interpretó a la stripper Jade, compañera de juerga de los cuatro protagonistas en Las Vegas. A pesar de no salir en la secuela, ahora sí Graham regresa para "The Hangover Part III", ya en cines.
Hablando con Heather se nota su carácter jovial y muy agradable, comenzando nuestra plática con un "encantada de conocerlo" en un curioso español. ¿Habla nuestro idioma? "Trato de aprender... Entiendo más de lo que hablo. No soy tan buena, pero intento practicar más", responde, también en español.
La razón de que habla un poco de nuestra lengua, ella misma explica, es porque "he salido con algunos chicos que hablan español, así que pude practicar con ellos un poco. Eso estuvo bien". (Uno de ellos fue Benicio del Toro, por ejemplo).
Y su voz se emociona cuando se trata de hablar de sitios latinoamericanos que ha visitado, aunque sólo comparte lo que ha vivido en México:
"¡Ay, Dios mío, me encanta ir a México cada vez que puedo! Voy todo el tiempo a retiros de meditación", comparte Graham con HuffPost Voces. "Amo Tulum. He ido a Careyes (Jalisco), Sayulita (Nayarit) Puerto Vallarta (Jalisco)... Fui a otro lugar maravilloso para meditar, y no recuerdo bien cómo se llamaba, pero estaba también cerca de Puerto Vallarta. Pero Tulum es mi favorito, es un lugar tan especial, es increíble. De ahí quería ir a Chichen Itza, pero en las playas de Tulum uno se queda tan relajado ¡que no quería irme nunca!"
En "The Hangover Part III", los personajes de Bradley Cooper, Ed Helms y Zach Galifianakis vuelven a meterse en problemas. Ya no hay una noche de borrachera incluida, sino que deben de rescatar a su amigo Justin Bartha, quien ha sido secuestrado por John Goodman. Heather nos explica sobre su rol en esta tercera parte:
"Básicamente les ayudo a los chicos en su misión. Deben encontrar al señor Chow juntos. Mi vida es completamente diferente a como habíamos visto a Jade y se siente como que sus sueños se han convertido en realidad, lo cual fue muy bonito", comparte la actriz.
Juzgando por la cinta original, uno pensaría que su personaje estaría de vuelta para la secuela, pero no fue así. En su lugar, el personaje de Ed Helms, quien se enamoraba de ella (y casaba en una capilla de Las Vegas) en "The Hangover", se casa con alguien más en la segunda. Le confesé a Heather que yo esperaba al ser anunciada una segunda parte que se iba a explorar esta relación con Helms.
"Claro, yo quería que Jade y Stu hubieran terminado juntos, eso hubiera estado increíble. Que se hubieran casado y vivieran felices por siempre. Y es algo que he escuchado antes, de personas que se me acercan y me dicen que no entienden por qué se casó con otra y yo ya no salí. Me parece dulce que a la gente le importara Jade y su relación con Stu, tanto que no hayamos terminado juntos", confiesa. "Pero Todd me envió un e-mail y me comentó que habían incluido mi personaje en la tercera parte, y yo estaba más que feliz con ello. Estaba bastante emocionada de trabajar con todos una vez más ya que la primera película fue una maravillosa experiencia, fue divertidísimo filmarla".
Además del yoga y la meditación, otra de sus grandes pasiones son las cartas.
"Adoro jugar póquer y me adentraba muchísimo, tanto que veía todos los shows de cartas que pudiera encontrar", nos cuenta. "Tenía un grupo de amigos con los que jugaba todo el tiempo, pero aunque lo amo, como que últimamente no he estado tan metida en el juego".
Este año, Heather también aparece en la cinta "At Any Price", que protagonizó junto a Zac Efron y Dennis Quaid. Ahora, quiere enfocarse en crear su propio proyecto.
"Estoy escribiendo un guión que espero hacer este año. Yo también lo dirigiría, lo cual me tiene bastante emocionada. Es una historia sobre tres grandes amigas y todos los problemas que tienen en sus vidas amorosas y sexuales", detalla.
Finalizando nuestra plática, Heather se despide con unas palabras para todos los latinos: "Espero que pronto hable mejor español". (¿Quién se ofrece para enseñarle durante un viaje a Tulum?)
"The Hangover Part III" se estrena hoy jueves 23 de mayo en Estados Unidos.
LONDON, ENGLAND - MAY 22: Ed Helms, Bradley Cooper, Heather Graham, Tod Phillips, Justin Bartha, Ken Jeong and Jach Galifianakis attend The Hangover III - UK film premiere at The Empire Cinema on May 22, 2013 in London, England. (Photo by Ferdaus Shamim/WireImage)

LONDON, ENGLAND - MAY 22: Heather Graham attends The Hangover III - UK film premiere at The Empire Cinema on May 22, 2013 in London, England. (Photo by Karwai Tang/WireImage)

LONDON, ENGLAND - MAY 22: Ed Helms, Bradley Cooper, Heather Graham, Tod Phillips, Justin Bartha, Ken Jeong and Jach Galifianakis attend The Hangover III - UK film premiere at The Empire Cinema on May 22, 2013 in London, England. (Photo by Ferdaus Shamim/WireImage)

LONDON, ENGLAND - MAY 22: Heather Graham attends the UK Premiere of 'The Hangover III' at The Empire Cinema on May 22, 2013 in London, England. (Photo by David M. Benett/WireImage)

LONDON, ENGLAND - MAY 22: Heather Graham attends the UK Premiere of 'The Hangover III' at The Empire Cinema on May 22, 2013 in London, England. (Photo by David M. Benett/WireImage)

LONDON, UNITED KINGDOM - MAY 22: (L-R) Ed Helms, Bradley Cooper, Heather Graham, Todd Phillips, Justin Bartha, Ken Jeong and Zach Galifianakis attend 'The Hangover III' - UK film premiere at The Empire Cinema on May 22, 2013 in London, England. (Photo by Fred Duval/FilmMagic)

LONDON, UNITED KINGDOM - MAY 22: Heather Graham attends 'The Hangover III' - UK film premiere at The Empire Cinema on May 22, 2013 in London, England. (Photo by Fred Duval/FilmMagic)

LONDON, UNITED KINGDOM - MAY 22: Heather Graham attends 'The Hangover III' - UK film premiere at The Empire Cinema on May 22, 2013 in London, England. (Photo by Fred Duval/FilmMagic)

LONDON, UNITED KINGDOM - MAY 22: Heather Graham attends 'The Hangover III' - UK film premiere at The Empire Cinema on May 22, 2013 in London, England. (Photo by Fred Duval/FilmMagic)

LONDON, ENGLAND - MAY 22: Heather Graham attends The Hangover III - UK film premiere at The Empire Cinema on May 22, 2013 in London, England. (Photo by Karwai Tang/WireImage)

LONDON, UNITED KINGDOM - MAY 22: (L-R) Ed Helms, Bradley Cooper, Heather Graham, Todd Phillips, Justin Bartha, Ken Jeong and Zach Galifianakis attend 'The Hangover III' - UK film premiere at The Empire Cinema on May 22, 2013 in London, England. (Photo by Fred Duval/FilmMagic)

LONDON, ENGLAND - MAY 22: Heather Graham attends The Hangover III - UK film premiere at The Empire Cinema on May 22, 2013 in London, England. (Photo by Karwai Tang/WireImage)

LONDON, ENGLAND - MAY 22: Heather Graham attends The Hangover III - UK film premiere at The Empire Cinema on May 22, 2013 in London, England. (Photo by Karwai Tang/WireImage)

LONDON, ENGLAND - MAY 22: (L-R) Ed Helms, Bradley Cooper, Heather Graham, Todd Phillips, Justin Bartha, Ken Jeong and Zach Galifianakis attend The Hangover III - UK film premiere at The Empire Cinema on May 22, 2013 in London, England. (Photo by Karwai Tang/WireImage)

LONDON, ENGLAND - MAY 22: (L-R) Zach Galifianakis, Justin Bartha, Ed Helms, Heather Graham, Bradley Cooper, Ken Jeong and Todd Phillips attend The Hangover III - UK film premiere at The Empire Cinema on May 22, 2013 in London, England. (Photo by Karwai Tang/WireImage)

LONDON, ENGLAND - MAY 22: Heather Graham attends The Hangover III - UK film premiere at The Empire Cinema on May 22, 2013 in London, England. (Photo by Karwai Tang/WireImage)

LONDON, ENGLAND - MAY 22: (L-R) Heather Graham, Justin Bartha and Ken Jeong attend The Hangover III - UK film premiere at The Empire Cinema on May 22, 2013 in London, England. (Photo by Karwai Tang/WireImage)

LONDON, ENGLAND - MAY 22: Heather Graham attends The Hangover III - UK film premiere at The Empire Cinema on May 22, 2013 in London, England. (Photo by Mark Cuthbert/UK Press via Getty Images)

LONDON, ENGLAND - MAY 22: Heather Graham attends The Hangover III - UK film premiere at The Empire Cinema on May 22, 2013 in London, England. (Photo by Mark Cuthbert/UK Press via Getty Images)

LONDON, ENGLAND - MAY 22: Heather Graham attends The Hangover III - UK film premiere at The Empire Cinema on May 22, 2013 in London, England. (Photo by Mark Cuthbert/UK Press via Getty Images)

LONDON, ENGLAND - MAY 22: Heather Graham attends The Hangover III - UK film premiere at The Empire Cinema on May 22, 2013 in London, England. (Photo by Mark Cuthbert/UK Press via Getty Images)

LONDON, ENGLAND - MAY 22: Heather Graham attends The Hangover III - UK film premiere at The Empire Cinema on May 22, 2013 in London, England. (Photo by Mark Cuthbert/UK Press via Getty Images)

LONDON, ENGLAND - MAY 22: Heather Graham attends The Hangover III - UK film premiere at The Empire Cinema on May 22, 2013 in London, England. (Photo by Mark Cuthbert/UK Press via Getty Images)

LONDON, ENGLAND - MAY 22: Heather Graham attends The Hangover III - UK film premiere at The Empire Cinema on May 22, 2013 in London, England. (Photo by Mark Cuthbert/UK Press via Getty Images)

LONDON, ENGLAND - MAY 22: Heather Graham attends The Hangover III - UK film premiere at The Empire Cinema on May 22, 2013 in London, England. (Photo by Mark Cuthbert/UK Press via Getty Images)

LONDON, ENGLAND - MAY 22: Heather Graham attends The Hangover III - UK film premiere at The Empire Cinema on May 22, 2013 in London, England. (Photo by Mark Cuthbert/UK Press via Getty Images)

LONDON, ENGLAND - MAY 22: Zach Galifianakis, Justin Bartha, Ed Helms, Heather Graham, Bradley Cooper, Ken Jeong and Todd Phillips attends the UK Premiere of 'The Hangover III' at The Empire Cinema on May 22, 2013 in London, England. (Photo by David M. Benett/WireImage)

LONDON, ENGLAND - MAY 22: Zach Galifianakis, Justin Bartha, Ed Helms, Heather Graham, Bradley Cooper, Ken Jeong and Todd Phillips attends the UK Premiere of 'The Hangover III' at The Empire Cinema on May 22, 2013 in London, England. (Photo by David M. Benett/WireImage)

LONDON, ENGLAND - MAY 22: Zach Galifianakis, Justin Bartha, Ed Helms, Heather Graham, Bradley Cooper, Ken Jeong and Todd Phillips attends the UK Premiere of 'The Hangover III' at The Empire Cinema on May 22, 2013 in London, England. (Photo by David M. Benett/WireImage)

LONDON, ENGLAND - MAY 22: Ed Helms, Bradley Cooper and Heather Graham attends The Hangover III - UK film premiere at The Empire Cinema on May 22, 2013 in London, England. (Photo by Neil P. Mockford/Getty Images)

LONDON, UNITED KINGDOM - MAY 22: Heather Graham attends The Hangover III - UK film premiere at The Empire Cinema on May 22, 2013 in London, England. (Photo by Fred Duval/FilmMagic)

US actress Heather Graham poses for photographers while arriving for the European Premiere of 'The Hangover Part 3' in London on May 22, 2013. AFP PHOTO / JUSTIN TALLIS (Photo credit should read JUSTIN TALLIS/AFP/Getty Images)

Cast members, (L-R) Ed Helms, Bradley Cooper, Heather Graham, director Todd Phillips, Justin Bartha, Ken Jeong and Zach Galifianakis for photographers as they arrive for the European Premiere of 'The Hangover Part 3' in London on May 22, 2013. AFP PHOTO / JUSTIN TALLIS (Photo credit should read JUSTIN TALLIS/AFP/Getty Images)

LONDON, ENGLAND - MAY 22: Heather Graham attends the UK Premiere of 'The Hangover III' at The Empire Cinema on May 22, 2013 in London, England. (Photo by David M. Benett/WireImage)

LONDON, ENGLAND - MAY 22: Heather Graham attends the UK Premiere of 'The Hangover III' at The Empire Cinema on May 22, 2013 in London, England. (Photo by David M. Benett/WireImage)

LONDON, ENGLAND - MAY 22: Heather Graham attends the UK Premiere of 'The Hangover III' at The Empire Cinema on May 22, 2013 in London, England. (Photo by David M. Benett/WireImage)

LONDON, ENGLAND - MAY 22: Heather Graham attends the UK Premiere of 'The Hangover III' at The Empire Cinema on May 22, 2013 in London, England. (Photo by David M. Benett/WireImage)

LONDON, ENGLAND - MAY 22: Heather Graham attends The Hangover III - UK film premiere at The Empire Cinema on May 22, 2013 in London, England. (Photo by Ferdaus Shamim/WireImage)

LONDON, ENGLAND - MAY 22: Heather Graham attends The Hangover III - UK film premiere at The Empire Cinema on May 22, 2013 in London, England. (Photo by Neil P. Mockford/Getty Images)

LONDON, ENGLAND - MAY 22: (L-R) Justin Bartha, EdHelms, Heather Graham, Bradley Cooper, Ken Jeong, Todd Phillips and Zach Galifianakis attend the European Premiere of 'The Hangover Part III' at The Empire Leicester Square on May 22, 2013 in London, England. (Photo by Dave J Hogan/Getty Images)

LONDON, ENGLAND - MAY 22: Heather Graham attends the European Premiere of 'The Hangover Part III' at The Empire Leicester Square on May 22, 2013 in London, England. (Photo by Dave J Hogan/Getty Images)

LONDON, ENGLAND - MAY 22: Bradley Cooper and Heather Graham attend The Hangover III - UK film premiere>> at The Empire Cinema on May 22, 2013 in London, England. (Photo by Karwai Tang/WireImage)

LONDON, ENGLAND - MAY 22: Heather Graham attends the European Premiere of 'The Hangover Part III' at The Empire Leicester Square on May 22, 2013 in London, England. (Photo by Dave J Hogan/Getty Images)

LONDON, ENGLAND - MAY 22: Heather Graham attends the European Premiere of 'The Hangover Part III' at The Empire Leicester Square on May 22, 2013 in London, England. (Photo by Dave J Hogan/Getty Images)

WESTWOOD, CA - MAY 20: Actress Heather Graham attends the premiere of Warner Bros. Pictures' 'Hangover Part 3' at Westwood Village Theater on May 20, 2013 in Westwood, California. (Photo by Frazer Harrison/Getty Images)

WESTWOOD, CA - MAY 20: Actress Heather Graham attends the premiere of Warner Bros. Pictures' 'Hangover Part 3' at Westwood Village Theater on May 20, 2013 in Westwood, California. (Photo by Frazer Harrison/Getty Images)

WESTWOOD, CA - MAY 20: Actress Heather Graham attends the premiere of Warner Bros. Pictures' 'Hangover Part 3' at Westwood Village Theater on May 20, 2013 in Westwood, California. (Photo by Frazer Harrison/Getty Images)

WESTWOOD, CA - MAY 20: Actress Heather Graham attends the premiere of Warner Bros. Pictures' 'Hangover Part 3' at Westwood Village Theater on May 20, 2013 in Westwood, California. (Photo by Frazer Harrison/Getty Images)

WESTWOOD, CA - MAY 20: Actress Heather Graham arrives at the Los Angeles Premiere 'The Hangover: Part III' at Westwood Village Theatre on May 20, 2013 in Westwood, California. (Photo by Jon Kopaloff/FilmMagic)

WESTWOOD, CA - MAY 20: Actress Heather Graham arrives at the Los Angeles Premiere 'The Hangover: Part III' at Westwood Village Theatre on May 20, 2013 in Westwood, California. (Photo by Jon Kopaloff/FilmMagic)

WESTWOOD, CA - MAY 20: Actress Heather Graham arrives at the Los Angeles Premiere 'The Hangover: Part III' at Westwood Village Theatre on May 20, 2013 in Westwood, California. (Photo by Jon Kopaloff/FilmMagic)

WESTWOOD, CA - MAY 20: Actress Heather Graham arrives at the Los Angeles Premiere 'The Hangover: Part III' at Westwood Village Theatre on May 20, 2013 in Westwood, California. (Photo by Jon Kopaloff/FilmMagic)

WESTWOOD, CA - MAY 20: Actress Heather Graham arrives at the Los Angeles premiere of 'The Hangover III' at Mann's Village Theatre on May 20, 2013 in Westwood, California. (Photo by Gregg DeGuire/WireImage)

WESTWOOD, CA - MAY 20: Actress Heather Graham arrives at the Los Angeles premiere of 'The Hangover III' at Mann's Village Theatre on May 20, 2013 in Westwood, California. (Photo by Gregg DeGuire/WireImage)

WESTWOOD, CA - MAY 20: Actress Heather Graham arrives at the premiere of Warner Bros. Pictures' 'Hangover Part 3' on May 20, 2013 in Westwood, California. (Photo by Kevin Winter/Getty Images)

WESTWOOD, CA - MAY 20: (L-R) CEO of Warner Bros. Entertainment Kevin Tsujihara, Producer Jeffrey Robinov, Actors Mike Epps, Bradley Cooper, Director Todd Phillips, actors Ken Jeong, Zach Galifianakis, Justin Bartha, Heather Graham, Grant Holmquist, Ed Helms, Sasha Barrese, Gillian Vigman, and Sondra Currie arrive at the premiere of Warner Bros. Pictures' 'Hangover Part 3' on May 20, 2013 in Westwood, California. (Photo by Kevin Winter/Getty Images)

Heather Graham poses on arrival for the Los Angeles premiere of the film 'The Hangover Part 3' in Los Angeles, California on May 20, 2013. The film opens nationwide on May 23. AFP PHOTO/Frederic J. BROWN (Photo credit should read FREDERIC J. BROWN/AFP/Getty Images)

WESTWOOD, CA - MAY 20: (L-R) Actors Mike Epps, Bradley Cooper, Director Todd Phillips, actors Ken Jeong, Justin Bartha, Heather Graham, Grant Holmquist, and Ed Helms arrive at the premiere of Warner Bros. Pictures' 'Hangover Part 3' on May 20, 2013 in Westwood, California. (Photo by Kevin Winter/Getty Images)

WESTWOOD, CA - MAY 20: Heather Graham arrives at the 'The Hangover III' - Los Angeles Premiere at Mann's Village Theatre on May 20, 2013 in Westwood, California. (Photo by Steve Granitz/WireImage)

WESTWOOD, CA - MAY 20: Heather Graham arrives at the 'The Hangover III' - Los Angeles Premiere at Mann's Village Theatre on May 20, 2013 in Westwood, California. (Photo by Steve Granitz/WireImage)

WESTWOOD, CA - MAY 20: Heather Graham arrives at the 'The Hangover III' - Los Angeles Premiere at Mann's Village Theatre on May 20, 2013 in Westwood, California. (Photo by Steve Granitz/WireImage)

WESTWOOD, CA - MAY 20: Actors Heather Graham (L) and Ed Helms arrives at the premiere of Warner Bros. Pictures' 'Hangover Part 3' on May 20, 2013 in Westwood, California. (Photo by Kevin Winter/Getty Images)

WESTWOOD, CA - MAY 20: Actress Heather Graham (L) and director Todd Phillips arrives at the premiere of Warner Bros. Pictures' 'Hangover Part 3' on May 20, 2013 in Westwood, California. (Photo by Kevin Winter/Getty Images)

WESTWOOD, CA - MAY 20: Actress Heather Graham attends the premiere of Warner Bros. Pictures' 'Hangover Part 3' at Westwood Village Theater on May 20, 2013 in Westwood, California. (Photo by Frazer Harrison/Getty Images)