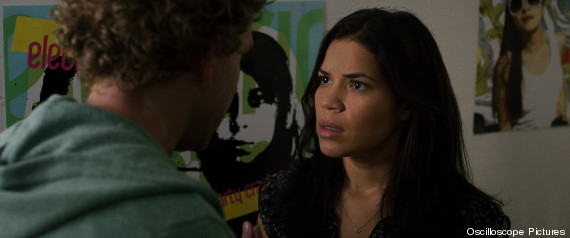 "It's a Disaster" es una cinta independiente escrita y dirigida por Todd Berger que se estrena en cines de Estados Unidos este viernes 12 de abril y también ya disponible en varias plataformas on demand. Varios amigos (entre los que se encuentran Julia Stiles y David Cross) se reúnen para su acostumbrada sesión amistosa de brunch. Entre los usuales chismes y una que otra sorpresa, están completamente perdidos sin enterarse de que afuera han estallado varias bombas tóxicas y el mundo probablemente esté a punto de acabarse.
Es una comedia de mucho humor ácido, comandada por la gran interacción entre sus protagonistas y la forma en que reaccionan ante el inminente fin de sus vidas. Por ejemplo, Stiles se enoja porque una pareja siempre llega tarde y deben esperarlos para comer, así que, como puedes ver en el trailer de la cinta, cuando finalmente aparecen y se ven infectados, los deja afuera a que los picoteen los cuervos. ¡Auch!
America Ferrera destaca como Hedy, una chica en una relación eternamente atorada en el compromiso que pronto pierde el control y entra en shock. Desde Nueva York, platicamos con la protagonista de otros proyectos como "Ugly Betty", "End of Watch" y "The Sisterhood of the Traveling Pants".
America, ¿tú qué harías ante el fin del mundo? Yo me pondría como tu personaje, Hedy...
¡Sí, claro! Lo que me parece interesante es ponerte a pensar cómo reaccionarías ante una situación así, cuando te enfrentas al fin del mundo. Creo que haciendo la película todos nosotros nos preguntamos qué haríamos, pero al final es algo imposible de responder hasta que definitivamente estés en esa situación.
Parece que fue una gran labor de todo el reparto, todos tienen su gran momento para lucirse.
Sí, se nota porque embonamos muy bien y nos la pasamos bien. Tres de los chicos en la cinta vienen del mismo grupo de comedia del que han formado parte durante años, junto con el escritor-director, así que ya tenían un historial en su relación. El resto de nosotros pues tuvimos una química natural con la que de inmediato embonamos fácilmente, adaptándonos para ser grandes amigos.
Un gran acierto de la cinta es que varía mucho de la típica producción Hollywoodense de desastres.
Sí, no lo sé. A mí no me gustan particularmente... Creo que mientras más años cumplo, siento que es más difícil ver cosas en pantalla que se sienten auténticas, como películas de ese tipo. Antes pensaba que eran más divertidas y me gustaba la ciencia ficción, pero ahora ver cualquier tipo de desastre no es atractivo y eso me ocurre ya en el cine igual, así que ya no me parecen tan entretenidas. Trato ya de alejarme de cosas demasiado violentas o de miedo, porque suficiente tenemos con lo que pasa en la vida real.
Tu personaje es una maestra especializada en química. ¿Cómo te preparaste para el papel?
Más que nada el director nos puso a trabajar junto a la persona que interpreta a tu pareja en la cinta, así que pasé mucho tiempo con el actor que sale de mi novio. Platiqué mucho con el director sobre sus intenciones con el personaje y cómo se ajustaba en todo el asunto. Pero lo mejor es presenciar lo que el resto del elenco está entregando en su actuación y alimentarte de esa energía para hacerte crecer.
Tienes algún momento favorito en la cinta, sea de tu personaje o el resto?
No lo sé, ¡pienso en tantos! Tal vez aquellos cuando todo el elenco está junto, como cuando intentan escapar y se meten apretujados al auto en el garage, o cuando mejor se ponen a cantar y bailar un poco resignados ante todo lo que está pasando.
¿Cómo invitarías al público latino a que viera "It's a Disaster"?
Diría que es una cinta bastante divertida, que muy probablemente los hará reír y disfrutar de un buen momento. Es una experiencia muy universal, ya que cualquier persona alrededor del mundo puede ponerse a pensar qué haría en el caso de que el mundo se acabara e imaginarse en la posición de los personajes. Yo me divertí muchísimo filmándola y estoy bastante orgullosa de ella. Me parece que conseguimos algo muy gracioso y creo que el público se reirá y la pasará muy bien.
Loading Slideshow
America Ferrera en el Women in the World Summit 2013 el 4 de abril de 2013 en New York.

America Ferrera

America Ferrera en el Women in the World Summit 2013 el 4 de abril de 2013 en New York.

America Ferrera en el Women in the World Summit 2013 el 4 de abril de 2013 en New York.

Miscast 2013

America Ferrera asiste al Miscast 2013 en el Hammerstein Ballroom de NY el 4 de marzo de 2013.

Miscast 2013

America Ferrera asiste al Miscast 2013 en el Hammerstein Ballroom de NY el 4 de marzo de 2013.

America Ferrera en una gala de la LAByrinth Theater Company Celebrity Charades 2013 el 14 de enero.

Nation Board of Review Awards

America Ferrera en los Nation Board of Review Awards

America Ferrera

America Ferrera con la autora y ganadora del Premio Pulitzer Sheryl WuDunn en el panel titulado "Half the Sky, a Special Presentation of Independant Lens" organizado por el canal PBS en el Beverly Hilton Hotel el 22 de julio, 2012 en Los Angeles, California. (Frederick M. Brown/Getty Images)

America Ferrera

America en el evento de PBS. (Frederick M. Brown/Getty Images)

America Ferrera

America Ferrera en el panel titulado "Half the Sky, a Special Presentation of Independant Lens" organizado por el canal PBS en el Beverly Hilton Hotel el 22 de julio, 2012 en Los Angeles, California. (Frederick M. Brown/Getty Images)

America Ferrera

La productora y directora Maro Chermayeff, Meg Ryan, el autor y columinsta del New York Times Nicholas Kristof, Diane Lane, Urmi Basu, America Ferrera, y la autora Sheryl WuDunn en Los Angeles, California. (Frederick M. Brown/Getty Images)

America Ferrera

America Ferrera en la conferencia de prensa de PBS.

America durante la filmación de "Chavez," sobre la vida de Cesar E. Chavez, en Hermosillo, México, el 5 de junio de 2012. (AP Photo/Felipe Larios Gaxiola)

America Ferrera

America Ferrera el 27 de enero de 2012 en New York. (Mike Coppola/Getty Images)

America Ferrera

Julianne Moore, America Ferrera y Gabrielle Union. (Mike Coppola/Getty Images)

America Ferrera

America Ferrera en el evento sobre paternidad planeada y salud femenina, en New York, el 27 de enero de 2012. (Mike Coppola/Getty Images)

America Ferrera

America Ferrera (Mike Coppola/Getty Images)

America Ferrera

Julianne Moore, America Ferrera y Gabrielle Union en el mismo evento en New York. (Mike Coppola/Getty Images)

America Ferrera y Darius Campbell

America Ferrera y Darius Campbell debutan en el teatro londinense con la puesta en escena de "Chicago" en el Garrick Theatre de Londres. (Ben Pruchnie/Getty Images)

America Ferrera

America Ferrera posa para los fotógrafos anunciando su debut en el West End de Londres, el 31 de octubre de 2011. (Ben Pruchnie/Getty Images)

America Ferrera

(AP Photo/Kirsty Wigglesworth)

America Ferrera y Darius Campbell

(AP Photo/Kirsty Wigglesworth)

America Ferrera

America como actriz en Londres. (AP Photo/Kirsty Wigglesworth)

America Ferrera

En la premiere de "Harry Potter and the Deathly Hallows: Part 2" en New York, el 11 de julio de 2011. (AP Photo/Evan Agostini)

America Ferrera, Ryan Piers Williams

America Ferrera y su prometido, el director Ryan Piers Williams el 27 de julio de 2010. (AP Photo/Dave Allocca, StarPix)

America Ferrera

America Ferrera estrena su película "How to Train Your Dragon" en Los Angeles el 21 de marzo, 2010. (AP Photo/Dan Steinberg)

AMERICA FERRERA

Como Betty Suarez en una escena de su programa "Ugly Betty." (AP Photo/ABC, David Giesbrecht)