'This is the End': trailer censurado con James Franco, Seth Rogen y Emma Watson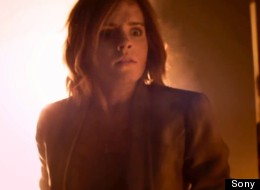 'This is the End' es una curiosa película que se estrenará este junio en Estados Unidos en la que varios famosos se interpretan a sí mismos. Hay una gran fiesta en la mansión de James Franco a donde llegan sus amigos: Seth Rogen, Jay Baruchel, Michael Cera, Danny McBride, Craig Robinson, Jay Baruchel, Kevin Hart, Mindy Kaling, Rihanna y hasta Emma Watson.
Entre las obscenidades y locuras de una "típica" fiesta de Hollywood, de la nada, llega el fin del mundo. Así que pronto estas celebridades están buscando cómo sobrevivir en esta comedia de humor bastante negro. Desde Cera dándole una nalgada a Rihanna y Mindy Kaling hablando del tamaño de la "virilidad" del protagonista de "Superbad", esta película es ideal para aquellos con un sentido del humor particularmente ácido.
Mira el recién estrenado avance restringido sin censura, donde verás quién es la primera famosa en morir (ajem, Rihanna) y cómo "¡¡Hermione nos robó todas nuestras cosas!!"
La evolución del estilo de Emma Watson
(WireImage photo)

(Getty photo)

(WireImage photo)

(Getty photo)

(Getty photo)

(WireImage photo)

(Getty photo)

(Getty photo)

(Getty photo)

(Getty photo)

(Getty photo)

(WireImage photo)

(Getty photo)

(WireImage photo)

(FilmMagic photo)

(WireImage photo)

(Getty photo)

(Getty photo)

(FilmMagic photo)

(AP Photo/Evan Agostini)

(Getty photo)

(Getty photo)

(Getty photo)

(Getty photo)

(WireImage photo)

(AP Photo/Joel Ryan)

(AP Photo/Evan Agostini)

(AP Photo/Jonathan Short)

(AP Photo/Jonathan Short)

(AP Photo/Joel Ryan)

(AP Photo/Kin Cheung)

(AP Photo/Jonathan Short)

(AP Photo/Charles Sykes)

(Photo by Jordan Strauss/Invision/AP)
De izquierda a derecha el productor James Franco, la directora Christina Voros y el realizador Travis Mathews posan para un retrato con motivo de la presentación de su filme "Kink" en el Festival de Cine de Sundance, el domingo 20 de enero del 2013 en Park City, Utah. (Foto por Victoria Will/Invision/AP Images)

James Franco, productor del filme "Kink", posa para un retrato en el Festival de Cine de Sundance, el domingo 20 de enero del 2013 en Park City, Utah. (Foto por Victoria Will/Invision/AP Images)

James Franco, productor del filme "Kink", posa para un retrato en el Festival de Cine de Sundance, el domingo 20 de enero del 2013 en Park City, Utah. (Foto por Victoria Will/Invision/AP Images)

James Franco, producer of the documentary film "kink," poses at the premiere of the film at the 2013 Sundance Film Festival, Saturday, Jan. 19, 2013, in Park City, Utah. (Photo by Chris Pizzello/Invision/AP)

Christina Voros, left, director of the documentary film "kink," poses with producer James Franco at the premiere of the film at the 2013 Sundance Film Festival, Saturday, Jan. 19, 2013, in Park City, Utah. (Photo by Chris Pizzello/Invision/AP)

James Franco, producer of the documentary film "kink," is interviewed at the premiere of the film at the 2013 Sundance Film Festival, Saturday, Jan. 19, 2013, in Park City, Utah. (Photo by Chris Pizzello/Invision/AP)

Christina Voros, left, director of the documentary film "kink," poses with producer James Franco at the premiere of the film at the 2013 Sundance Film Festival, Saturday, Jan. 19, 2013, in Park City, Utah. (Photo by Chris Pizzello/Invision/AP)

PARK CITY, UT - JANUARY 20: James Franco attends Day 3 of Samsung Galaxy Lounge at Village At The Lift 2013 on January 20, 2013 in Park City, Utah. (Photo by Michael Loccisano/Getty Images for Samsung)

PARK CITY, UT - JANUARY 19: (L-R) Director Christina Voros, Sundance Festival Director John Cooper, actor James Franco and Sundance Director of Programming Trevor Groth attend the press dinner for James Franco hosted by Stella Artois at the Stella Artois Cafe at Village at The Lift on January 19, 2013 in Park City, Utah. (Photo by Andrew H. Walker/Getty Images for Stella Artois)

PARK CITY, UT - JANUARY 19: Actor James Franco attends the press dinner for James Franco hosted by Stella Artois at the Stella Artois Cafe at Village at The Lift on January 19, 2013 in Park City, Utah. (Photo by Andrew H. Walker/Getty Images for Stella Artois)

PARK CITY, UT - JANUARY 19: Actor James Franco attends the press dinner for James Franco hosted by Stella Artois at the Stella Artois Cafe at Village at The Lift on January 19, 2013 in Park City, Utah. (Photo by Andrew H. Walker/Getty Images for Stella Artois)

Actor James Franco poses for photographers as he walks on the red carpet during the 7th edition of the Rome International Film Festival in Rome, Friday, Nov. 16, 2012. (AP Photo/Gregorio Borgia)

Actor James Franco poses for photographers with actress Ruby Modine during the 7th edition of the Rome International Film Festival in Rome, Friday, Nov. 16, 2012. (AP Photo/Gregorio Borgia)

Actor James Franco poses for photographers as he walks on the red carpet during the 7th edition of the Rome International Film Festival in Rome, Friday, Nov. 16, 2012. (AP Photo/Gregorio Borgia)

US actor James Franco arrives at the premiere of his film 'dream' during the 7th edition of the Rome film festival on November 16, 2012. AFP PHOTO / TIZIANA FABI (Photo credit should read TIZIANA FABI/AFP/Getty Images)

US actor James Franco arrives at the premiere of his film 'dream' during the 7th edition of the Rome film festival on November 16, 2012. AFP PHOTO / TIZIANA FABI (Photo credit should read TIZIANA FABI/AFP/Getty Images)

ROME, ITALY - NOVEMBER 16: James Franco attends the 7th Rome Film Festival at Lancia Cafe on November 16, 2012 in Rome, Italy. (Photo by Vittorio Zunino Celotto/Getty Images for Lancia)

ROME, ITALY - NOVEMBER 16: James Franco attends the 7th Rome Film Festival at Lancia Cafe on November 16, 2012 in Rome, Italy. (Photo by Vittorio Zunino Celotto/Getty Images for Lancia)

ROME, ITALY - NOVEMBER 16: James Franco and Marco Muller attends the 7th Rome Film Festival at Lancia Cafe on November 16, 2012 in Rome, Italy. (Photo by Vittorio Zunino Celotto/Getty Images for Lancia)

FILE - This Sept. 5, 2012 file photo shows actor James Franco at the premiere of the film "Spring Breakers" at the 69th edition of the Venice Film Festival in Venice, Italy. Franco has directed a short film anchoring a social media campaign for shoe designer Stuart Weitzman. Four vignettes, which will debut on the brand's Facebook page, follow model Petra Nemcova as she takes what the company describes as "a midnight fantasy stroll." The inspiration came from the 1988 underground club-scene movie "Mondo New York," and Nemcova struts to an updated version of the Patsy Cline song, "Walking After Midnight."(AP Photo/Andrew Medichini, file)

Cast members, from left, Selena Gomez, Rachel Korine, James Franco, Vanessa Hudgens and Ashley Benson pose on the red carpet for the movie "Spring Breakers" at the 2012 Toronto International Film Festival in Toronto on Friday, Sept. 7, 2012. (AP Photo/The Canadian Press, Michelle Siu)

Actor James Franco poses for a photo with fans during a red carpet for the movie "Spring Breakers" at the 2012 Toronto International Film Festival in Toronto on Friday, Sept. 7, 2012. (AP Photo/The Canadian Press, Michelle Siu)

Actor James Franco participates in a photo call and press conference for the film "Spring Breakers" at TIFF Bell Lightbox during the Toronto International Film Festival on Friday Sept. 7, 2012 in Toronto. (Photo by Evan Agostini/Invision/AP)

Actor James Franco participates in a photo call and press conference for the film "Spring Breakers" at TIFF Bell Lightbox during the Toronto International Film Festival on Friday Sept. 7, 2012 in Toronto. (Photo by Evan Agostini/Invision/AP)

From left, actress Ashley Benson, actress Vanessa Hudgens, actor James Franco, actress Selena Gomez and actress Rachel Korine participate in a photo call and press conference for the film "Spring Breakers" at TIFF Bell Lightbox during the Toronto International Film Festival on Friday Sept. 7, 2012 in Toronto. (Photo by Evan Agostini/Invision/AP)

Ashley Benson, left, watches as James Franco gestures during a press conference for the movie "Spring Breakers" at the 2012 Toronto International Film Festival in Toronto on Friday, Sept. 7, 2012. (AP Photo/The Canadian Press, Michelle Siu)

Ashley Benson, left, James Franco, center, and Rachel Korine attend a press conference for the movie "Spring Breakers" at the 2012 Toronto International Film Festival in Toronto on Friday, Sept. 7, 2012. (AP Photo/The Canadian Press, Michelle Siu)

Actor James Franco gestures during a press conference for the movie "Spring Breakers" at the 2012 Toronto International Film Festival in Toronto on Friday, Sept. 7, 2012. (AP Photo/The Canadian Press, Michelle Siu)

Actor James Franco arrives for the premiere of the film 'Spring Breakers' at the 69th edition of the Venice Film Festival in Venice, Italy, Wednesday, Sept. 5, 2012. (AP Photo/Andrew Medichini)

Actor James Franco poses during the photo call of the movie 'Spring Breakers' at the 69th edition of the Venice Film Festival in Venice, Italy, Wednesday, Sept. 5, 2012. (AP Photo/Andrew Medichini)

From left, actors Vanessa Hudgens, Selena Gomez, Rachel Korine, Ashley Benson, James Franco and director Harmony Korine pose at the photo call for the film 'Spring Breakers' at the 69th edition of the Venice Film Festival in Venice, Italy, Wednesday, Sept. 5, 2012. (AP Photo/Joel Ryan)

Actor James Franco at the 69th edition of the Venice Film Festival in Venice, Italy, Tuesday, Sept. 4, 2012. (AP Photo/Joel Ryan)

FILE - In this April 24, 2012 file photo, James Franco, a cast member in the upcoming film "Oz: The Great and Powerful," poses before the Walt Disney Studios Motion Pictures presentation at CinemaCon 2012, the official convention of the National Association of Theater Owners, in Las Vegas. The 2013 Hollywood Walk of Fame honorees were announced on June 22, 2012, including Jennifer Hudson, Javier Bardem, Viola Davis, James Franco, Ellen DeGeneres, among others. (AP Photo/Chris Pizzello, File)

James Franco Disney Event At Cinemacon 2012 Caesars Palace Hotel and Casino Las Vegas, NV 4/24/12 © Arlene Richie/jpistudios.com 310-657-9661

James Franco, left, and Mila Kunis, cast members in the upcoming film "Oz: The Great and Powerful," address the audience during the Walt Disney Studios Motion Pictures presentation at CinemaCon 2012, the official convention of the National Association of Theater Owners, Tuesday, April 24, 2012, in Las Vegas. (AP Photo/Chris Pizzello)

James Franco, left, and Mila Kunis, cast members in the upcoming film "Oz: The Great and Powerful," address the audience during the Walt Disney Studios Motion Pictures presentation at CinemaCon 2012, the official convention of the National Association of Theater Owners, Tuesday, April 24, 2012, in Las Vegas. (AP Photo/Chris Pizzello)

James Franco, left, and Mila Kunis, cast members in the upcoming film "Oz: The Great and Powerful," address the audience during the Walt Disney Studios Motion Pictures presentation at CinemaCon 2012, the official convention of the National Association of Theater Owners, Tuesday, April 24, 2012, in Las Vegas. (AP Photo/Chris Pizzello)

In this photo provided by the Austin Film Festival, James Franco arrives for a screening of his new film 'Sal' at the Austin Film Festival and Conference in Austin, Texas on Sunday, Oct 23, 2011. (AP Photo/Austin Film Festival,Jack Plunkett)

In this photo provided by the Austin Film Festival, James Franco talks about his new film 'Sal' following a screening at the Austin Film Festival and Conference in Austin, Texas on Sunday, Oct 23, 2011. (AP Photo/Austin Film Festival, Jack Plunkett)

In this image released by Twentieth Century Fox, Caesar the chimp, a CG animal portrayed by Andy Serkis, and James Franco are shown in a scene from "Rise of the Planet of the Apes ." The prequel "Rise of the Planet of the Apes," opening in U.S. theaters Friday, features chimpanzees, gorillas and orangutans crafted through performance-capture. It is the same technology used for the giant gorilla in Peter Jackson's 2005 "King Kong," with the same actor who did Kong, Andy Serkis, playing the lead chimp in the prequel.(AP Photo/Twentieth Century Fox)

In this image released by Twentieth Century Fox, Freida Pinto. left, and James Franco are shown in a scene from "Rise of the Planet of the Apes ." (AP Photo/Twentieth Century Fox, Joe Lederer)

Cast member James Franco, Freida Pinto arrives at the premiere of "Rise of the Planet of the Apes" in Los Angeles, Thursday, July 28, 2011. The film opens in theaters August 5, 2011. (AP Photo/Matt Sayles)

Cast member James Franco arrives at the premiere of "Rise of the Planet of the Apes" in Los Angeles, Thursday, July 28, 2011. The film opens in theaters August 5, 2011. (AP Photo/Matt Sayles)

Show hosts James Franco, left, and Anne Hathaway are seen at the 83rd Academy Awards on Sunday, Feb. 27, 2011, in the Hollywood section of Los Angeles. (AP Photo/Chris Carlson)

Host's James Franco, left, and Anne Hathaway speak during the 83rd Academy Awards on Sunday, Feb. 27, 2011, in the Hollywood section of Los Angeles. (AP Photo/Mark J. Terrill)

Show hosts Anne Hathaway, left, and James Franco are seen during the 83rd Academy Awards on Sunday, Feb. 27, 2011, in the Hollywood section of Los Angeles. (AP Photo/Mark J. Terrill)

Show hosts Anne Hathaway, left, and James Franco are seen during the 83rd Academy Awards on Sunday, Feb. 27, 2011, in the Hollywood section of Los Angeles. (AP Photo/Mark J. Terrill)

Show hosts James Franco, left, and Anne Hathaway are seen during the 83rd Academy Awards on Sunday, Feb. 27, 2011, in the Hollywood section of Los Angeles. (AP Photo/Mark J. Terrill)

Show hosts Anne Hathaway, left, and James Franco are seen during the 83rd Academy Awards on Sunday, Feb. 27, 2011, in the Hollywood section of Los Angeles. (AP Photo/Mark J. Terrill)

Hosts James Franco, left, and Anne Hathaway are seen onstage during the 83rd Academy Awards on Sunday, Feb. 27, 2011, in the Hollywood section of Los Angeles. (AP Photo/Mark J. Terrill)

Actors James Franco, left, and Anne Hathaway talk to the media at the Kodak Theatre in the Hollywood section of Los Angeles, Thursday, Feb. 24, 2011. Franco and Hathaway are hosting 83rd Academy Awards, which airs Sunday. (AP Photo/Chris Carlson)

In this film publicity image released by Fox Searchlight Pictures, James Franco is shown in a scene from "127 Hours." The film was nominated for an Academy Award for best film, Tuesday, Jan. 25, 2011. The Oscars will be presented Feb. 27 at the Kodak Theatre in Hollywood. (AP Photo/Fox Searchlight Pictures, Chuck Zlotnick)

** CORRECTS DATE ** James Franco from the film "Three's Company: The Drama" poses for a portrait in the Fender Music Lodge during the 2011 Sundance Film Festival on Saturday, Jan. 22, 2011 in Park City, Utah. (AP Photo/Victoria Will)
MÁS DE RIHANNA:
16 de junio de 2015 en Tokio, Japón.

4 de mayo de 2015 en la Met Gala en Nueva York.

22 de marzo de 2015 en el estreno de "Home" en Westwood, California.

8 de febrero de 2015 en los Grammy Awards en Los Angeles, California.

1 de diciembre de 2014 en los British Fashion Awards en Londres, Inglaterra.

5 de mayo de 2014 en la Met Gala en Nueva York.

4 de marzo de 2014 en el desfile de Chanel en París, Francia.

28 de febrero de 2014 en el desfile de Christian Dior en París, Francia.

25 de enero de 2014 en un evento previo al Grammy en Los Angeles, California.

10 de julio de 2013. Rihanna en su actuación en Mónaco.

10 de julio de 2013. Rihanna en su actuación en Mónaco.

10 de julio de 2013. Rihanna en su actuación en Mónaco.

2 de julio de 2013 en Francia, durante el desfile de Chanel en la Paris Fashion Week.

2 de julio de 2013 en Francia, durante el desfile de Chanel en la Paris Fashion Week.

24 de mayo de 2013 durante el festival Mawazine en Rabat, Marruecos.

24 de mayo de 2013 durante el festival Mawazine en Rabat, Marruecos.

5 de mayo de 2013, durante su actuación en el Barclays Center de Brooklyn, NY.

5 de mayo de 2013, durante su actuación en el Barclays Center de Brooklyn, NY.

21 de abril en el Juego 1 entre Miami Heat y Milwaukee Bucks, en la American Airlines Arena de Miami, Florida.

21 de abril en el Juego 1 entre Miami Heat y Milwaukee Bucks, en la American Airlines Arena de Miami, Florida. Su camiseta es de James LeBron.

21 de abril en el Juego 1 entre Miami Heat y Milwaukee Bucks, en la American Airlines Arena de Miami, Florida.

8 de abril de 2013 en el Staples Center de Los Angeles, California.

8 de abril de 2013 en el Staples Center de Los Angeles, California.

7 de abril en un juego entre Los Angeles Lakers y Los Angeles Clippers en el Staples Center de Los Angeles, California.

7 de abril en un juego entre Los Angeles Lakers y Los Angeles Clippers en el Staples Center de Los Angeles, California.

7 de abril en un juego entre Los Angeles Lakers y Los Angeles Clippers en el Staples Center de Los Angeles, California.

4 de marzo en Londres, Inglaterra.

4 de marzo, durante el lanzamiento de la colección River Island en Londres, Inglaterra.

Rihanna llega a la 55a entrega anual de los premios Grammy el domingo 10 de febrero del 2013 en Los Angeles. (Photo by Jason Merritt/Getty Images)

Rihanna en los GRAMMY Awards en Los Angeles, California. (Photo by Jason Merritt/Getty Images).

Rihanna llega a la 55a entrega anual de los premios Grammy el domingo 10 de febrero del 2013 en Los Angeles. (Photo by Jason Merritt/Getty Images)

Rihanna

Rihanna

Rihanna cantando en los Grammy.

Rihanna llega a la 55a entrega anual de los premios Grammy el domingo 10 de febrero del 2013 en Los Angeles.

Rihanna

Rihanna

Rihanna

Rihanna

Sting, Ziggy Marley, Bruno Mars y Rihanna durante la 55a ceremonia anual de los premios Grammy, el domingo 10 de febrero del 2013 en Los Angeles. (Foto por John Shearer/Invision/AP)

Damian Marley y Rihanna.

Sting, Ziggy Marley, Bruno Mars, Rihanna y Damian Marley cantan durante la 55a ceremonia anual de los premios Grammy, el domingo 10 de febrero del 2013 en Los Angeles. (Foto por John Shearer/Invision/AP)

Rihanna y Mikky Ekko cantan durante la 55a ceremonia anual de los premios Grammy el domingo 10 de febrero del 2013 en Los Angeles. (Foto por John Shearer/Invision/AP)

Rihanna llega a la 55a entrega anual de los premios Grammy el domingo 10 de febrero del 2013 en Los Angeles. (Foto por Jordan Strauss/Invision/AP)

Rihanna llega a la 55a entrega anual de los premios Grammy el domingo 10 de febrero del 2013 en Los Angeles. (Foto por Jordan Strauss/Invision/AP)

Rihanna performs on stage at the 55th annual Grammy Awards on Sunday, Feb. 10, 2013, in Los Angeles. (Photo by John Shearer/Invision/AP)

Rihanna ofrece un concierto el miércoles 14 de noviembre del 2012 en El Plaza Condesa de la Ciudad de México, donde inauguró su gira mundial "777". (AP Foto/Marco Ugarte)

Rihanna ofrece un concierto el miércoles 14 de noviembre del 2012 en El Plaza Condesa de la Ciudad de México, donde inauguró su gira mundial "777". (AP Foto/Marco Ugarte)

Rihanna ofrece un concierto el miércoles 14 de noviembre del 2012 en El Plaza Condesa de la Ciudad de México, donde inauguró su gira mundial "777". (AP Foto/Marco Ugarte)

Rihanna ofrece un concierto el miércoles 14 de noviembre del 2012 en El Plaza Condesa de la Ciudad de México, donde inauguró su gira mundial "777". (AP Foto/Marco Ugarte)

Rihanna ofrece un concierto el miércoles 14 de noviembre del 2012 en El Plaza Condesa de la Ciudad de México, donde inauguró su gira mundial "777". (AP Foto/Marco Ugarte)

Rihanna ofrece un concierto el miércoles 14 de noviembre del 2012 en El Plaza Condesa de la Ciudad de México, donde inauguró su gira mundial "777". (AP Foto/Marco Ugarte)

Rihanna ofrece un concierto el miércoles 14 de noviembre del 2012 en El Plaza Condesa de la Ciudad de México, donde inauguró su gira mundial "777". (AP Foto/Marco Ugarte)

Rihanna en el evento de la revista GQ "Men Of The Year" en el Chateau Marmont el jueves 13 de noviembre, 2012, en Los Angeles. (Photo by John Shearer/Invision/AP)

Rihanna en el evento de la revista GQ "Men Of The Year" en el Chateau Marmont el jueves 13 de noviembre, 2012, en Los Angeles.

8 de noviembre. Rihanna participó en el primer live chat de Facebook, auspiciado por Andy Cohen, de Bravo.

8 de noviembre. Rihanna participó en el primer live chat de Facebook, auspiciado por Andy Cohen, de Bravo.

7 de noviembre. Rihanna durante su actuación en el Victorias Secret Fashion Show 2012, en el Lexington Avenue Armory en New York.

7 de noviembre. Rihanna muy sensual en la pasarela del Victorias Secret Fashion Show 2012.

Modelando súper sexy, pero sin soltar el micrófono.

Rihanna se divirtió y lo pasó genial en el Victorias Secret Fashion Show 2012 en New York.

7 de noviembre. Otro de los atuendos que usó Rihanna durante su actuación en el Victorias Secret Fashion Show 2012, en el Lexington Avenue Armory en New York.

7 de noviembre. Rihanna durante su actuación en el Victorias Secret Fashion Show 2012, en el Lexington Avenue Armory en New York.

7 de noviembre. Rihanna durante su actuación en el Victorias Secret Fashion Show 2012, en el Lexington Avenue Armory en New York.

Rihanna con la modelo Doutzen Kroes en el Victoria's Secret fashion show de 2012.

Justin Bieber, Rihanna y todas las modelos del Victoria's Secret Fashion Show de 2012.

La cantante Rihanna en el escenario del Festival "iHeartRadio Music" en Las Vegas, Nevada. (Septiembre 21, 2012) (Photo by Christopher Polk/Getty Images for Clear Channel)

La cantante Rihanna en el escenario del Festival "iHeartRadio Music" en Las Vegas, Nevada. (Septiembre 21, 2012) (Photo by Eric Reed/Invision/AP)

La cantante Rihanna en el escenario del Festival "iHeartRadio Music" en Las Vegas, Nevada. (Septiembre 21, 2012) (Photo by Isaac Brekken/Getty Images for Clear Channel)

La cantante Rihanna en el escenario del Festival "iHeartRadio Music" en Las Vegas, Nevada. (Septiembre 21, 2012) (Photo by Eric Reed/Invision/AP)

La cantante Rihanna en el escenario del Festival "iHeartRadio Music" en Las Vegas, Nevada. (Septiembre 21, 2012) (Photo by Eric Reed/Invision/AP)

La cantante Rihanna en el escenario del Festival "iHeartRadio Music" en Las Vegas, Nevada. (Septiembre 21, 2012) (Photo by Eric Reed/Invision/AP)

La cantante Rihanna detrás de cámaras en el Festival "iHeartRadio Music" en Las Vegas, Nevada. (Septiembre 21, 2012) (Photo by Christopher Polk/Getty Images for Clear Channel)

Rihanna canta en el Barclaycard Wireless Festival en Hyde Park el 8 de julio, 2012 en Londres. (Danny Martindale/Getty Images)

Rihanna en Hyde Park, Londres, el 8 de julio de 2012. (Danny Martindale/Getty Images)

Rihanna durante un concierto en Oslo, Noruega, el 29 de junio de 2012. (AAS, ERLEND/AFP/GettyImages)

Rihanna canta en el Barclaycard Wireless Festival en Hyde Park el 8 de julio, 2012 en Londres. (Danny Martindale/Getty Images)

Rihanna cantando en el escenario del programa "American Idol" durante su final de temporada, el 23 de mayo de 2012 en el Teatro Nokia de Los Angeles. (Mark Davis/Getty Images)

Rihanna cantando en el escenario del programa "American Idol" durante su final de temporada, el 23 de mayo de 2012 en el Teatro Nokia de Los Angeles. (Mark Davis/Getty Images)

Rihanna cantando en el escenario del programa "American Idol" durante su final de temporada, el 23 de mayo de 2012 en el Teatro Nokia de Los Angeles. (Mark Davis/Getty Images)

Rihanna con sus bailarinas interpretando "Where Have You Been". (Mark Davis/Getty Images)

Taylor Kitsch, Rihanna y Alexander Skarsgard en la sesión de fotos de "Battleship" en el "Battleship Missouri Memorial". (Sábado 28 de abril en Pearl Harbor, Hawai)

Rihanna en la sesión de fotos de "Battleship" en el "Battleship Missouri Memorial". (Sábado 28 de abril en Pearl Harbor, Hawai)

El Director Peter Berg, la actriz Brooklyn Decker, Gregory D. Gadson, Taylor Kitsch, Rihanna y el actor Alexander Skarsgard en la sesión de fotos de "Battleship" en el "Battleship Missouri Memorial". (Sábado 28 de abril en Pearl Harbor, Hawai)

Rihanna en la gala de la revista Times. (Abril 24, 2012)

Rihanna en la gala de la revista Times. (Abril 24, 2012)

Rihanna en la gala de la revista Times. (Abril 24, 2012)

Rihanna en la gala de la revista Times. (Abril 24, 2012)

Rihanna en la gala de la revista Times en Nueva York. (Abril 24, 2012)

Rihanna en la gala de la revista Times en Nueva York. (Abril 24, 2012)

Rihanna asiste al 15º evento anual para la lucha contra el cancer de mama en el hotel Beverly Hilton. Abril 18, 2012)

Rihanna en el escenario del 15º evento anual para la lucha contra el cancer de mama en el hotel Beverly Hilton. Abril 18, 2012)

Steven Spielberg, Rihanna y Sheryl Crow asisten al 15º evento anual para la lucha contra el cancer de mama en el hotel Beverly Hilton. Abril 18, 2012)

Rihanna y Sheryl Crow asisten al 15º evento anual para la lucha contra el cancer de mama en el hotel Beverly Hilton. Abril 18, 2012)

Rihanna es captada entre la audiencia durante el tercer día del Festival Coachella en Indio, California. (Abril 15, 2012)

Rihanna es captada entre la audiencia durante el tercer día del Festival Coachella en Indio, California. (Abril 15, 2012)

Rihanna es captada entre la audiencia durante el tercer día del Festival Coachella en Indio, California. (Abril 15, 2012)

Rihanna es captada entre la audiencia durante el tercer día del Festival Coachella en Indio, California. (Abril 15, 2012)

Rihanna durante su actuación en Festival Coachella en Indio, California. (Abril 15, 2012)

Rihanna presenciando la actuación de David Guetta en el Festival Coachella en Indio, California. (Abril 14, 2012)

Rihanna presenciando la actuación de David Guetta en el Festival Coachella en Indio, California. (Abril 14, 2012)

Rihanna a su llegada a la premiere de la cinta 'Battleship' en Sydney, Australia. (Abril 10, 2012)

Rihanna a su llegada a la premiere de la cinta 'Battleship' en Sydney, Australia. (Abril 10, 2012)

Rihanna a su llegada a la premiere de la cinta 'Battleship' en Sydney, Australia. (Abril 10, 2012)

Rihanna a su llegada a la premiere de la cinta 'Battleship' en Tokyo, Japón. (Abril 3, 2012)

Rihanna a su llegada a la premiere de la cinta 'Battleship' en Tokyo, Japón. (Abril 3, 2012)

Rihanna a su llegada a la premiere de la cinta 'Battleship' en Tokyo, Japón. (Abril 3, 2012)

Rihanna a su llegada a los BRIT Awards 2012 en Londres, Inglaterra. (Febrero 21, 2012)

Rihanna a su llegada a los BRIT Awards 2012 en Londres, Inglaterra. (Febrero 21, 2012)

Rihanna durante su actuación en los BRIT Awards 2012 en Londres, Inglaterra. (Febrero 21, 2012)

Rihanna acepta su trofeo como Mejor Artista Internacional Femenina en los BRIT Awards 2012 en Londres, Inglaterra. (Febrero 21, 2012)

Rihanna en los BRIT Awards 2012 en Londres, Inglaterra. (Febrero 21, 2012)

Rihanna y Katy Perry en la audiencia de la ceremonia de los Premios Grammy en Los Angeles, California. (Febrero 12, 2012)

Rihanna en la audiencia de la ceremonia de los Premios Grammy en Los Angeles, California. (Febrero 12, 2012)