¿Qué mejor madrina que Jennifer Lopez para presentar una nueva revista? La sexy cantante de 43 años que recientemente dejó al mundo boquiabierto con el revelador vestido que llevó a los Grammy Awards es hoy el rostro que aparece en la portada de la nueva Glam Belleza Latina, un título de la exitosa Glamour.
En la foto de portada podemos ver a J.Lo con un maquillaje muy ligero, en el que sólo predomina el delineador negro, mientras que sus labios llevan un tono rosado. La también actriz aparece con el cabello recogido y con unos vistosos aretes de diamantes.
"La belleza latina es un arcoiris", dijo Jennifer López a Glam Belleza Latina. "Tenemos matices de piel negra, blanca y caramelo, tenemos cabello rubio, ojos azules y ojos marrones, tenemos el tono más oscuro de la piel oscura. La belleza latina es para todos", aseguró en entrevista exclusiva para este nuevo medio.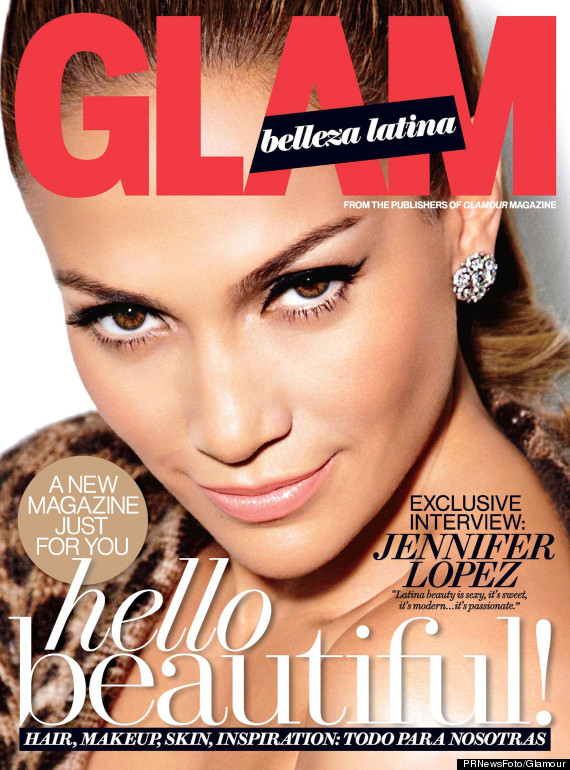 A pesar de celebrar la cultura Latina, la publicación incluirá textos escritos en inglés (90 por ciento), mientras que sólo el 10 por ciento de sus contenidos aparecerá en español. De acuerdo con un comunicado, la revista se publicará trimestralmente y será empacada junto con la edición regular de Glamour para los suscriptores hispanos que acepten incluirla, a partir de la edición de abril. También se venderá en algunos kioscos de revistas en la ciudad de Nueva York, Los Ángeles y Miami.
"Estamos emocionados con la expansión de la marca Glamour con Glam Belleza Latina", dice Cindi Leive, editora en jefe. "Nuestras lectoras están obsesionadas con la belleza, y las milenarias latinas son una parte tan grande de nuestro círculo de lectores, lo que hace que esto sea una evolución natural para nosotros". Leive asegura que además que se encuentra "orgullosa de la revista auténtica, sofisticada y aspiracional" que su equipo creó.
En el primer número de Glam Belleza Latina se publicarán textos de dos diseñadores de raíces cubanas, Narciso Rodríguez e Isabel Toledo.
Mira más de Jennifer Lopez:
Loading Slideshow
Apertura de la tienda Viva Movil By Jennifer Lopez

26 de julio de 2013 en New York.

Develación de su estrella en el Paseo de la Fama de Hollywood

20 de junio en Los Angeles, California. La cantante y actriz lució un vestido en dos tonos --blanco y durazno-- de falda asimétrica con mucho volumen para <a href="http://voces.huffingtonpost.com/2013/06/20/jennifer-lopez-estrella-paseo-fama-hollywood_n_3474466.html" target="_blank">recibir su estrella en el Hollywood Walk of Fame</a>.

amfAR Inspiration Gala New York

13 de junio, en un vestido de Tom Ford.

Concierto "Chime For Change: The Sound Of Change Live"

1 de junio.

22 de mayo, acompañada de Marni Walden de Verizon.

Billboard Music Awards

19 de mayo en Las Vegas.

Presentación de su nueva colección para Kohl's

14 de mayo en New York.

United Nations Foundation "Mom + Social"

8 de mayo en New York.

Elvis Duran Z100 Morning Show

8 de mayo en New York City.

"PUNK: Chaos To Couture" Costume Institute Gala

6 de mayo en New York City.

"PUNK: Chaos To Couture" Costume Institute Gala

6 de mayo en New York City.

Celebrity Fight Night XIX

23 de marzo de 2013. Jennifer Lopez lució un vestido en tono <em>nude</em> con detalles de encaje negro en el <em>top</em>. El lazo en la cintura y los tacones con líneas diagonales, de Christian Louboutin, completaron el sofisticado look. El diseño era de Maria Lucia Hohan.

Apertura de la tienda Topshop Topman

13 de febrero. Jennifer Lopez usó un vestido me´talico con detalles negros y naranjas.

Grammy Awards

10 de febrero. Jennifer Lopez llegó a los Grammy Awards con un diseño de Anthony Vaccarello, en color negro, de un solo hombro, y <a href="http://voces.huffingtonpost.com/2013/02/10/jennifer-lopez-vestido-grammy-awards-2013_n_2659124.html">con la pierna al desnudo</a>. La cantante y actriz de origen latino se apegó al nuevo código de vestimenta que CBS pidió a las asistentes a la entrega de premios, y aunque cubrió su trasero y senos, J. Lo se las ingenió para dejar suficiente piel al descubierto.

Premiere de "Parker" en Las Vegas

Jennifer Lopez lució un ajustado vestido blanco con transparencias, creación de Kaufmanfranco.

Proyección de "Parker", en Nueva York

Jennifer Lopez lució un vestido <em>strapless</em> con volantes en la cintura que combinó con zapatos blancos.

Golden Globe Awards

Jennifer Lopez en la alfombra roja de los Golden Globes 2013, también en blanco con transparencias.

Fiesta en el Pure Nightclub en el Caesars Palace

19 de agosto: Jennifer Lopez llegó a un evento luego de su concierto en Las Vegas luciendo un fantástico diseño de Edition by Georges Chakra. El patrón de líneas horizontales blancas se repetía también en la parte trasera de la falda.

Alberca Wet Republic en el MGM Grand Hotel/ Casino

18 de agosto. Durante su estancia en Las Vegas con motivo de su más reciente tour, la vimos luciendo un conjunto de <em>top</em> y <em>short</em> blancos.

Celebración de su cumpleaños 43

24 de julio. Jennifer lució fabulosa en este vestido Tom Ford, de cuello redondo y manga larga, en un tono rojo vibrante. <a href="http://voces.huffingtonpost.com/2012/07/25/jennifer-lopez-celebra-cumpleanos_n_1701425.html?utm_hp_ref=entretenimiento" target="_hplink">El festejo de su cumpleaños, al lado de su novio Casper Smart, tuvo lugar en un yate</a>.

De paseo por New York

23 de julio. Sofisticada en un conjunto blanco. Este look relajado no deja de representar bien a la diva que, por supuesto, no sale a la calle sin sus gafas oscuras.

Backstage de su gira con Enrique Iglesias

15 de julio. Durante su visita a Montreal, Canadá, pudimos ver a J Lo con un lindo conjunto blanco. El <em>top</em> lleno de brillo le permitió conservar ese glamour que la caracteriza.

A su llegada al show Mystere del Cirque Du Soleil

27 de mayo. Para su visita al Treasure Island Hotle & Casino en Las Vegas, Jennifer lució un mini vestido brillante, de cuello tipo ojal y manga hasta los codos. Para ceñirlo a la cintura usó un lazo negro.

Lanzamiento del sencillo 'Goin' In'

27 de mayo. De blanco con dorado, ¡wow! Este vestido parece pintado a mano.

Final de 'American Idol'

23 de mayo. Así lució la jurado durante el gran final del reality. Los mini vestidos son sin duda sus favoritos.

Su show en la final de 'American Idol'

23 de mayo. La cantante sorprendió con este look. ¡'Jenny from the Block' está de regreso!

En 'American Idol'

La semana pasada, Jennifer Lopez se lució en la semifinal de 'American Idol' con un vestido 'color block', creación de Salvatore Ferragamo. La sensual jurado del programa llevó su cabello suelto, se hizo un moño al frente en el cuello, y anudó el cinturón naranja con un moño por el costado.

En 'American Idol'

Este traje color rosa pálido le dio un aire más inocente a Jennifer. Para no lucir demasiado seria dejó su melena alborotada.

En 'American Idol'

Fabuloso vestido en tres tonos, lleno de brillo. Para lucirlo bien, hacía falta recogerse el cabello, justo como hizo J. Lo.

Estreno en California de 'What To Expect When You Are Expecting'

Jennifer Lopez lució un vestido que dejó a muchos con la boca abierta. La tela y el tono son exquisitos, y el escotazo se robó muchos suspiros. El contraste que logró con su fuerte maquillaje la hizo destacar.

En 'American Idol'

El detalle de los cierres en los costados le da mucho carácter a estos pantalones que, Jennifer combinó con una linda camiseta metálica y tacones en color vino.

En 'American Idol'

Este vestido es una maravilla. La intensidad del color hizo que J. Lo nos deslumbrara en serio.

En 'American Idol'

Este modelito hizo lucir alta y esbelta a Jennifer. El color del pantalón es bellísimo, perfecto para la primavera y el verano.

En 'American Idol'

El día que los jueces salvaron de la eliminación a Jessica Sánchez, Jennifer Lopez llevaba un vestido naranja que resaltó sus espectaculares curvas.

En 'American Idol'

¡Qué sexy! Con líneas de transparencias, este ajustado vestido hizo lucir a J. Lo como toda una diva.

En 'American Idol'

Este espectacular vestido, la hizo lucir muy sofisticada. Para hacer un contraste, Jennifer dejó su cabello rizado y suelto.

En 'American Idol'

Este 'jumpsuit' blanco lució fantástico con un cinturón metálico y unas sandalias negras muy sensuales.

En 'American Idol'

Otro atuendo de pantalón corto. En esta ocasión, Jennifer usó un top de un solo hombro, con volantes y un gran moño. Su melena quedó de lado y sus labios se tiñeron de sexy rojo.

Lanzamiento de su fragancai 'Glowing By J. Lo'

Aquí la vemos con un atuendo de pantalón corto, en tono 'nude'. Para que las piernas fueran la estrella del look, usó manga larga y unos tacones muy sensuales. En esta ocasión recogió su cabello en media colita y dejó sus rizos alborotados.

Anuncio de su gira de conciertos con Enrique Iglesias

Este exótico y sensual atuendo -que lleva una serpiente alrededor del cuello- pertenece a la colección Primavera 2012 de Lanvin. Jennifer recogió su cabello y usó unas plataformas de terciopelo negro.

Apertura de 'Planet Dailies And Mixology 101'

Aquí vemos a J. Lo junto a Mario Lopez. Ella atrapó miradas con ese moño alto y su sobrio pero bello vestido gris.

Evento de 'American Idol'

Junto a Randy Jackson, Steven Tyler, y Ryan Seacrest, ¿quién se roba toa la atención? Sin duda, las piernas de Jennifer. ¡Y qué lindo vestido metálico!

Premios Oscar

Para la alfombra roja de este maravilloso evento, Jennifer Lopez usó un vestido bien ceñido, de escote en 'V'.

Vanity Fair Oscar Party

Este fue el escote que puso a todos con los nervios de punta. En la ceremonia los Oscar, Jennifer ya había tenido un problemita con su vestido (foto anterior), así que cuando se enfundó en este sexy diseño, la cantante y actriz no dejaba de sostener la parte frontal del traje, para evitar enseñar de más.

Conferencia de prensa del show 'Q'Viva!'

Acompañada por Marc Anthony y Jamie King, Jennifer posa con un vestido en azul vibrante. Sexy escote y silueta súper ceñida.
Loading Slideshow
Fox's "American Idol 2013" Finale - Results Show - Show

LOS ANGELES, CA - MAY 16: Singer Jennifer Lopez performs onstage during Fox's 'American Idol 2013' Finale Results Show at Nokia Theatre L.A. Live on May 16, 2013 in Los Angeles, California. (Photo by Kevin Winter/Getty Images)

Fox's "American Idol 2013" Finale - Results Show - Show

LOS ANGELES, CA - MAY 16: Singer Jennifer Lopez performs onstage during Fox's 'American Idol 2013' Finale Results Show at Nokia Theatre L.A. Live on May 16, 2013 in Los Angeles, California. (Photo by Kevin Winter/Getty Images)

Fox's "American Idol 2013" Finale - Results Show - Show

LOS ANGELES, CA - MAY 16: Singer Jennifer Lopez performs onstage during Fox's 'American Idol 2013' Finale Results Show at Nokia Theatre L.A. Live on May 16, 2013 in Los Angeles, California. (Photo by Kevin Winter/Getty Images)

Fox's "American Idol 2013" Finale - Results Show - Show

LOS ANGELES, CA - MAY 16: Singer Jennifer Lopez performs onstage during Fox's 'American Idol 2013' Finale Results Show at Nokia Theatre L.A. Live on May 16, 2013 in Los Angeles, California. (Photo by Kevin Winter/Getty Images)

Fox's "American Idol 2013" Finale - Results Show - Show

LOS ANGELES, CA - MAY 16: Singer Jennifer Lopez performs onstage during Fox's 'American Idol 2013' Finale Results Show at Nokia Theatre L.A. Live on May 16, 2013 in Los Angeles, California. (Photo by Kevin Winter/Getty Images)

Fox's "American Idol 2013" Finale - Results Show - Show

LOS ANGELES, CA - MAY 16: Singer Jennifer Lopez performs onstage during Fox's 'American Idol 2013' Finale Results Show at Nokia Theatre L.A. Live on May 16, 2013 in Los Angeles, California. (Photo by Kevin Winter/Getty Images)

Fox's "American Idol 2013" Finale - Results Show - Show

LOS ANGELES, CA - MAY 16: Singer Jennifer Lopez performs onstage during Fox's 'American Idol 2013' Finale Results Show at Nokia Theatre L.A. Live on May 16, 2013 in Los Angeles, California. (Photo by Kevin Winter/Getty Images)

Fox's "American Idol 2013" Finale - Results Show - Show

LOS ANGELES, CA - MAY 16: Singer Jennifer Lopez performs onstage during Fox's 'American Idol 2013' Finale Results Show at Nokia Theatre L.A. Live on May 16, 2013 in Los Angeles, California. (Photo by Kevin Winter/Getty Images)

Fox's "American Idol 2013" Finale - Results Show - Show

LOS ANGELES, CA - MAY 16: Singer Jennifer Lopez performs onstage during Fox's 'American Idol 2013' Finale Results Show at Nokia Theatre L.A. Live on May 16, 2013 in Los Angeles, California. (Photo by Kevin Winter/Getty Images)

Fox's "American Idol 2013" Finale - Results Show - Show

LOS ANGELES, CA - MAY 16: Singer Jennifer Lopez performs onstage during Fox's 'American Idol 2013' Finale Results Show at Nokia Theatre L.A. Live on May 16, 2013 in Los Angeles, California. (Photo by Kevin Winter/Getty Images)

Fox's "American Idol 2013" Finale - Results Show - Show

LOS ANGELES, CA - MAY 16: Singer Jennifer Lopez performs onstage during Fox's 'American Idol 2013' Finale Results Show at Nokia Theatre L.A. Live on May 16, 2013 in Los Angeles, California. (Photo by Kevin Winter/Getty Images)

Fox's "American Idol 2013" Finale - Results Show - Show

LOS ANGELES, CA - MAY 16: Singer Jennifer Lopez performs onstage during Fox's 'American Idol 2013' Finale Results Show at Nokia Theatre L.A. Live on May 16, 2013 in Los Angeles, California. (Photo by Kevin Winter/Getty Images)

Fox's "American Idol 2013" Finale - Results Show - Show

LOS ANGELES, CA - MAY 16: Singer Jennifer Lopez performs onstage during Fox's 'American Idol 2013' Finale Results Show at Nokia Theatre L.A. Live on May 16, 2013 in Los Angeles, California. (Photo by Kevin Winter/Getty Images)

Fox's "American Idol 2013" Finale - Results Show - Show

LOS ANGELES, CA - MAY 16: Singer Jennifer Lopez performs onstage during Fox's 'American Idol 2013' Finale Results Show at Nokia Theatre L.A. Live on May 16, 2013 in Los Angeles, California. (Photo by Kevin Winter/Getty Images)

Fox's "American Idol 2013" Finale - Results Show - Show

LOS ANGELES, CA - MAY 16: Singer Jennifer Lopez performs onstage during Fox's 'American Idol 2013' Finale Results Show at Nokia Theatre L.A. Live on May 16, 2013 in Los Angeles, California. (Photo by Kevin Winter/Getty Images)

Fox's "American Idol 2013" Finale - Results Show - Show

LOS ANGELES, CA - MAY 16: Singer Jennifer Lopez performs onstage during Fox's 'American Idol 2013' Finale Results Show at Nokia Theatre L.A. Live on May 16, 2013 in Los Angeles, California. (Photo by Kevin Winter/Getty Images)

Fox's "American Idol 2013" Finale - Results Show - Show

LOS ANGELES, CA - MAY 16: Singer Jennifer Lopez performs onstage during Fox's 'American Idol 2013' Finale Results Show at Nokia Theatre L.A. Live on May 16, 2013 in Los Angeles, California. (Photo by Kevin Winter/Getty Images)

Fox's "American Idol 2013" Finale - Results Show - Show

LOS ANGELES, CA - MAY 16: Singer Jennifer Lopez performs onstage during Fox's 'American Idol 2013' Finale Results Show at Nokia Theatre L.A. Live on May 16, 2013 in Los Angeles, California. (Photo by Kevin Winter/Getty Images)

Fox's "American Idol 2013" Finale - Results Show - Show

LOS ANGELES, CA - MAY 16: Singer Jennifer Lopez performs onstage during Fox's 'American Idol 2013' Finale Results Show at Nokia Theatre L.A. Live on May 16, 2013 in Los Angeles, California. (Photo by Kevin Winter/Getty Images)

Fox's "American Idol 2013" Finale - Results Show - Show

LOS ANGELES, CA - MAY 16: Singer Jennifer Lopez performs onstage during Fox's 'American Idol 2013' Finale Results Show at Nokia Theatre L.A. Live on May 16, 2013 in Los Angeles, California. (Photo by Kevin Winter/Getty Images)

Fox's "American Idol 2013" Finale - Results Show - Show

LOS ANGELES, CA - MAY 16: Singer Jennifer Lopez performs onstage during Fox's 'American Idol 2013' Finale Results Show at Nokia Theatre L.A. Live on May 16, 2013 in Los Angeles, California. (Photo by Kevin Winter/Getty Images)

Fox's "American Idol 2013" Finale - Results Show - Show

LOS ANGELES, CA - MAY 16: Singer Jennifer Lopez performs onstage during Fox's 'American Idol 2013' Finale Results Show at Nokia Theatre L.A. Live on May 16, 2013 in Los Angeles, California. (Photo by Kevin Winter/Getty Images)

Fox's "American Idol 2013" Finale - Results Show - Show

LOS ANGELES, CA - MAY 16: Singer Jennifer Lopez performs onstage during Fox's 'American Idol 2013' Finale Results Show at Nokia Theatre L.A. Live on May 16, 2013 in Los Angeles, California. (Photo by Kevin Winter/Getty Images)

Fox's "American Idol 2013" Finale - Results Show - Show

LOS ANGELES, CA - MAY 16: Singer Jennifer Lopez performs onstage during Fox's 'American Idol 2013' Finale Results Show at Nokia Theatre L.A. Live on May 16, 2013 in Los Angeles, California. (Photo by Kevin Winter/Getty Images)

Fox's "American Idol 2013" Finale - Results Show - Show

LOS ANGELES, CA - MAY 16: Singer Jennifer Lopez performs onstage during Fox's 'American Idol 2013' Finale Results Show at Nokia Theatre L.A. Live on May 16, 2013 in Los Angeles, California. (Photo by Kevin Winter/Getty Images)

Tommy Hilfiger New West Coast Flagship After Party

WEST HOLLYWOOD, CA - FEBRUARY 13: Jennifer Lopez attends Tommy Hilfiger New West Coast Flagship Opening After Party at a Private Club on February 13, 2013 in West Hollywood, California. (Photo by Mark Davis/Getty Images for Tommy Hilfiger)

Tommy Hilfiger New West Coast Flagship After Party

WEST HOLLYWOOD, CA - FEBRUARY 13: Jennifer Lopez attends Tommy Hilfiger New West Coast Flagship Opening After Party at a Private Club on February 13, 2013 in West Hollywood, California. (Photo by Stefanie Keenan/Getty Images for Tommy Hilfiger)

Topshop Topman LA Opening Party - Red Carpet

LOS ANGELES, CA - FEBRUARY 13: Singer Jennifer Lopez arrives at the Topshop Topman LA Opening Party at Cecconi's West Hollywood on February 13, 2013 in Los Angeles, California. (Photo by Lester Cohen/Getty Images for Topshop Topman)

Tommy Hilfiger New West Coast Flagship After Party

WEST HOLLYWOOD, CA - FEBRUARY 13: Singer/actress Jennifer Lopez attends Tommy Hilfiger New West Coast Flagship Opening After Party at a Private Club on February 13, 2013 in West Hollywood, California. (Photo by Stefanie Keenan/Getty Images for Tommy Hilfiger)

The 55th Annual GRAMMY Awards - Show

LOS ANGELES, CA - FEBRUARY 10: Singer Jennifer Lopez and singer Adele speak onstage during the 55th Annual GRAMMY Awards at STAPLES Center on February 10, 2013 in Los Angeles, California. (Photo by Kevin Winter/WireImage)

The 55th Annual GRAMMY Awards - Backstage And Audience

LOS ANGELES, CA - FEBRUARY 10: Casper Smart, Jennifer Lopez, Nicole Kidman and Keith Urban attend the 55th Annual GRAMMY Awards at STAPLES Center on February 10, 2013 in Los Angeles, California. (Photo by Larry Busacca/WireImage)

The 55th Annual GRAMMY Awards - Backstage

LOS ANGELES, CA - FEBRUARY 10: Casper Smart, Jennifer Lopez, Nicole Kidman and Keith Urban attend the 55th Annual GRAMMY Awards at STAPLES Center on February 10, 2013 in Los Angeles, California. (Photo by Kevin Mazur/WireImage)

The 55th Annual GRAMMY Awards - Backstage

LOS ANGELES, CA - FEBRUARY 10: Jennifer Lopez and Nicole Kidman attend the 55th Annual GRAMMY Awards at STAPLES Center on February 10, 2013 in Los Angeles, California. (Photo by Kevin Mazur/WireImage)

The 55th Annual GRAMMY Awards - Backstage

LOS ANGELES, CA - FEBRUARY 10: Casper Smart and Jennifer Lopez attends the 55th Annual GRAMMY Awards at STAPLES Center on February 10, 2013 in Los Angeles, California. (Photo by Kevin Mazur/WireImage)

The 55th Annual GRAMMY Awards - Show

LOS ANGELES, CA - FEBRUARY 10: Singer/actress Jennifer Lopez (L) and recording artist Pitbull speak speak onstage during the 55th Annual GRAMMY Awards at STAPLES Center on February 10, 2013 in Los Angeles, California. (Photo by Kevin Winter/WireImage)

The 55th Annual GRAMMY Awards - Show

LOS ANGELES, CA - FEBRUARY 10: Singers Jennifer Lopez and Pitbull speak onstage at the 55th Annual GRAMMY Awards at Staples Center on February 10, 2013 in Los Angeles, California. (Photo by Kevork Djansezian/Getty Images)

The 55th Annual GRAMMY Awards - Show

LOS ANGELES, CA - FEBRUARY 10: Singer/actress Jennifer Lopez (L) and recording artist Pitbull speak speak onstage during the 55th Annual GRAMMY Awards at STAPLES Center on February 10, 2013 in Los Angeles, California. (Photo by Kevin Winter/WireImage)

The 55th Annual GRAMMY Awards - Show

LOS ANGELES, CA - FEBRUARY 10: Singer/actress Jennifer Lopez (L) and recording artist Pitbull speak onstage during the 55th Annual GRAMMY Awards at STAPLES Center on February 10, 2013 in Los Angeles, California. (Photo by Kevin Winter/WireImage)

The 55th Annual GRAMMY Awards - Show

LOS ANGELES, CA - FEBRUARY 10: Singer/actress Jennifer Lopez (L) and recording artist Pitbull speak onstage during the 55th Annual GRAMMY Awards at STAPLES Center on February 10, 2013 in Los Angeles, California. (Photo by Kevin Winter/WireImage)

The 55th Annual GRAMMY Awards - Show

LOS ANGELES, CA - FEBRUARY 10: Singer/actress Jennifer Lopez (L) and recording artist Pitbull onstage during the 55th Annual GRAMMY Awards at STAPLES Center on February 10, 2013 in Los Angeles, California. (Photo by Kevin Winter/WireImage)

The 55th Annual GRAMMY Awards - Red Carpet

LOS ANGELES, CA - FEBRUARY 10: Singer/actress Jennifer Lopez (L) and dancer Casper Smart attend the 55th Annual GRAMMY Awards at STAPLES Center on February 10, 2013 in Los Angeles, California. (Photo by Jeff Vespa/WireImage)

The 55th Annual GRAMMY Awards - Red Carpet

LOS ANGELES, CA - FEBRUARY 10: Singer/actress Jennifer Lopez attends the 55th Annual GRAMMY Awards at STAPLES Center on February 10, 2013 in Los Angeles, California. (Photo by Lester Cohen/WireImage)

The 55th Annual GRAMMY Awards - Red Carpet

LOS ANGELES, CA - FEBRUARY 10: Jennifer Lopez and Casper Smart attend the 55th Annual GRAMMY Awards at STAPLES Center on February 10, 2013 in Los Angeles, California. (Photo by Kevin Mazur/WireImage)

The 55th Annual GRAMMY Awards - Red Carpet

LOS ANGELES, CA - FEBRUARY 10: Jennifer Lopez attends the 55th Annual GRAMMY Awards at STAPLES Center on February 10, 2013 in Los Angeles, California. (Photo by Kevin Mazur/WireImage)

The 55th Annual GRAMMY Awards - Red Carpet

LOS ANGELES, CA - FEBRUARY 10: Singer/actress Jennifer Lopez (L) and dancer Casper Smart attends the 55th Annual GRAMMY Awards at STAPLES Center on February 10, 2013 in Los Angeles, California. (Photo by Lester Cohen/WireImage)

The 55th Annual GRAMMY Awards - Red Carpet

LOS ANGELES, CA - FEBRUARY 10: Jennifer Lopez attends the 55th Annual GRAMMY Awards at STAPLES Center on February 10, 2013 in Los Angeles, California. (Photo by Kevin Mazur/WireImage)

The 55th Annual GRAMMY Awards - Red Carpet

LOS ANGELES, CA - FEBRUARY 10: Jennifer Lopez and Casper Smart attend the 55th Annual GRAMMY Awards at STAPLES Center on February 10, 2013 in Los Angeles, California. (Photo by Kevin Mazur/WireImage)

The 55th Annual GRAMMY Awards - Red Carpet

LOS ANGELES, CA - FEBRUARY 10: Jennifer Lopez and Casper Smart attend the 55th Annual GRAMMY Awards at STAPLES Center on February 10, 2013 in Los Angeles, California. (Photo by Kevin Mazur/WireImage)

The 55th Annual GRAMMY Awards - Red Carpet

LOS ANGELES, CA - FEBRUARY 10: Singer/actress Jennifer Lopez (L) and dancer Casper Smart attends the 55th Annual GRAMMY Awards at STAPLES Center on February 10, 2013 in Los Angeles, California. (Photo by Lester Cohen/WireImage)

The 55th Annual GRAMMY Awards - Red Carpet

LOS ANGELES, CA - FEBRUARY 10: Singer/actress Jennifer Lopez attends the 55th Annual GRAMMY Awards at STAPLES Center on February 10, 2013 in Los Angeles, California. (Photo by Lester Cohen/WireImage)

The 55th Annual GRAMMY Awards - Red Carpet

LOS ANGELES, CA - FEBRUARY 10: Singer/actress Jennifer Lopez attends the 55th Annual GRAMMY Awards at STAPLES Center on February 10, 2013 in Los Angeles, California. (Photo by Lester Cohen/WireImage)
Relacionado en HuffPost Voces: