William Levy y Angelique Boyer juegan una carrera de velocidad en comercial (VIDEO)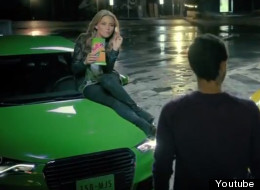 Aunque no consiguieron tenerlos, aun, de protagonistas en una telenovela, ya en México se pueden ver a Angelique Boyer y William Levy juntos en un comercial de snacks corriendo una carrera a toda velocidad para convencer a un joven que se quede con el gusto de las papas que tienen cada uno de ellos.
En esta ocasión, a diferencia de las anteriores en donde Levy era perseguido por una polícia, este personaje solo tiene segundos en el comercial. Sin embargo, lo paradójico, es que traten justo uno de los temas que es la debilidad y los dolores de cabeza de William: la alta velocidad.
Recordemos que el galán cubano ha tenido varios problemas en el pasado con este tema, pues la acumulación de multas por exceso de velocidad, provocó que, por un corto tiempo, le suspendieran la licencia de conducir en Miami.
MIRA MÁS DE WILLIAM LEVY EN FOTOS:
WILLIAM LEVY Y ELIZABETH GUTIERREZ
Luego de ver esta foto, Carla Estrada quiso conocerlo y le dio su primera oportunidad en la meca de las telenovelas en 'Pasión' junto a Fernando Colunga.

Elizabeth Gutiérrez es una de las protagonistas de telenovela más querida.

William Levy en el 2011 en la fiesta de People en Español.

Elizabeth participó del exitosos show de Univision 'Mira quien baila'.

William Levy en la alfombra de Premios Juventud.

William Levy un día después de lograr el tercer puesto en Dancing with the stars visita "Good Morning America' también de ABC.

Y por supuesto no faltó el baile de William Levy con Cheryl Burke en 'Good Morning America'.

William Levy con Cheryl Burke en uno de sus bailes en 'Dancing with the Stars'.

William Levy y Cheryl Burke lograron una muy buena química en las 10 semanas que bailaron.

Aquí lo vemos en su personaje en 'Cuidado con el Ángel' la novela que lo terminó de consagrar.
Y NO TE PIERDAS A ANGELIQUE EN FOTOS:
MEXICO CITY, MEXICO - SEPTEMBER 03: Actress Angelique Boyer attends the 2011 Kids Choice Awards Mexico press room at Six Flags Mexico on September 3, 2011 in Mexico City, Mexico. (Photo by Victor Chavez/Getty Images)

MEXICO CITY, MEXICO - SEPTEMBER 03: Actress Angelique Boyer attends the 2011 Kids Choice Awards Mexico press room at Six Flags Mexico on September 3, 2011 in Mexico City, Mexico. (Photo by Victor Chavez/Getty Images)

LAS VEGAS, NV - NOVEMBER 10: Actress Angelique Boyer (L) and Gustavo Santaolalla arrives at the 12th Annual Latin GRAMMY Awards held at the Mandalay Bay Resort & Casino on November 10, 2011 in Las Vegas, Nevada (Photo by Rodrigo Varela/WireImage)

LAS VEGAS, NV - NOVEMBER 10: Actress Angelique Boyer arrives at the 12th annual Latin GRAMMY Awards at the Mandalay Bay Resort & Casino on November 10, 2011 in Las Vegas, Nevada. (Photo by Ethan Miller/Getty Images)

LAS VEGAS, NV - NOVEMBER 10: Actress Angelique Boyer arrives at the 12th Annual Latin GRAMMY Awards held at the Mandalay Bay Resort & Casino on November 10, 2011 in Las Vegas, Nevada (Photo by Lester Cohen/WireImage)

French-born Mexican actress, model, and singer Angelique Boyer speaks during the 12th Annual Latin Grammy Awards in Las Vegas, Nevada, on November 10, 2011. AFP Photo/Jewel Samad (Photo credit should read JEWEL SAMAD/AFP/Getty Images)

LAS VEGAS, NV - NOVEMBER 10: Singer Marco Antonio Solis (L) and actress Angelique Boyer speak onstage at the 12th Annual Latin GRAMMY Awards held at the Mandalay Bay Resort & Casino on November 10, 2011 in Las Vegas, Nevada. (Photo by John Shearer/WireImage)

LAS VEGAS, NV - NOVEMBER 10: Actress Angelique Boyer arrives at the 12th annual Latin GRAMMY Awards at the Mandalay Bay Resort & Casino on November 10, 2011 in Las Vegas, Nevada. (Photo by Ethan Miller/Getty Images)

LAS VEGAS, NV - NOVEMBER 10: Singer Angelique Boyer speaks onstage during the 12th annual Latin GRAMMY Awards at the Mandalay Bay Events Center on November 10, 2011 in Las Vegas, Nevada. (Photo by Kevin Winter/Getty Images for Latin Recording Academy)

LAS VEGAS, NV - NOVEMBER 10: Actress Angelique Boyer arrives at the 12th annual Latin GRAMMY Awards at the Mandalay Bay Resort & Casino on November 10, 2011 in Las Vegas, Nevada. (Photo by Steven Lawton/FilmMagic)

Angelique Boyer arrives at the 12th Annual Latin Grammy Awards on Thursday Nov. 10, 2011 in Las Vegas. (AP Photo/Chris Pizzello)

Angelique Boyer is seen onstage at the 12th Annual Latin Grammy Awards on Thursday Nov. 10, 2011 in Las Vegas. (AP Photo/Julie Jacobson)

Marco Antonio Solis, left, accepts the award for best regional Mexican song for "A Donde Vamos A Parar" at the 12th Annual Latin Grammy Awards on Thursday Nov. 10, 2011 in Las Vegas. Lookig on at right is Angelique Boyer. (AP Photo/Julie Jacobson)

MEXICO CITY, MEXICO - SEPTEMBER 03: Actress Angelique Boyer attends the 2011 Kids Choice Awards Mexico press room at Six Flags Mexico on September 3, 2011 in Mexico City, Mexico. (Photo by Victor Chavez/Getty Images)

MEXICO CITY, MEXICO - SEPTEMBER 03: Actress Angelique Boyer attends the 2011 Kids Choice Awards Mexico press room at Six Flags Mexico on September 3, 2011 in Mexico City, Mexico. (Photo by Victor Chavez/Getty Images)

LAS VEGAS, NV - NOVEMBER 10: Actress Angelique Boyer arrives at the 12th Annual Latin GRAMMY Awards held at the Mandalay Bay Resort & Casino on November 10, 2011 in Las Vegas, Nevada (Photo by Rodrigo Varela/WireImage)

MEXICO CITY, MEXICO - SEPTEMBER 03: Actress Angelique Boyer attends the 2011 Kids Choice Awards Mexico press room at Six Flags Mexico on September 3, 2011 in Mexico City, Mexico. (Photo by Victor Chavez/Getty Images)

MEXICO CITY, MEXICO - SEPTEMBER 03: Actress Angelique Boyer attends the 2011 Kids Choice Awards Mexico press room at Six Flags Mexico on September 3, 2011 in Mexico City, Mexico. (Photo by Victor Chavez/Getty Images)

MEXICO CITY, MEXICO - SEPTEMBER 03: Actress Angelique Boyer attends the 2011 Kids Choice Awards Mexico press room at Six Flags Mexico on September 3, 2011 in Mexico City, Mexico. (Photo by Victor Chavez/Getty Images)

Mexican actress Angelique Boyer and Mexican actor David Zepeda, both part of the cast of the new soap opera "Abismo de Pasion" or "Abyss of Passion" pose for photographers during a presentation to the press at the Televisa network studios in Mexico City, Mexico, Wednesday, Jan. 18, 2012. The story is based on the 1996 soap opera, "Cañaveral de Pasiones" or "Canefield of Passions" and many scenes were filmed in the Yucatan Peninsula, southeastern Mexico. (AP Photo/Raquel Cunha)

Actors Mark Tacher, left, Angelique Boyer, center, and David Zepeda, all part of the cast of the new soap opera "Abismo de Pasion" or "Abyss of Passion" pose for photographers during a presentation to the press at the Televisa network studios in Mexico City, Mexico, Wednesday, Jan. 18, 2012. The story is based on the 1996 soap opera, "Cañaveral de Pasiones" or "Canefield of Passions" and many scenes were filmed in the Yucatan Peninsula, southeastern Mexico. (AP Photo/Raquel Cunha)

Mexican actors Mark Tacher, left, Angelique Boyer, center, and David Zepeda, all part of the cast of the new soap opera "Abismo de Pasion" or "Abyss of Passion" perform a scene during a presentation to the press at the Televisa network studios in Mexico City, Mexico, Wednesday, Jan. 18, 2012. The story is based on the 1996 soap opera, "Cañaveral de Pasiones" or "Canefield of Passions" and many scenes were filmed in the Yucatan Peninsula, southeastern Mexico. (AP Photo/Raquel Cunha)

Actors Mark Tacher, left, Angelique Boyer, center, and David Zepeda, all part of the cast of the new soap opera "Abismo de Pasion" or "Abyss of Passion" pose for photographers during a presentation to the press at the Televisa network studios in Mexico City, Mexico, Wednesday, Jan. 18, 2012. The story is based on the 1996 soap opera, "Cañaveral de Pasiones" or "Canefield of Passions" and many scenes were filmed in the Yucatan Peninsula, southeastern Mexico.(AP Photo/Raquel Cunha)

Mexican actress Angelique Boyer, part of the cast of the new soap opera "Abismo de Pasion" or "Abyss of Passion" speaks during a presentation to the press at the Televisa network studios in Mexico City, Mexico, Wednesday, Jan . 18, 2012. The story is based on the 1996 soap opera, "Cañaveral de Pasiones" or "Canefield of Passions" and many scenes were filmed in the Yucatan Peninsula, southeastern Mexico. (AP Photo/Raquel Cunha)

Mexican actress Angelique Boyer, part of the cast of the new soap opera "Abismo de Pasion" or "Abyss of Passion" speaks during a presentation to the press at the Televisa network studios in Mexico City, Mexico, Wednesday, Jan . 18, 2012. The scenes of the novel were filmed in the Yucatan Peninsula, southeastern Mexico. The story is based on the 1996 soap opera, "Cañaveral de Pasiones" or "Canefield of Passions" and many scenes were filmed in the Yucatan Peninsula, southeastern Mexico. (AP Photo/Raquel Cunha)