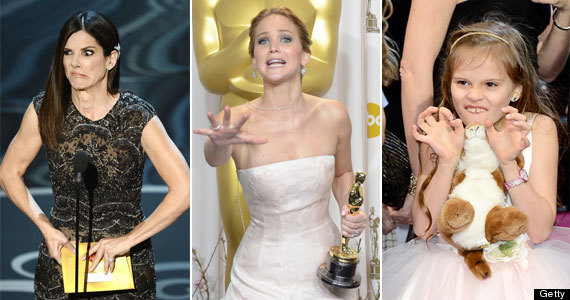 Esta edición de los Premios de la Academia tampoco se salvó de momentos realmente divertidos - y son generalmente los que no fueron planeados, como aquellos chistecitos malos del conductor Seth MacFarlane. En cambio, Sandra Bullock protagonizó un curioso incidente cuando se peleaba por abrir el sobre del ganador de su categoría e hizo un par de gestos particularmente graciosos.
Además, la siempre carismática Jennifer Lawrence se llevó el público a la bolsa. No sólo protagonizó uno de los incidentes más comentados, al caerse de bruces al subir a recoger su Oscar por Mejor Actriz, sino que también es la reina de las caras y gestos curiosos. Inclusive, la joven ¡insultó en backstage con el dedo medio! Claro, en tono de broma, porque para esta nena todo es un chiste.
Te hemos preparado una galería de imágenes con lo más chusco y entretenido del Oscar 2013, incluyendo también a la adorable hija del galardonado director de fotografía Claudio Miranda, así como peculiares momentos con Ben Affleck, Jack Nicholson y más famosos.
Loading Slideshow
Sandra Bullock no podía abrir el sobre con el ganador.

Jennifer Lawrence, ¿aterrada?

Jennifer Lawrence recibe lecciones de cómo perfeccionar una risa falsa de parte de Anne Hathaway.

Kristin Chenoweth se la está pasando MUY bien en el escenario junto a Seth MacFarlane.

Jack Nicholson con look extra bizarro, a lo Pee-Wee Herman y sonrisa macabra de su personaje en "The Shining".

Catherine Zeta-Jones nos grita: "¡Síii, son mías y son naturalitas!"

¿Qué chiste se estarán contando Robert Downey Jr., Jeremy Renner y Samuel L. Jackson?

Claudio Miranda tampoco se la cree que ha recibido su Óscar. ¿O será que se dio cuenta que olvidó peinarse?

Mientras tanto, la hija de Claudio, Sofía Miranda le da su mejor pose a la prensa.

El co-director de "Brave", Mark Andrews está "un poquito" feliz con su victoria por Mejor Cinta Animada.

¿Se le nota la emoción? La co-directora Brenda Chapman, más reservada.

Julie Dartnell y Lisa Westcott ganadoras por Mejor Maquillaje gracias a "Les Miserables" le dan un besito a su Óscar.

Y mientras tanto, Sandra Bullock sigue peleando con el sobre infernal.

Zoe Saldaña no puede creer lo que le han dicho.

Chris Tucker se ha dado cuenta que el show lleva más de ocho horas de duración.

Adele: "¡Gracias por mi Óscar, amiguitos!"

Jennifer Hudson dedicándole su tema a alguien en particular del público, con todo el <em>feeling </em>del mundo.

Michael Douglas: "Mira Catherine, ahí está el camión de los helados. ¡Vamos!"

No, Chris Terrio, eso no es un bebé.

Ben Affleck: "George, somos los mejores, ¿verdad?" George Clooney: "¡Claro, Ben!"

Eso, Ben Affleck, disfrútalo toooodo. La venganza es tuya.

Ya casi, Sandra Bullock. Vamos, tú puedes.

Jennifer Lawrence buscando su arete perdido... Mentira, está en plena caída. ¡Ups!

Jennifer Lawrence con su vestido tan elaborado, arrastrándose hasta el escenario.

Jennifer Lawrence ahora sí se fijó al subir los escalones.

Ok ok, nos merecemos el insulto, Jen. ¡Pero es que esa caída fue el detallazo de la noche!
MÁS FOTOS DEL OSCAR:
Loading Slideshow
Jennifer Lawrence en Dior Haute Couture

La textura y el volumen hicieron de este vestido uno de los más hermosos de la velada. Y aunque <a href="http://voces.huffingtonpost.com/2013/02/25/jennifer-lawrence-vestido-caida-premios-oscar_n_2756895.html?1361771278">cuando subió al escenario a aceptar su premio se cayó</a>, el percance pareció no importarle en lo más mínimo. Por esto amamos a esta chica.

Salma Hayek en Alexander McQueen

La gran sorpresa de este traje de terciopelo es que no hubo un escote espectacular, como los que acostumbra la mexicana. En cambio, la actriz y productora apostó por un traje en donde la estrella fuera la pedrería. <a href="http://voces.huffingtonpost.com/2013/02/24/salma-hayek-vestido-premios-oscar-2013_n_2756171.html?1361755078">El elegante modelito es un Alexander McQueen</a>.

Jennifer Hudson en Roberto Cavalli

Uno de los trajes más originales de la noche fue este con lentejuelas en color azul. El cuerpazo que tiene le permite usar algo como esto.

Jeremy Renner en Givenchy

¿No es perfecto?

Nicole Kidman en L'Wren Scott

¿Demasiado? La verdad es que este traje tiene mucha textura y brillo y es difícil saber si es bello o un error de la alfombra roja.

Keith Urban & Nicole Kidman

Juntos se veían bastante bien.

Kristen Stewart en Naeem Khan

Uno de los peores modelitos de la noche. Por un lado hay demasiada textura, y si sumamos el mal ajuste y el tul a los lados, el resultado es terrible.

Sally Field en Valentino

Hace tiempo que no la veíamos con un diseño tan sofisticado. Mucho drapeado y volante, pero todo perfectamente en lugar. ¡Y qué gran color!

Charlize Theron en Dior Couture

De blanco, sin muchas complicaciones, pero fabulosa. El <em>top</em> estructurado definió hermosamente su silueta.

Jessica Chastain en Armani Prive

Este vestido es una belleza. La pelirroja lució fantástica con un traje en tono nude con una capa de brillo y una delicada textura. Sus hombros desnudos y el labial rojo le sientan de maravilla. Como ella misma describió su atuendo, ¡es muy "Happy Birthday, Mr. President"!

Amy Adams en Oscar de la Renta

Este voluminoso vestido lució perfecto en la nominada al Oscar. El top tiene una textura muy delicada y la falda es una explosión de glamour. El azul pálido fue una elección sofisticada.

Quentin Tarantino & Lianne Spiderbaby

Que a él le quedara grande el traje y ni siquiera se hubiera puesto bien la corbata se nos olvidó muy pronto por culpa de ese escotazo.

Daniel Day-Lewis & Rebecca Miller

Un corte espectacular en un color audaz.

Renee Zellweger en Carolina Herrera

Sin sorpresas -porque siempre elige a la diseñadora venezolana-, pero también falta de encanto para un evento tan glamouroso. Simplemente de lo más aburrido de la alfombra roja.

Jennifer Garner en Gucci

El color se lo hemos visto antes y la verdad es que hizo bien en elegir algo que la hace lucir tan espectacular. Los volantes que se desprendían de la cintura le daban un toque muy sofisticado a este vestido.

Jennifer Garner & Ben Affleck

Juntos se veían aún mejor.

Halle Berry en Versace

Halle siempre nos sorprende con diseños osados y muy originales, y este traje no fue la excepción. El balance entre las líneas, el escote profundo y las hombreras fue perfecto, y su silueta lució maravillosa.

Amanda Seyfried en Alexander McQueen

Esta chica nos encanta porque siempre busca vestidos muy sofisticados. El cuello alto con una sexy abertura en el pecho, sumados a la textura, hicieron de este traje uno muy elegante y favorecedor.

Sandra Bullock en Elie Saab

El vestido tiene demasiados detalles, un textura muy rica y unas transparencias sensuales, pero quizá todo habría terminado de hacer <em>click</em> si hubiera recogido su cabello para un look más sofisticado.

George Clooney en Giorgio Armani & Stacy Keibler

¿Y ahora con barba? Bueno, la verdad es que siempre se ve fabuloso.

Hugh Jackman & Deborra-Lee Furness

Clásico, elegante y perfecto.

Adele en Jenny Packham

Volvió al negro ¡y la amamos! Este vestido es bello. Las mangas le quedan muy bien y ayudan a crear una silueta más delicada. Las aplicaciones a lo largo de todo el traje lo llenaron de glamour.

Naomi Watts en Armani Prive

¡Qué maravilla de vestido! El corte del hombro es de lo más original y la textura y brillo son espectaculares. Este fue uno de nuestros looks favoritos de la noche.

Liev Schreiber & Naomi Watts

Y aquí con su siempre impecable esposo.

Robert De Niro & su esposa Grace Hightower

Como siempre, perfecto.

Richard Gere

Nos gusta cuando nos sorprenden con un traje sencillo, clásico, y una corbata negra.

Chris Evans

Mismo look, pero MUCHO más sexy.

Anne Hathaway en Prada

Su estilo es cada vez más delicado, pulcro y sofisticado. Este es un vestido sencillo pero con un gran encanto.

Anne Hathaway en Prada

Así lucía por detrás su hermoso vestido.

Daniel Radcliffe en Prada

Sin sorpresas: de negro y muy elegante.

Queen Latifah en Badgley Mischka

De blanco y con algunos toquecitos de brillos en los hombros. Simple y bello.

Joseph Gordon-Levitt

Los botones negros de la camisa le dieron un aire distinto a este sobrio look.

Jamie Foxx en Calvin Klein y su hija Corinne Bishop

Juntos se ven perfectos. Que él llevara camisa negra y corbata de moño nos encantó.

Bradely Cooper y su mamá

¿Será acaso el más guapo de la noche? Estamos casi seguras de que sí.

Helena Bonham Carter en Vivienne Westwood

¡Qué grata sorpresa! En serio, el vestido tiene toda la teatralidad que le encanta, pero sí parece confeccionado por un profesional.

Nora Jones en Tadashi Shoji

Otro traje hermoso. Nos encantó el brillo, la textura, las líneas, el maquillaje y el peinado.

Jane Fonda en Versace

Este color sí que no lo veíamos venir, ¡qué atrevida! El corte del vestido es hermoso, pero en realidad el amarillo es demasiado intenso como para poder disfrutarlo tranquilamente.

Dustin Hoffman en Calvin Klein & su esposa

Otro actor muy bien vestido. Clásico.

Melissa McCarthy en David Meister

Esta chica viste mejor cada vez. Qué bella la colocación de los pliegues y de la pedrería.

Christoph Waltz

Azul de nuevo... ¡nos encanta!

Catherine Zeta-Jones en Zuhair Murad

¡Fabulosa! Este es sin duda uno de los vestidos más hermosos que le hemos visto a la actriz. Además, ¡qué cuerpazo!

Michael Douglas & Catherine Zeta-Jones

Aquí con su esposo.

Channing Tatum en Gucci

Los trajes de tres piezas son LO MEJOR. ¡Sexy!

Mark Ruffalo & Sunrise Coigney

Es difícil ver a Ruffalo con ese vestido tan horrible al lado. Qué pena.

Chris Pine en Ermenegildo Zegna

Otro de los mejor vestidos de la noche.

Helen Hunt en H&M

Sofisticada y muy orgullosa de su vestido amigable con el medio ambiente.

Kerry Washington en Miu Miu

Un hermoso color y un impresionante decorado en el <em>top</em>.

Jennifer Aniston en Valentino

Algo clásico y muy vistoso. Quizá no el vestido más sorprendente de la noche, pero Aniston lucía bella.

Zoe Saldaña en Alexis Mabille

¡Wow! La confección de este vestido es exquisita y todos los detalles muy originales. Además, la silueta es muy femenina y favorecedora.

Quvenzhane Wallis en Armani Junior

La más bella de la alfombra fue sin duda la protagonista de "Beasts of the Southern Wild", con este vestido azul con mucho volumen y un toque de brillo. Y claro, su ya clásico bolso en forma de cachorrito.

Reese Witherspoon en Louis Vuitton

Elegancia clásica en un color vibrante.
Loading Slideshow
Ben Affleck

Director/producer Ben Affleck accepts the award for best picture for "Argo" during the Oscars at the Dolby Theatre on Sunday Feb. 24, 2013, in Los Angeles. (Photo by Chris Pizzello/Invision/AP)

Jack Nicholson, Ben Affleck

Actor Jack Nicholson, left, presents the the award for best picture to producer/director Ben Affleck for "Argo" during the Oscars at the Dolby Theatre on Sunday Feb. 24, 2013, in Los Angeles. (Photo by Chris Pizzello/Invision/AP)

85th Annual Academy Awards - Show

HOLLYWOOD, CA - FEBRUARY 24: Actress Kristin Chenoweth and host Seth MacFarlane perform onstage during the Oscars held at the Dolby Theatre on February 24, 2013 in Hollywood, California. (Photo by Kevin Winter/Getty Images)

85th Annual Academy Awards - Show

HOLLYWOOD, CA - FEBRUARY 24: Actress Kristin Chenoweth and host Seth MacFarlane perform onstage during the Oscars held at the Dolby Theatre on February 24, 2013 in Hollywood, California. (Photo by Kevin Winter/Getty Images)

85th Annual Academy Awards - Show

HOLLYWOOD, CA - FEBRUARY 24: Actress Kristin Chenoweth and host Seth MacFarlane perform onstage during the Oscars held at the Dolby Theatre on February 24, 2013 in Hollywood, California. (Photo by Kevin Winter/Getty Images)

85th Annual Academy Awards - Show

HOLLYWOOD, CA - FEBRUARY 24: Actor/producer/director Ben Affleck accepts the Best Picture award for 'Argo' onstage onstage during the Oscars held at the Dolby Theatre on February 24, 2013 in Hollywood, California. (Photo by Mark Davis/WireImage)

85th Annual Academy Awards - Show

HOLLYWOOD, CA - FEBRUARY 24: Actor/producer/director Ben Affleck and producer Grant Heslov along with members of the cast and crew accept the Best Picture award for Argo onstage during the Oscars held at the Dolby Theatre on February 24, 2013 in Hollywood, California. (Photo by Kevin Winter/Getty Images)

85th Annual Academy Awards - Show

HOLLYWOOD, CA - FEBRUARY 24: Actor/producer/director Ben Affleck accepts the Best Picture award for 'Argo' onstage onstage during the Oscars held at the Dolby Theatre on February 24, 2013 in Hollywood, California. (Photo by Mark Davis/WireImage)

US-OSCARS-SHOW

Argo director Ben Affleck (2nd L), producers Grant Heslov (C) and George Clooney accept the Oscar for Best Movie onstage at the 85th Annual Academy Awards on February 24, 2013 in Hollywood, California. At left is actor Alan Arkin. AFP PHOTO/Robyn BECK (Photo credit should read ROBYN BECK/AFP/Getty Images)

85th Annual Academy Awards - Show

HOLLYWOOD, CA - FEBRUARY 24: Producer Grant Heslov and producer George Clooney accept the Best Picture award for Argo along with members of the cast and crew onstage during the Oscars held at the Dolby Theatre on February 24, 2013 in Hollywood, California. (Photo by Kevin Winter/Getty Images)

US-OSCARS-SHOW

Actor/director Ben Affleck walks onstage at the 85th Annual Academy Awards on February 24, 2013 in Hollywood, California. AFP PHOTO/Robyn BECK (Photo credit should read ROBYN BECK/AFP/Getty Images)

85th Annual Academy Awards - Show

HOLLYWOOD, CA - FEBRUARY 24: Actor/producer/director Ben Affleck accepts the Best Picture award for Argo along with members of the cast and crew onstage during the Oscars held at the Dolby Theatre on February 24, 2013 in Hollywood, California. (Photo by Kevin Winter/Getty Images)

US-OSCARS-SHOW

Argo director Ben Affleck (R) is congratulated by actor Jack Nicholson onstage after winning the Oscar for Best Movie at the 85th Annual Academy Awards on February 24, 2013 in Hollywood, California. AFP PHOTO/Robyn BECK (Photo credit should read ROBYN BECK/AFP/Getty Images)

US-OSCARS-SHOW

Argo director Ben Affleck kisses his wife actress Jennifer Garner after winning the Oscar for Best Movie at the 85th Annual Academy Awards on February 24, 2013 in Hollywood, California. AFP PHOTO/Robyn BECK (Photo credit should read ROBYN BECK/AFP/Getty Images)

85th Annual Academy Awards - Show

HOLLYWOOD, CA - FEBRUARY 24: Actor Jack Nicholson presents the Best Picture award onstage during the Oscars held at the Dolby Theatre on February 24, 2013 in Hollywood, California. (Photo by Kevin Winter/Getty Images)

US-OSCARS-SHOW

Best Actor winner Daniel Day-Lewis accepts the trophy onstage at the 85th Annual Academy Awards on February 24, 2013 in Hollywood, California. AFP PHOTO/Robyn BECK (Photo credit should read ROBYN BECK/AFP/Getty Images)

85th Annual Academy Awards - Show

HOLLYWOOD, CA - FEBRUARY 24: Actor Daniel Day-Lewis accepts the Best Actor award for 'Lincoln' onstage during the Oscars held at the Dolby Theatre on February 24, 2013 in Hollywood, California. (Photo by Kevin Winter/Getty Images)

US-OSCARS-SHOW

Best Actor winner Daniel Day-Lewis accepts the trophy onstage at the 85th Annual Academy Awards on February 24, 2013 in Hollywood, California. AFP PHOTO/Robyn BECK (Photo credit should read ROBYN BECK/AFP/Getty Images)

85th Annual Academy Awards - Show

HOLLYWOOD, CA - FEBRUARY 24: Actor Daniel Day-Lewis onstage during the Oscars held at the Dolby Theatre on February 24, 2013 in Hollywood, California. (Photo by Mark Davis/WireImage)

US-OSCARS-SHOW

Best Actor winner Daniel Day-Lewis accepts the trophy onstage at the 85th Annual Academy Awards on February 24, 2013 in Hollywood, California. AFP PHOTO/Robyn BECK (Photo credit should read ROBYN BECK/AFP/Getty Images)

US-OSCARS-SHOW

Best Actor winner Daniel Day-Lewis accepts the trophy onstage at the 85th Annual Academy Awards on February 24, 2013 in Hollywood, California. AFP PHOTO/Robyn BECK (Photo credit should read ROBYN BECK/AFP/Getty Images)

85th Annual Academy Awards - Show

HOLLYWOOD, CA - FEBRUARY 24: Actor Daniel Day-Lewis accepts the Best Actor award for 'Lincoln' from presenter Meryl Streep (L) onstage during the Oscars held at the Dolby Theatre on February 24, 2013 in Hollywood, California. (Photo by Kevin Winter/Getty Images)

85th Annual Academy Awards - Show

HOLLYWOOD, CA - FEBRUARY 24: Actress Meryl Streep presents the Best Actor award onstage during the Oscars held at the Dolby Theatre on February 24, 2013 in Hollywood, California. (Photo by Kevin Winter/Getty Images)

85th Annual Academy Awards - Show

HOLLYWOOD, CA - FEBRUARY 24: Actress Jennifer Lawrence onstage during the Oscars held at the Dolby Theatre on February 24, 2013 in Hollywood, California. (Photo by Mark Davis/WireImage)

85th Annual Academy Awards - Show

HOLLYWOOD, CA - FEBRUARY 24: Actress Jennifer Lawrence accepts the Best Actress award for 'Silver Linings Playbook' during the Oscars held at the Dolby Theatre on February 24, 2013 in Hollywood, California. (Photo by Kevin Winter/Getty Images)

85th Annual Academy Awards - Show

HOLLYWOOD, CA - FEBRUARY 24: Actress Jennifer Lawrence accepts the Best Actress award for 'Silver Linings Playbook' during the Oscars held at the Dolby Theatre on February 24, 2013 in Hollywood, California. (Photo by Kevin Winter/Getty Images)

US-OSCARS-SHOW

Best Actress winner Jennifer Lawrence falls onstage at the 85th Annual Academy Awards on February 24, 2013 in Hollywood, California. AFP PHOTO/Robyn BECK (Photo credit should read ROBYN BECK/AFP/Getty Images)

85th Annual Academy Awards - Show

HOLLYWOOD, CA - FEBRUARY 24: Actress Jennifer Lawrence reacts after winning the Best Actress award for 'Silver Linings Playbook' during the Oscars held at the Dolby Theatre on February 24, 2013 in Hollywood, California. (Photo by Kevin Winter/Getty Images)

85th Annual Academy Awards - Show

HOLLYWOOD, CA - FEBRUARY 24: Actress Jennifer Lawrence reacts after winning the Best Actress award for 'Silver Linings Playbook' during the Oscars held at the Dolby Theatre on February 24, 2013 in Hollywood, California. (Photo by Kevin Winter/Getty Images)

85th Annual Academy Awards - Show

HOLLYWOOD, CA - FEBRUARY 24: Actress Jennifer Lawrence onstage during the Oscars held at the Dolby Theatre on February 24, 2013 in Hollywood, California. (Photo by Mark Davis/WireImage)

85th Annual Academy Awards - Show

HOLLYWOOD, CA - FEBRUARY 24: Actress Jennifer Lawrence accepts the Best Actress award for 'Silver Linings Playbook' during the Oscars held at the Dolby Theatre on February 24, 2013 in Hollywood, California. (Photo by Kevin Winter/Getty Images)

US-OSCARS-SHOW

Best Actress winner Jennifer Lawrence receives her Oscar from the actor Jean Dujardin onstage at the 85th Annual Academy Awards on February 24, 2013 in Hollywood, California. AFP PHOTO/Robyn BECK (Photo credit should read ROBYN BECK/AFP/Getty Images)

US-OSCARS-SHOW

Best Actress winner Jennifer Lawrence receives her Oscar from the actor Jean Dujardin onstage at the 85th Annual Academy Awards on February 24, 2013 in Hollywood, California. AFP PHOTO/Robyn BECK (Photo credit should read ROBYN BECK/AFP/Getty Images)

85th Annual Academy Awards - Show

HOLLYWOOD, CA - FEBRUARY 24: Actress Jennifer Lawrence onstage during the Oscars held at the Dolby Theatre on February 24, 2013 in Hollywood, California. (Photo by Mark Davis/WireImage)

85th Annual Academy Awards - Show

HOLLYWOOD, CA - FEBRUARY 24: Actress Jennifer Lawrence hugs mother Karen Lawrence after winning the Best Actress award for 'Silver Linings Playbook' during the Oscars held at the Dolby Theatre on February 24, 2013 in Hollywood, California. (Photo by Kevin Winter/Getty Images)

85th Annual Academy Awards - Show

HOLLYWOOD, CA - FEBRUARY 24: Actress Jennifer Lawrence accepts the Best Actress award for 'Silver Linings Playbook' from presenter actor Jean Dujardin during the Oscars held at the Dolby Theatre on February 24, 2013 in Hollywood, California. (Photo by Kevin Winter/Getty Images)

85th Annual Academy Awards - Show

HOLLYWOOD, CA - FEBRUARY 24: Actor Jean Dujardin presents onstage during the Oscars held at the Dolby Theatre on February 24, 2013 in Hollywood, California. (Photo by Kevin Winter/Getty Images)

85th Annual Academy Awards - Show

HOLLYWOOD, CA - FEBRUARY 24: Actor Jean Dujardin presents onstage during the Oscars held at the Dolby Theatre on February 24, 2013 in Hollywood, California. (Photo by Kevin Winter/Getty Images)

US-OSCARS-SHOW

Best Director winner Ang Lee accepts the trophy onstage at the 85th Annual Academy Awards on February 24, 2013 in Hollywood, California. AFP PHOTO/Robyn BECK (Photo credit should read ROBYN BECK/AFP/Getty Images)

US-OSCARS-SHOW

Best Director winner Ang Lee accepts the trophy onstage at the 85th Annual Academy Awards on February 24, 2013 in Hollywood, California. AFP PHOTO/Robyn BECK (Photo credit should read ROBYN BECK/AFP/Getty Images)

85th Annual Academy Awards - Show

HOLLYWOOD, CA - FEBRUARY 24: Director Ang Lee accepts the Best Director award for 'Life of Pi' onstage during the Oscars held at the Dolby Theatre on February 24, 2013 in Hollywood, California. (Photo by Kevin Winter/Getty Images)

85th Annual Academy Awards - Show

HOLLYWOOD, CA - FEBRUARY 24: Writer/director Quentin Tarantino accepts the Best Writing - Original Screenplay award for 'Django Unchained' onstage during the Oscars held at the Dolby Theatre on February 24, 2013 in Hollywood, California. (Photo by Kevin Winter/Getty Images)

85th Annual Academy Awards - Show

HOLLYWOOD, CA - FEBRUARY 24: Director Ang Lee onstage during the Oscars held at the Dolby Theatre on February 24, 2013 in Hollywood, California. (Photo by Mark Davis/WireImage)

85th Annual Academy Awards - Show

HOLLYWOOD, CA - FEBRUARY 24: Director Ang Lee onstage during the Oscars held at the Dolby Theatre on February 24, 2013 in Hollywood, California. (Photo by Mark Davis/WireImage)

85th Annual Academy Awards - Show

HOLLYWOOD, CA - FEBRUARY 24: Director Ang Lee accepts the Best Director award for 'Life of Pi' from actor Michael Douglas and actress Jane Fonda onstage during the Oscars held at the Dolby Theatre on February 24, 2013 in Hollywood, California. (Photo by Kevin Winter/Getty Images)

85th Annual Academy Awards - Show

HOLLYWOOD, CA - FEBRUARY 24: Director Ang Lee celebrates before he accepts the Best Director award for 'Life of Pi' onstage during the Oscars held at the Dolby Theatre on February 24, 2013 in Hollywood, California. (Photo by Kevin Winter/Getty Images)

US-OSCARS-SHOW

Actors Charlize Theron and Dustin Hoffman chase the Best Original Screenplay winner Quentin Tarantino (r) onstage at the 85th Annual Academy Awards on February 24, 2013 in Hollywood, California. AFP PHOTO/Robyn BECK (Photo credit should read ROBYN BECK/AFP/Getty Images)

85th Annual Academy Awards - Show

HOLLYWOOD, CA - FEBRUARY 24: Writer/director Quentin Tarantino accepts the Best Writing - Original Screenplay award for 'Django Unchained' onstage during the Oscars held at the Dolby Theatre on February 24, 2013 in Hollywood, California. (Photo by Kevin Winter/Getty Images)

85th Annual Academy Awards - Show

HOLLYWOOD, CA - FEBRUARY 24: Writer/director Quentin Tarantino accepts the Best Writing - Original Screenplay award for 'Django Unchained' onstage during the Oscars held at the Dolby Theatre on February 24, 2013 in Hollywood, California. (Photo by Kevin Winter/Getty Images)

85th Annual Academy Awards - Show

HOLLYWOOD, CA - FEBRUARY 24: Writer/director Quentin Tarantino celebrates before he accepts the Best Writing - Original Screenplay award for 'Django Unchained' onstage during the Oscars held at the Dolby Theatre on February 24, 2013 in Hollywood, California. (Photo by Kevin Winter/Getty Images)

85th Annual Academy Awards - Show

HOLLYWOOD, CA - FEBRUARY 24: Singer Adele Adkins accepts the Best Original Song award for Skyfall from 'Skyfall' onstage during the Oscars held at the Dolby Theatre on February 24, 2013 in Hollywood, California. (Photo by Kevin Winter/Getty Images)