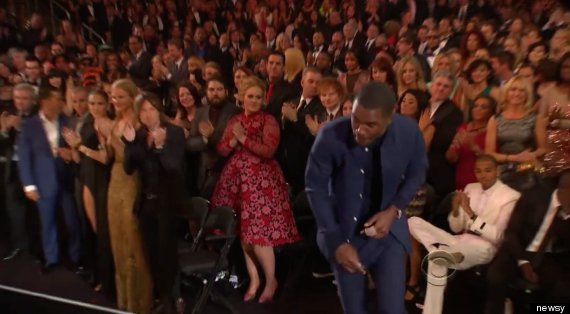 Anoche en los Premios Grammy, Chris Brown protagonizó otro momento vergonzoso y poco educado... Cuando Frank Ocean le ganó el premio a Mejor Album de Música Urbana Contemporánea por "channel ORANGE", todo el auditorio le dio una ovación de pie al cantante abiertamente gay... salvo, claro está, el otra vez novio de Rihanna.
Brown competía con Ocean y Miguel en esta categoría (y se corre el rumor de que cuando el nombre de Brown fue anunciado como nominado, nadie del público aplaudió, por lo que CBS debió añadir en efectos de sonido unos aplausos falsos, según The Hollywood Reporter).
Cuando el nombre de Ocean fue anunciado como ganador, Brown estaba visiblemente sorprendido, pero permaneció sentado mientras el resto de sus compañeros famosos lo ovacionaban.
Esto no debería ser una sorpresa, considerando que hace tan sólo un par de semanas, Brown y Ocean se pelearon en un estacionamiento de West Hollywood. Ocean dijo que Brown le golpeó y uno de los compañeros de Chris lo llamó un "marica".
Ocean también ganó otro Grammy por colaborar con Jay-Z, Kanye West y The-Dream en "No Church in the Wild". Sin embargo, Brown no se llevó ningún premio... pero sí estuvo feliz aplaudiéndole de pie a su novia, Rihanna.
Loading Slideshow
Ellen Page, febrero de 2014

<a href="http://voces.huffingtonpost.com/2014/02/15/actriz-ellen-page-gay_n_4793489.html" target="_blank">"Hoy estoy aquí porque soy gay"</a>, dijo el 14 de febrero la actriz de 26 años durante un discurso en una conferencia de orientadores en Las Vegas que trabajan con adolescentes que tienen preferencias y conductas sexuales diferentes. "Estoy cansada de esconderme y estoy cansada de mentir por omisión", le dijo Page a la multitud. "Sufrí por años, porque tenía miedo de salir".

Wentworth Miller, agosto 2013

Luego de haber sido invitado al Festival Internacional de Cine de San Petersburgo en Rusia, el actor de "Prison Break" decidió que era tiempo de hacer pública su orientación sexual. "Gracias por su atenta invitación. Como alguien que ha disfrutado visitar Rusia en el pasado y también puede reclamar un grado de ascendencia rusa, me haría muy feliz decir sí", escribió el actor de 41 años en una carta dirigida al director del festival, publicada en el sitio web de GLAAD. "Sin embargo, <a href="http://voces.huffingtonpost.com/2013/08/22/wentworth-miller-gay_n_3795332.html" target="_blank">como hombre gay, debo declinar</a>".

Sebastián Ligarde, junio 2013

El actor de telenovelas y maestro de actuación <a href="http://voces.huffingtonpost.com/2013/06/03/sebastian-ligarde-gay_n_3379173.html" target="_blank">se confesó orgullosamente gay en TVyNovelas México</a>. "Soy homosexual y lo digo con orgullo. Ningún gay tiene por qué andar por la calle con un estigma estampado en la cabeza. La preferencia sexual es genética... Y si lo sabe Dios y mi familia, que lo sepa el mundo".

Charice, junio 2013

La cantante y actriz (quien salió en la segunda temporada de "Glee") <a href="http://voces.huffingtonpost.com/2013/06/03/charice-gay-lesbiana_n_3380459.html" target="_blank">aceptó ser lesbiana en entrevista desde Filipinas</a>. "Elegí este lugar porque tengo una profunda gratitud con el pueblo filipino. Quise que fueran ellos quienes aprendieran quién soy realmente. Y sí, soy lesbiana. No veo problema alguno con ello porque yo no tengo problemas en admitirlo".

Karina Hermosillo, abril 2013

La finalista de Nuestra Belleza Latina quería convertirse en la primera reina de belleza abiertamente gay, pero no pudo cumplir su ilusión. <a href="http://voces.huffingtonpost.com/2013/04/03/karina-hermosillo-nuestra-belleza-latina-primera-reina-gay_n_3007511.html" target="_blank">Aquí nuestra entrevista con la concursante mexicana.</a>

Tuc Watkins, abril 2013

El actor, mejor conocido por el programa "Desperate Housewives" y la telenovela "One Life To Live" anunció en el show de Marie Osmond <a href="http://www.extratv.com/2013/04/27/soap-actor-star-tuc-watkins-comes-out-is-a-proud-single-dad/" target="_blank">que era gay y acababa de ser padre de gemelos</a>.

Daniela Mercury, abril 2013

Desde su cuenta de Instagram, <a href="http://voces.huffingtonpost.com/2013/04/04/daniela-mercury-sale-del-closet-presenta-novia_n_3017281.html" target="_blank">la cantante brasileña habló por primera vez de su sexualidad y hasta presentó a su novia</a>, la periodista de radio y televisión Malú Verçosa a la que la considera el amor de su vida.

Clive Davis, febrero 2013

El ejecutivo musical que jugó importante rol en las carreras de Whitney Houston, Alicia Keys y Kelly Clarkson <a href="http://voces.huffingtonpost.com/2013/02/19/clive-davis-bisexual_n_2720774.html" target="_blank">anunció que es bisexual.</a> En su autobiografía, The Soundtrack of My Life, el importante productor, de 80 años, reconoce su bisexualidad, que describe como "algo que mis hijos y amigos cercanos siempre han sabido, pero que sentía yo que necesitaba discutir en un libro", según USA Today.

Victor Garber, enero 2013

El actor de "Titanic", "Argo" y los programas "Alias" y "Deception", <a href="http://voces.huffingtonpost.com/2013/01/16/victor-garber-gay_n_2488389.html" target="_blank">lleva más de 13 años en una relación con el artista Rainer Andreesen.</a>

Jodie Foster, enero 2013

Jodie recibió el premio Cecil B. DeMille a su trayectoria, durante la ceremonia de los Globos de Oro, el domingo 13 de enero y sorprendió a todo el público con un emotivo discurso en donde casualmente, <a href="http://voces.huffingtonpost.com/2013/01/14/jodie-foster-gay-golden-globes_n_2471950.html">admitió lo que ya era un secreto a voces desde hace muchos años: es lesbiana.</a>

Matt Dallas, enero 2013

El actor del programa "Kyle XY" anunció casualmente en su cuenta de Twitter que <a href="oces.huffingtonpost.com/2013/01/07/matt-dallas-gay-boda_n_2427099.html">comenzaba el año comprometido con su novio, el músico Blue Hamilton.</a>

Andrew Rannells

El actor aparece en los programas "The New Normal" (que duró una temporada) y "Girls". Ha ganado un Grammy por el musical "Original Broadway Cast Recording", además de haber sido nominado a un Premio Tony por su estelar en la obra "The Book of Mormon".

Ezra Miller, agosto 2012

El actor de "We Need to Talk About Kevin" y "The Perks Of Being A Wallflower" salió del clóset <a href="http://voces.huffingtonpost.com/2012/08/16/ezra-miller-gay_n_1785429.html">para una entrevista con la revista OUT. </a>

Mika, 2012

El cantante británico de éxitos como "Relax, Take it Easy", "Big Girl (You Are Beautiful)", "Love Today" y "We Are Golden" admitió que era gay durante una entrevista con la revista <em>Instinct</em>. (VALERY HACHE/AFP/Getty Images)

Lana Wachowski

La co-directora de "Cloud Atlas" reapareció en público durante 2012 <a href="http://voces.huffingtonpost.com/2012/10/24/lana-wachowski-cloud-atlas-suicidio_n_2012492.html">para la promoción de la cinta, tras cambiarse de sexo</a>. Junto a su hermano Andy, se hizo famosa por dirigir "Matrix" en 1999.

Frank Ocean, 2012

El cantante de R&B, quien acaba de estrenar su exitoso nuevo disco "Channel Orange". (AP Photo/Matt Sayles, File)

Anderson Cooper, 2012

El conductor de CNN anunció el lunes 2 de julio lo que ya era un secreto a voces para muchos, que era gay y "muy orgulloso de serlo".

Jim Parsons, 2012

El actor de "The Big Bang Theory" ha llevado una relación desde hace más de 10 años y, aunque él mismo no ha revelado la identidad oficial de su pareja, aquí lo vemos con él, Todd Spiewak, un director de arte.

Matt Bomer, 2012

El protagonista del show "White Collar" y la película "Magic Mike" está en una relación con Simon Halls y tienen tres hijos juntos, Kit, Walker y Henry.

Gillian Anderson, 2012

En una entrevista con la revista <em>Out</em>, la actriz del programa "The X-Files" y madre de tres hijos, reveló en entrevista que ha tenido numerosas relaciones con mujeres en el pasado.

Jonathan Knight, 2011

Uno de los integrantes del grupo New Kids On The Block fue sacado del clóset por su amiga y compañera de éxitos en los '80, Tiffany, en enero de 2011, cuando reveló que había salido con él "antes de que se hiciera gay". En respuesta, Knight publicó un mensaje en su sitio revelando que ha vivido abiertamente su sexualidad desde hace más de 20 años.

Amber Heard

La bella rubia, famosa por películas como "Pineapple Express", "Drive Angry" y el fallido show "The Playboy Club", ha admitido que en su vida ha encontrado el amor tanto con hombres como mujeres. Al romper con su novia, se le ha involucrado con Johnny Depp, su co-estrella en "The Rum Diary". (Dimitrios Kambouris/Getty Images)

Michael Stipe

El cantante de R.E.M., Michael Stipe, con su novio Thomas Dozol en marzo de 2012. (AP Photo/Evan Agostini)

Evan Rachel Wood

Protagonista de cintas como "Across the Universe", "The Ides of March" y "The Wrestler", ha admitido salir con hombres y mujeres. Uno de sus romances más famosos fue con Marilyn Manson. Actualmente es esposa del actor Jamie Bell ("Billy Elliot", "King Kong"). (Fernando Leon/Getty Images)

Tiziano Ferro

El cantante italiano decidió confesar su homosexualidad en un libro autobiográfico, titulado "Trent'anni e una chiacchierata con papa" (Treinta años y una plática con papá)

Sarah Paulson

La actriz de programas de televisión como "Studio 60 on the Sunset Stip" y "American Horror Story", así como cintas tales como "New Year's Eve" y "The Spirit". (AP Photo/Evan Agostini)

Jasika Nicole

Interpretó a la agente Astrid en el programa de ciencia ficción "Fringe".

Ellen DeGeneres, 1997

DeGeneres se declaró lesbiana tanto en la vida real como en su programa de televisión, "Ellen." "The Puppy Episode," como se llamó el episodio, incluía a la actriz Laura Dern como su interés romántico. Ellen se convirtió en la primera actriz abiertamente lesbiana en horario estelar en TV.

Ellen DeGeneres y Portia de Rossi

Después de su relación con Anne Heche, Ellen ahora está casada con Portia de Rossi, actriz de "Arrested Development".

Zachary Quinto

El actor, famoso por proyectos como el programa "Heroes" y la nueva versión de "Star Trek" habló de su homosexualidad en una entrevista de la revista <em>New York</em> en octubre de 2011.

Zachary Quinto, 2011

En esa entrevista, dijo Quinto. "A raíz de la muerte de Jamey Rodemeyer, se me hizo claro en un instante que vivir una vida gay sin reconocerla públicamente simplemente no es una contribución para el inmenso trabajo que yace enfrente hacia un camino de completa igualdad". Aquí su mensaje para la campaña "It Gets Better".

Jonathan Groff

El actor de programas como "Glee" y de varias puestas en escena es actualmente la pareja de Zachary Quinto.

Luke Evans

El actor galés ha participado en grandes superproducciones como "Immortals", "The Raven", "The Three Musketeers", "The Hobbit" y "Fast & Furious 6".

Ricky Martin

Lo que durante años fue un secreto a voces por fin se volvió una realidad. Finalmente el lunes 29 de marzo de 2010 Ricky Martin se decidió a abrir su corazón y en una carta abierta a su público confesó su homosexualidad: "Hoy ACEPTO MI HOMOSEXUALIDAD como un regalo que me da la vida. ¡Me siento bendecido de ser quien soy!"

Anna Paquin

Ganadora del Oscar por "The Piano" y quien actualmente protagoniza el serial de vampiros "True Blood" reveló su bisexualidad como parte de la campaña de derechos humanos "Give a Damn". Ahora es madre de gemelos con su co-estrella del show, Stephen Moyer.

Guillermo Diaz

Otro de los contados y orgullosos latinos gays, defensor de las causas de la comunidad. Hijo de cubanos, ha aparecido en decenas de películas, como "The Terminal" y "Cop Out", con Ana de la Reguera y Bruce Willis. En televisión, lo has visto en "ER", "Weeds" y ahora, "Scandal".

Clay Aiken, 2008

Después de convertirse en padre en agosto de 2008, el concursante de "American Idol" <a href="http://www.people.com/people/article/0,,20228488,00.html" target="_hplink">apareció en la portada de</a> <em>People</em> en septiembre de 2008 diciendo: "[Salir del clóset] fue la primera decisión que hago como padre... No puedo criar a un niño enseñándole que mienta u oculte su personalidad. A mí no me criaron así y no haré lo mismo con mi hijo".

Christian Chávez

El actor de telenovelas y cantante, ex RBD, es uno de los contados latinos del medio del espectáculo que ha expresado abiertamente su homosexualidad.

Jesse Tyler Ferguson, Justin Mikita

Jesse Tyler Ferguson, compañero de Sofía Vergara en "Modern Family", junto a su novio, Justin Mikita.

Wanda Sykes, 2008

La comediante y actriz habló públicamente en noviembre de 2008 <a href="http://thestrippodcast.blogspot.com/2008/11/wanda-sykes-lv-gay-rally-im-proud-to-be.html" target="_hplink">durante un rally contra la propuesta 8</a> en Las Vegas. Sykes comentó: "Todos los que me conocen saben que soy gay y es así como todos deben vivir, con honestidad. No deberíamos estar exigiendo algo que automáticamente nos pertenece como ciudadanos de este país".

Wilson Cruz

Wilson Cruz fue uno de los primeros gays - y latinos, claro - en revelar su sexualidad durante los 90, cuando protagonizó el programa de culto "My So-Called Life" con Claire Danes. Desde entonces, ha aparecido en "Party of Five", "Noah's Arc", "Raising the Bar" y cintas como "He's Just Not That Into You". Cruz es uno de los actores que más defienden abiertamente los derechos de su comunidad.

Chely Wright, 2010

La cantante de country <a href="http://www.people.com/people/article/0,,20365936,00.html" target="_hplink">aceptó ser lesbiana en mayo de 2010</a>. Le dijo a la revista <em>People</em>: "Jamás ha habido una artista de country que reconozca su homosexualidad... Yo no iba a ser la primera". Pero rápidamente cambió de opinión, reconociendo que "nada en mi vida ha sido tan mágico como sincerarme".

Cherry Jones

Ganadora del Emmy por su papel de la presidenta Allison Taylor en el programa "24" y también galardonada con un par de premios Tony en Broadway, durante algunos años mantuvo relación sentimental con la actriz Sarah Paulson.

Rob Halford

El vocalista de Judas Priest es de los pocos rockeros declarados gay abiertamente.

Jane Lynch

Jane Lynch ha tenido una larga carrera en cine y TV, en éxitos como "The 40-Year-Old Virgin", "Two and a Half Men" y "Julie & Julia". Ahora, gana premios por su genial papel de la entrenadora Sue en el programa "Glee".

Luke MacFarlane

Músico y actor canadiense, conocido por su papel de Scotty en la serie de televisión "Brothers & Sisters".

Alejandro Amenábar

El director español, pero nacido en Chile, Alejandro Amenábar, ha filmado "Tesis", "Abre los ojos", "The Others" con Nicole Kidman, "Mar Adentro" junto a Javier Bardem y en 2009, "Agora", con Rachel Weisz.

George Michael

El cantante fue pillado en un "acto indecente" en un baño público en abril de 1998 y más tarde, <a href="http://www.cnn.com/SHOWBIZ/9804/11/george.michael/" target="_hplink">confesó para CNN</a>, "No tengo problema en que la gente sepa que tengo una relación con un hombre en estos momentos y desde hace más de diez años no he salido con mujeres".

George Michael, 1998

Más tarde ese mismo año, Michael se burló del incidente en su video musical para la canción "Outside".

John Barrowman

El actor escocés John Barrowman (izq), reconocido por los programas de culto "Dr. Who" y "Torchwood", el cual protagoniza, ha estado en una relación con Scott Gill (derecha) desde 1993. También apareció durante una temporada de "Desperate Housewives".

Don Lemon, 2011

El periodista de CNN habló de su sexualidad en el <em>New York Times</em> en mayo de 2011. Lemon <a href="http://www.nytimes.com/2011/05/16/business/media/16anchor.html?_r=3" target="_hplink">les reveló:</a> "Es muy distinto para un hombre afro-americano. Es prácticamente lo peor que puedes ser en mi cultura. Te inculcan que debes ser muy masculino y que debes rezar para que se te quite lo gay".
Loading Slideshow
El cantante de R&B Chris Brown aparece en la Superma Corte de Los Angeles el lunes 17 de marzo de 2014. Después de pasar un fin de semana en la cárcel, se ordenó que Brown permanezca en prisión sin derecho a fianza por supuestamente haber violado su libertad condicional a raíz de su ataque de 2009 a su entonces novia Rihanna, antes de los Grammy Awards.

Chris Brown

Chris Brown al salir de la Corte Superior del Distrito de Columbia en Washington el miércoles 8 de enero de 2014. Los abogados de Chris Brown dijeron a un juez el miércoles que el cantante rechazó un acuerdo legal por el cargo que enfrenta después de que golpear a un hombre fuera de un hotel de Washington.(Foto AP/Manuel Balce Ceneta)

Chris Brown

Chris Brown llegar a la Corte Superior del Distrito de Columbia en Washington el miércoles 8 de enero de 2014. Los abogados de Chris Brown dijeron a un juez el miércoles que el cantante rechazó un acuerdo legal por el cargo que enfrenta después de que golpear a un hombre fuera de un hotel de Washington. (Foto AP/Manuel Balce Ceneta)

Chris Brown

Chris Brown al salir de la Corte Superior del Distrito de Columbia en Washington el miércoles 8 de enero de 2014. Los abogados de Chris Brown dijeron a un juez el miércoles que el cantante rechazó un acuerdo legal por el cargo que enfrenta después de que golpear a un hombre fuera de un hotel de Washington. (Foto AP/Manuel Balce Ceneta)

Chris Brown, Mark Geragos

El cantante de R & B Chris Brown, izquierda, con su abogado Mark Geragos durante una audiencia el miércoles 20 de noviembre de 2013 en Los Angeles. (Foto AP/Frederick Brown, Getty, Pool)

Chris Brown

El cantante Chris Brown en una conferencia de prensa para anunciar su colaboración con Ford's Sync en una fotografía de archivo del 2 de noviembre de 2007 en Nueva York. Brown está siendo investigado por una presunta agresión en un estacionamiento de West Hollywood en Los Angeles, informó el departamento del jefe de policía de Los Angeles el lunes 28 de enero de 2013. (Foto AP/Peter Kramer, archivo)

Chris Brown

Chris Brown durante una presentación en vivo como parte de la gira F.A.M.E. en el Staples Center en Los Angles el 20 de octubre de 2011. Brown está siendo investigado por una presunta agresión en un estacionamiento de West Hollywood en Los Angeles, informó el departamento del jefe de policía de Los Angeles el lunes 28 de enero de 2013. (Foto AP/Katy Winn, archivo)

Chris Brown

Chris Brown durante una presentación en vivo como parte de la gira F.A.M.E. en el Staples Center en Los Angles en una fotografía del 20 de octubre de 2011. Brown está siendo investigado por una presunta agresión en un estacionamiento de West Hollywood en Los Angeles, informó el departamento del jefe de policía de Los Angeles el lunes 28 de enero de 2013. (Foto AP/Katy Winn, archivo)

BET's "106 & Park"

Chris Brown, Sevyn, Paigion y Bow Wow durante un evento del canal BET llamado '106 & Park' en el Conga Room at L.A. Live el 3 de enero de 2013.

BET's "106 & Park" Day 1

Chris Brown y Bow Wow. (Photo by Alberto E. Rodriguez/Getty Images for BET)

BET's "106 & Park" - Day 1

Chris Brown y Sevyn en un evento del canal BET llamado '106 & Park' en el Conga Room at L.A. Live el 3 de enero de 2013.(Photo by Alberto E. Rodriguez/Getty Images for BET)

Rihanna y Chris Brown durante el juego de los New York Knicks contra Los Angeles Lakers en el Staples Center de Los Angeles, California, el 25 de diciembre de 2012.

Rihanna y Chris Brown durante el juego de los New York Knicks contra Los Angeles Lakers en el Staples Center de Los Angeles, California, el 25 de diciembre de 2012.

Chris Brown, Rihanna

Chris Brown y Rihanna disfrutando del partido de basketball.

Chris Brown

En esta imagen del 18 de noviembre del 2012, Chris Brown llega a la 40 edición de los American Music Awards en Los Angeles. (Foto por John Shearer/Invision/AP, Archivo)

American Music Awards

Chris Brown American Music Awards

American Music Awards

Chris Brown

Chris Brown

Chris Brown cantando ""Everyday Birthday"" en los American Music Awards el domingo 18 de noviembre, 2012, en Los Angeles. (Photo by John Shearer/Invision/AP)

Chris Brown

Chris Brown cantando ""Everyday Birthday"" en los American Music Awards el domingo 18 de noviembre, 2012, en Los Angeles. (Photo by Matt Sayles/Invision/AP)

Chris Brown

Chris Brown cantando ""Everyday Birthday"" en los American Music Awards el domingo 18 de noviembre, 2012, en Los Angeles.(Photo by Matt Sayles/Invision/AP)

Chris Brown

Chris Brown cantando ""Everyday Birthday"" en los American Music Awards el domingo 18 de noviembre, 2012, en Los Angeles. (Photo by John Shearer/Invision/AP)

American Music Awards

Chris Brown

Chris Brown

Chris Brown en los American Music Awards en Los Angeles. (Photo by Jordan Strauss/Invision/AP)

Chris Brown

Chris Brown

El cantante Chris Brown se presentó en la corte de Los Angeles.(Septiembre 34, 2012) (Photo by David McNew/Getty Images)

El cantante Chris Brown se presentó en la corte de Los Angeles. (Photo by David McNew/Getty Images)

El cantante Chris Brown se presentó en la corte de Los Angeles.(Photo by David McNew/Getty Images)

El cantante Chris Brown se presentó en la corte de Los Angeles. (Photo by David McNew/Getty

El cantante Chris Brown se presentó en la corte de Los Angeles. (Photo by David McNew/Getty

El cantante Chris Brown se presentó en la corte de Los Angeles. (Photo by David McNew/Getty

El cantante Chris Brown se presentó en la corte de Los Angeles. (Photo by David McNew/Getty

El cantante Chris Brown triunfa en la categoría de Mejor Video Masculino en los MTV Video Music Awards celebrados en Los Angeles, California. (Septiembre 6, 2012) (Photo by Kevin Winter/Getty Images)

El cantante Chris Brown triunfa en la categoría de Mejor Video Masculino en los MTV Video Music Awards celebrados en Los Angeles, California. (Septiembre 6, 2012) (Photo by Kevin Winter/Getty Images)

El cantante Chris Brown triunfa en la categoría de Mejor Video Masculino en los MTV Video Music Awards celebrados en Los Angeles, California. (Septiembre 6, 2012) (Photo by Kevin Winter/Getty Images)

El cantante Chris Brown triunfa en la categoría de Mejor Video Masculino en los MTV Video Music Awards celebrados en Los Angeles, California. Aquí acompañado de Demi Lovato y Rita Ora. (Septiembre 6, 2012) (Photo by Kevin Winter/Getty Images)

Chris Brown acepta el premio por Mejor álbum R&B en los Premios Grammy. (Febrero 12, 2012) (AP Photo/Matt Sayles, File)

Chris Brown durante su actuación en los Premios Grammy celebrados en Los Angeles. (Febrero 12, 2012) (AP Photo/Matt Sayles, File)
Más de los Premios Grammy 2013:
Loading Slideshow
Beyonce en Osman

La gran sorpresa de la noche fue Beyoncé que llegó luciendo un <em>jumpsuit</em> en blanco y negro. Sin duda fue raro verla sin vestido, pero ¡qué curvas!

Rihanna en Alaia

¿Este vestido no romperá con las reglas de no enseñar? Es cierto que la piel está cubierta, pero podemos ver a través de ella...

Alicia Keys

Katy Perry en Gucci

La cantante describió a su vestido verde menta como inspirado en el look de Priscilla Presley en los años 70.

Kelly Rowland en Georges Chakra

Juanes

El <a href="http://voces.huffingtonpost.com/2013/02/10/juanes-gana-grammy_n_2658868.html?utm_hp_ref=voces">ganador al Mejor Álbum Pop Latino</a> llegó a la alfombra roja con un fantástico traje gris, con solapas negras. Nunca lo habíamos visto TAN guapo. ¡Bien por el colombiano!

Jennifer Lopez en Anthony Vaccarello

Siguiendo las nuevas reglas de vestimenta de los Grammys, la latina se puso encima una "túnica" y dejó toda la pierna al descubierto.

Adele

¡Qué sorpresa que la británica no llegara vestida de negro! Lamentablemente, hasta ahí llegaron las buenas noticias. La textura, el color y la rigidez del corte no fueron de lo más bello de la noche.

Justin Timberlake en Tom Ford

Como salido de otra época llegó enfundado en un traje negro con corbata de moño. ¿Notan los zapatos, como de bailarín?

Taylor Swift en J. Mendel

Bella, sobria y elegante como siempre. El escote con los detalles plateados le dieron un toque más llamativo a este vestido blanco

Esperanza Spalding

Drake

Ne-Yo

Ashanti

Con un aire español, este sensual vestido le quedó de maravilla a la cantante.

John Legend

Jack White

Jack White arrives at the 55th annual Grammy Awards on Sunday, Feb. 10, 2013, in Los Angeles. (Photo by Jordan Strauss/Invision/AP)

Solange Knowles

Kaley Cuoco

Carrie Underwood en Roberto Cavalli

Ella misma describió su atuendo como uno clásico y glamoroso. A nosotras nos encantó la silueta y la combinación de texturas. ¡Qué hermosa!

Maroon 5

Neil Patrick Harris & David Burtka

Natasha Bedingfield

Maria Menounos in Gomez-Gracia

Kat von D en Derek Lam

La tatuadora y presentadora de la serie "L.A. Ink" combinó el vestido con unas sandalias rojas de terciopelo y dejó su cabello suelto con algunos rizos.

Miranda Lambert en Roberto Cavalli

Burlándose un poco del <a href="http://voces.huffingtonpost.com/2013/02/08/escotes-traseros-grammy_n_2641137.html?utm_hp_ref=celebra">nuevo código de vestimenta para los Grammys</a>, la rubia llegó al evento con tremendo escote.

Chris Brown

El cantante llegó al evento vistiendo completamente de blanco. ¡Wow!

Pauley Perrette

Demasiado simple y aburrido. ¿Por quéee?

Kimbra & Gotye

El vestido de Kimbra parecía sacado de un cuento de hadas moderno. Mucho tul, mucho brillo, y un corte original y divertido. En contraste, Gotye lució un traje muy sobrio y elegante, con una corbata delgada, para lograr un look sexy.

Kat Dennings en Vivienne Westwood

Kimberly Schlapman

La integrante del grupo Little Big Town acudió a la cita con un vestido color hueso con mucha textura. El look lo completó con u una sexy melena alborotada y una cartera lila.

Faith Hill en J. Mendel & Nicole Kidman en Vera Wang

Giuliana Rancic en Carlos Miele

La conductora de televisión lució fantástica en un atuendo en tono <em>nude</em>, con organza y drapeados.

Dave Grohl y su esposa Jordyn

Florence Welch en Givenchy

Bueno... es difícil decir algo positivo sobre este vestido porque la verdad, ¡es horrible! El color es quizá lo más rescatable, ¿pero los picos en el torso y las mangas?

Carly Rae Jespen en Roberto Cavalli

Kelly Osbourne en Paule Ka

Kelly Osbourne arrives at the 55th annual Grammy Awards on Sunday, Feb. 10, 2013, in Los Angeles. (Photo by Jordan Strauss/Invision/AP)

Wiz Khalifa en Tom Ford & Amber Rose en Donna Karan

Sean Paul

Estelle

Skrillex

Stefan Kendal Gordy

Lila Downs

Como es su costumbre, la mexicana lució un atuendo con bordados lleno de color.

Mario Lopez

Mumford & Sons

Alexa Chung en Valentino

Joan Osborne

Kaya Jones

Lupe Fiasco

SWV

Kimberly Schlapman

Karen Fairchild
Loading Slideshow
Johnny Depp

Johnny Depp speaks on stage at the 55th annual Grammy Awards on Sunday, Feb. 10, 2013, in Los Angeles. (Photo by John Shearer/Invision/AP)

Justin Timberlake

Justin Timberlake performs on stage at the 55th annual Grammy Awards on Sunday, Feb. 10, 2013, in Los Angeles. (Photo by John Shearer/Invision/AP)

Kelly Rowland, Nas

Kelly Rowland, left, and Nas present the award for best urban contemporary album at the 55th annual Grammy Awards on Sunday, Feb. 10, 2013, in Los Angeles. (Photo by John Shearer/Invision/AP)

Ellen DeGeneres, Beyonce

Ellen DeGeneres, left, and Beyonce speak on stage at the 55th annual Grammy Awards on Sunday, Feb. 10, 2013, in Los Angeles. (Photo by John Shearer/Invision/AP)

Ellen DeGeneres, Beyonce

Ellen DeGeneres, left, and Beyonce speak on stage at the 55th annual Grammy Awards on Sunday, Feb. 10, 2013, in Los Angeles. (Photo by John Shearer/Invision/AP)

Justin Timberlake

Justin Timberlake performs on stage at the 55th annual Grammy Awards on Sunday, Feb. 10, 2013, in Los Angeles. (Photo by John Shearer/Invision/AP)

Justin Timberlake, Jay-Z

Justin Timberlake, left, and Jay-Z perform on stage at the 55th annual Grammy Awards on Sunday, Feb. 10, 2013, in Los Angeles. (Photo by John Shearer/Invision/AP)

Justin Timberlake, Jay-Z

Justin Timberlake, left, and Jay-Z perform on stage at the 55th annual Grammy Awards on Sunday, Feb. 10, 2013, in Los Angeles. (Photo by John Shearer/Invision/AP)

Justin Timberlake, Jay-Z

Justin Timberlake, left, and Jay-Z perform on stage at the 55th annual Grammy Awards on Sunday, Feb. 10, 2013, in Los Angeles. (Photo by John Shearer/Invision/AP)

Justin Timberlake, Jay-Z

Justin Timberlake, left, and Jay-Z perform on stage at the 55th annual Grammy Awards on Sunday, Feb. 10, 2013, in Los Angeles. (Photo by John Shearer/Invision/AP)

Justin Timberlake

Justin Timberlake performs on stage at the 55th annual Grammy Awards on Sunday, Feb. 10, 2013, in Los Angeles. (Photo by John Shearer/Invision/AP)

Justin Timberlake

Justin Timberlake performs on stage at the 55th annual Grammy Awards on Sunday, Feb. 10, 2013, in Los Angeles. (Photo by John Shearer/Invision/AP)

Marcus Mumford, Winston Marshall

Marcus Mumford, left, and Winston Marshall, of musical group Mumford & Sons, perform at the 55th annual Grammy Awards on Sunday, Feb. 10, 2013, in Los Angeles. (Photo by John Shearer/Invision/AP)

Mumford and Sons

Mumford & Sons perform at the 55th annual Grammy Awards on Sunday, Feb. 10, 2013, in Los Angeles. (Photo by John Shearer/Invision/AP)

Dierks Bentley, Miranda Lambert

Recording artists Miranda Lambert, left, and Dierks Bentley perform at the 55th annual Grammy Awards on Sunday, Feb. 10, 2013, in Los Angeles. (Photo by John Shearer/Invision/AP)

Dierks Bentley, Miranda Lambert

Recording artists Miranda Lambert, left, and Dierks Bentley perform at the 55th annual Grammy Awards on Sunday, Feb. 10, 2013, in Los Angeles. (Photo by John Shearer/Invision/AP)

Marcus Mumford, Winston Marshall

Marcus Mumford, left, and Winston Marshall, of musical group Mumford & Sonsa, perform at the 55th annual Grammy Awards on Sunday, Feb. 10, 2013, in Los Angeles. (Photo by John Shearer/Invision/AP)

Carrie Underwood

Carrie Underwood accepts the award for best country solo performance for "Blown Away" at the 55th annual Grammy Awards on Sunday, Feb. 10, 2013, in Los Angeles. (Photo by John Shearer/Invision/AP)

Miranda Lambert, Dierks Bentley

Miranda Lambert performs at the 55th annual Grammy Awards on Sunday, Feb. 10, 2013, in Los Angeles. (Photo by John Shearer/Invision/AP)

Miranda Lambert, Dierks Bentley

Miranda Lambert, left, and Dierks Bentley perform at the 55th annual Grammy Awards on Sunday, Feb. 10, 2013, in Los Angeles. (Photo by John Shearer/Invision/AP)

fun.

Musical group fun. performs at the 55th annual Grammy Awards on Sunday, Feb. 10, 2013, in Los Angeles. (Photo by John Shearer/Invision/AP)

Jennifer Lopez, Pitbull

Jennifer Lopez, left, and Pitbull present the award for best pop solo performance at the 55th annual Grammy Awards on Sunday, Feb. 10, 2013, in Los Angeles. (Photo by John Shearer/Invision/AP)

LL Cool J

Host LL Cool J speaks during the 55th annual Grammy Awards on Sunday, Feb. 10, 2013, in Los Angeles. (Photo by John Shearer/Invision/AP)

Jennifer Lopez, Pitbull

Jennifer Lopez, left, and Pitbull present the award for best pop solo performance at the 55th annual Grammy Awards on Sunday, Feb. 10, 2013, in Los Angeles. (Photo by John Shearer/Invision/AP)

Jennifer Lopez, Pitbull

Jennifer Lopez, left, and Pitbull present the award for best pop solo performance at the 55th annual Grammy Awards on Sunday, Feb. 10, 2013, in Los Angeles. (Photo by John Shearer/Invision/AP)

Adele, Jennifer Lopez, Pitbull

Adele, left, accepts the award for best pop solo performance for "Set Fire to the Rain" at the 55th annual Grammy Awards on Sunday, Feb. 10, 2013, in Los Angeles. Looking on from right are presenters Pitbull and Jennifer Lopez. (Photo by John Shearer/Invision/AP)

Philip Sweet, Kimberly Schlapman, Karen Fairchild, Jimi Wesbrook

Philip Sweet, from left, Kimberly Schlapman, Karen Fairchild, and Jimi Westbrook, of the band Little Big Town, accept the award for country duo/group performance for "Pontoon" during the pre-telecast at the 55th annual Grammy Awards on Sunday, Feb. 10, 2013, in Los Angeles. (Photo by John Shearer/Invision/AP)

Taylor Swift

Taylor Swift performs on stage at the 55th annual Grammy Awards on Sunday, Feb. 10, 2013, in Los Angeles. (Photo by John Shearer/Invision/AP)

Taylor Swift

Taylor Swift performs on stage at the 55th annual Grammy Awards on Sunday, Feb. 10, 2013, in Los Angeles. (Photo by John Shearer/Invision/AP)

Taylor Swift

Taylor Swift performs on stage at the 55th annual Grammy Awards on Sunday, Feb. 10, 2013, in Los Angeles. (Photo by John Shearer/Invision/AP)

Elton John, Ed Sheeran

Sir Elton John, left, and Ed Sheeran perform on stage at the 55th annual Grammy Awards on Sunday, Feb. 10, 2013, in Los Angeles. (Photo by John Shearer/Invision/AP)

Taylor Swift

Taylor Swift performs on stage at the 55th annual Grammy Awards on Sunday, Feb. 10, 2013, in Los Angeles. (Photo by John Shearer/Invision/AP)

Beyonce

Beyonce poses backstage with the award for best traditional R&B performance for "Love on Top" at the 55th annual Grammy Awards on Sunday, Feb. 10, 2013, in Los Angeles. (Photo by Matt Sayles/Invision/AP)

Beyonce

Beyonce poses backstage with the award for best traditional R&B performance for "Love on Top" at the 55th annual Grammy Awards on Sunday, Feb. 10, 2013, in Los Angeles. (Photo by Matt Sayles/Invision/AP)

Kelly Clarkson

Kelly Clarkson performs on stage at the 55th annual Grammy Awards on Sunday, Feb. 10, 2013, in Los Angeles. (Photo by John Shearer/Invision/AP)

Patrick Carney, Dan Auerbach

Patrick Carney and Dan Auerbach of musical group The Black Keys perform on stage at the 55th annual Grammy Awards on Sunday, Feb. 10, 2013, in Los Angeles. (Photo by John Shearer/Invision/AP)

Dan Auerbach

Dan Auerbach of musical group The Black Keys perform perform on stage at the 55th annual Grammy Awards on Sunday, Feb. 10, 2013, in Los Angeles. (Photo by John Shearer/Invision/AP)

Patrick Carney, Dan Auerbach

Patrick Carney, left, and Dan Auerbach, second from right, of musical group The Black Keys, perform on stage at the 55th annual Grammy Awards on Sunday, Feb. 10, 2013, in Los Angeles. (Photo by John Shearer/Invision/AP)

Kat Dennings

Kat Dennings speaks onstage at the 55th annual Grammy Awards on Sunday, Feb. 10, 2013, in Los Angeles. (Photo by John Shearer/Invision/AP)

RIhanna

Rihanna performs on stage at the 55th annual Grammy Awards on Sunday, Feb. 10, 2013, in Los Angeles. (Photo by John Shearer/Invision/AP)

RIhanna

Rihanna performs on stage at the 55th annual Grammy Awards on Sunday, Feb. 10, 2013, in Los Angeles. (Photo by John Shearer/Invision/AP)

Gotye

Gotye posa entre bambalinas tras ganar los premios Grammy a la mejor interpretación pop de un dúo o grupo por "Somebody That I Used to Know" y al mejor álbum de música alternativa por "Making Mirrors", el domingo 10 de febrero del 2013 en Los Angeles. (Foto por Matt Sayles/Invision/AP)

Zac Brown

Zac Brown, center, of the musical group Zac Brown Band accepts the award for best country album "Uncaged" at the 55th annual Grammy Awards on Sunday, Feb. 10, 2013, in Los Angeles. (Photo by John Shearer/Invision/AP)

Nate Ruess, Andrew Dost, Jack Antonoff

Nate Ruess, center, Andrew Dost, left, and Jack Antonoff, of the musical group fun., accept the award for song of the year for "We Are Young" at the 55th annual Grammy Awards on Sunday, Feb. 10, 2013, in Los Angeles. (Photo by John Shearer/Invision/AP)

Juanes

Juanes poses backstage with the award for best Latin pop album for "MTV Unplugged Deluxe Edition" at the 55th annual Grammy Awards on Sunday, Feb. 10, 2013, in Los Angeles. (Photo by Matt Sayles/Invision/AP)

LL Cool J

LL Cool J performs on stage at the 55th annual Grammy Awards on Sunday, Feb. 10, 2013, in Los Angeles. (Photo by John Shearer/Invision/AP)

Juanes

Juanes poses backstage with the award for best Latin pop album for "MTV Unplugged Deluxe Edition" at the 55th annual Grammy Awards on Sunday, Feb. 10, 2013, in Los Angeles. (Photo by Matt Sayles/Invision/AP)

LL Cool J

LL Cool J performs on stage at the 55th annual Grammy Awards on Sunday, Feb. 10, 2013, in Los Angeles. (Photo by John Shearer/Invision/AP)

LL Cool J, Tom Morello

LL Cool J, left, and Tom Morello perform on stage at the 55th annual Grammy Awards on Sunday, Feb. 10, 2013, in Los Angeles. (Photo by John Shearer/Invision/AP)

Ben Lovett, Ted Dwayne, Marcus Mumford, Country Winston Marshall, Adele

Mumford & Sons, from left, Ben Lovett, Ted Dwayne, Marcus Mumford and Country Winston Marshall accept the award for album of the year for "Babel" at the 55th annual Grammy Awards on Sunday, Feb. 10, 2013, in Los Angeles. Presenter Adele, right, claps. (Photo by John Shearer/Invision/AP)

Juanes

Juanes performs at the 55th annual Grammy Awards on Sunday, Feb. 10, 2013, in Los Angeles. (Photo by John Shearer/Invision/AP)