Escotes y traseros prohibidos en los Grammy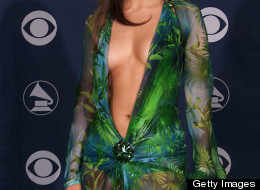 NUEVA YORK (AP) — CBS pidió a las estrellas que no enseñen demasiada piel el domingo en la entrega de los Grammy.
El canal requirió que los "traseros y pechos femeninos estén adecuadamente cubiertos" para la ceremonia que se transmitirá por televisión.
En un memorando enviado el miércoles también se advirtió contra "ropa transparente", exponer "la zona genital" y señaló que los atuendos "tipo tanga son problemáticos".
Los representantes de CBS y la Academia de la Grabación rechazaron hacer comentarios el jueves sobre el documento. Deadline Hollywood fue el primero en reportar sobre el memorando.
CBS transmitió el famoso Super Bowl de 2004 en el que Janet Jackson tuvo "un desperfecto de vestuario". El canal fue multado al principio por la Comisión Federal de Comunicación, aunque la multa fue revocada después.
La 55ta entrega de los Grammy se realizará el domingo a las 8:00 p.m. (hora del Este de Estados Unidos) en el Staples Center de Los Angeles.
MIRA:
Fotos intimas de artistas
Enseñando pompas con su vestido roto. Via WhoSay.

¡Tápate, mija!

El cantante en el baño.

¿Por esta foto que le sacó Ashton Kutcher, ayudó a que se hubiesen separado?

¡Ups! Olvidando el bra.

Siempre una niña precoz...

La reina de compartir momentos íntimos.

Su marido compartió esta foto sin darse cuenta que Tori estaba topless al fondo. Esa noche durmió en la tina, seguro...

¡Mira mamá, sin mi trajeee!

Una noche tranquila y con muchos carbohidratos en la tina...

Un momento clásico e inolvidable en el Super Bowl.

¿Oootro escándalo real?

Ese airecito traicionero...

¡Sorpresa!

Estos dichosos fotógrafos captando los ángulos más comprometedores...

Lady Gaga en los CDFA Awards 2011.

¡Aguas con esos brinquitos!

Con su cara de: "sí, no pasa nada, ya sé que estoy mostrando de más..."

¿Estaba tal vez un poco "intoxicada"?

La lluvia y el viento la traicionaron en la premiere de "Harry Potter".

La ex Destiny's Child enseñó de más con este loco atuendo.

La ex de Charlie Sheen.

Ah, ese viento juguetón...

¡Ups!

¿Quién le dijo que era buena idea dar vueltas así en la alfombra?
Y...
Famosas con "wardrobe malfunctions"
Se le desprende el top del bikini en una playa de Miami

Enseñó uno de sus senos en Estambul.

Sufre una caída y enseña las panties, enfrente de las cámaras. Mira este video del programa "Sé lo que hicisteis..."

Para la sesión de fotos de la modelo para la portada de la revista GQ, se subió a una atracción de feria donde se le "escapó" uno de sus senos. Y más tarde en el video, sale con camisetita mojada...

¿Quién necesita panties? ¡Paris Hilton no necesita panties! ¿Quién osa pedirle a Paris Hilton ponerse ropa interior?

¿Cómo olvidar cuando Britney "olvidó" usar ropa interior y le retrataron TODO al salirse de un auto?

En este video del programa "Estrellas Hoy", traen las imágenes de Maite Perroni mostrando su ropa interior sin darse cuenta.

Seguramente el más famoso de todos, cuando Justin Timberlake le arranca una parte del vestuario a Janet Jackson durante el Súper Tazón y deja uno de sus senos al aire.

Un recopilado de un fanático claramente asombrado con los atributos de Ingrid y todas las veces que ha enseñado de más en la pantalla chica.

La actriz de "Big Love" estaba en el mar de South Beach, Florida, cuando se le desprendió el bikini.

Durante un concierto en St. Louis el 13 de agosto de 2011, a Taylor Swift se le levantó la falda y dejó ver sus calzones... un poco grandes.

Filmando la película "Liz & Dick", Lindsay enseñó un seno por accidente en esta escena de pelea.

El vestido de cuero que se le reventó a Kim Kardashian en plena alfombra roja.

La cantante Katy Perry escogió este escotado vestido de tirantitos para asistir a los ASCAP Pop Music Awards, pero no le brindaba apoyo alguno a sus senos, los cuales estuvieron a punto de hacer una "aparición especial".

La cantante Nicki Minaj mostró accidentalmente su pezón durante su actuación en el show matutino "Good Morning America".

Durante el funeral de Etta James, Christina pasó un momento bastante vergonzoso cuando empezó a chorrearse su bronceado entre sus piernas.

La actriz y esposa de Ellen DeGeneres usó una blusa transaparente en un evento de GLAAD, y no estaba usando "bra".

En el estreno de "Men In Black 3" en Londres, el vestido se le desbarataba y dejaba ver de más a la (ex) integrante de las Pussycat Dolls.

El programa "Ventaneando" da una probadita del show de la voluptuosa argentina, que se da "muestras de cariño" con su esposo.

La cantante del grupo The Saturdays Mollie King salió de un estudio de televisión y con su blusa abierta, dejó ver su pezón a los fans y fotógrafos afuera.

En un concierto en Dallas, Demi Lovato enseñó por accidente uno de sus pezones.

Este es un video de broma, donde recordamos a James Franco tacleando a Anne Hathaway porque estaba a punto de enseñar un seno, durante su video promocional de la entrega del Oscar.

En el Festival de Cine de Tribeca, Kate Hudson estuvo a punto de enseñar de más, cuando el viento le levantó la falda en plena alfombra roja, pero afortunadamente, Jessica Alba estaba a su lado y ayudó a que no pasara a mayores.

Durante un concierto, usó unos jeans mal recortados que no dejó nada a la imaginación.

Mucho se especuló sobre si J.Lo enseñó de más durante su participación en la entrega del Oscar 2012, aunque ella asegura que no, nada, nadita.

La estrella de "Towie" Cara Kilbey usó un vestido con doble abertura en la premiere de "Magic Mike" que le causó un problemita.

Un "malfunction" más inocente de Madonna que no tuvo que ver con su vestuario, sino con su coreografía, durante el Super Bowl, donde estuvo a punto de caerse.

La conductora Nancy Grace explica que en realidad no mostró de más en el programa de baile "Dancing With The Stars", cuando todos pensaron que había mostrado por accidente su pezón.
ADEMÁS:
Country Solo Performance - "Blown Away" Best Country Song - "Blown Away"

Record of the Year - "Thinkin Bout You" Best New Artist Album of the Year - "Channel Orange" Best Urban Contemporary Album - "Channel Orange" Best Rap/Sung Collaboration - "No Church In The Wild" by Jay-Z & Kanye West Featuring Frank Ocean & The-Dream

Best Pop Vocal Album - "Some Nights" Record of the Year - "We Are Young" Best New Artist Album of the Year - "Some Nights" Song of the Year - "We Are Young" Best Pop Duo/Group Performance - "We Are Young"

Record of the Year - "Lonely Boy" Album of the Year - "El Camino" Best Rock Performance - "Lonely Boy" Best Rock Song - "Lonely Boy" Best Rock Album - "El Camino" Producer Of The Year, Non-Classical - Dan Auerbach

Album of the Year - "Babel" Best Rock Performance - "I Will Wait" Best Rock Song - "I Will Wait" Best Americana Album - "Babel" Best Song Written For Visual Media - "Learn Me Right (From Brave)" Best Long Form Music Video - "Big Easy Express"

Album of the Year - "Blunderbuss" Best Rock Song - "Freedom At 21" Best Rock Album - "Blunderbuss"

Best Pop Vocal Album - "Stronger" Record of the Year - "Stronger (What Doesn't Kill You)" Best Pop Solo Performance - "Stronger (What Doesn't Kill You)"

Record of the Year - "Somebody That I Used To Know" Best Pop Duo/Group Performance - "Somebody That I Used To Know" Best Alternative Music Album - "Making Mirrors"

Record of the Year - "We Are Never Ever Getting Back Together" Best Country Duo/Group Performance - "Safe & Sound" Best Song Written For Visual Media - "Safe & Sound (From The Hunger Games)"

Country Solo Performance - "Over"

Country Solo Performance - "Cost of Livin" Best Country Song - "Cost Of Livin'"

Country Solo Performance - "Springsteen" Best Country Song - "Springsteen"

Country Solo Performance - "Home"

Best New Artist Country Solo Performance - "Wanted" Best Country Album - "Hunter Hayes"

Best New Artist Best Americana Album - "The Lumineers"

Best New Artist Best Rock Performance - "Hold On"

Best Pop Vocal Album - "Ceremonials" Best Pop Duo/Group Performance - "Shake It Out"

Best Pop Vocal Album - "Overexposed" Best Pop Duo/Group Performance - "Payphone"

Best Pop Vocal Album - "The Truth About Love"

Best Pop Solo Performance - "Set Fire To The Rain [Live]"

Song Of The Year - "Call Me Maybe" Best Pop Solo Performance - "Call Me Maybe"

Song Of The Year - "Adorn" Best R&B Performance - "Adorn" Best R&B Song - "Adorn" Best Urban Contemporary Album - "Kaleidoscope Dream"

Song Of The Year - "The A Team"

Best Pop Solo Performance - "Wide Awake"

Best Pop Solo Performance - "Where Have You Been" Best Rap/Sung Collaboration - "Talk That Talk" Best Short Form Music Video - "We Found Love"

Best Pop Duo/Group Performance - "Sexy And I Know It"

Best Dance Recording - "Levels"

Best Dance Recording - "Let's Go"

Best Dance Recording - "Bangarang" Best Dance/Electronica Album - "Bangarang" Best Remixed Recording, Non-Classical - "Promises (Skrillex & Nero Remix)"

Best Dance Recording - "Don't You Worry Child"

Best Dance Recording - "I Can't Live Without You"

Best Dance/Electronica Album - "Wonderland"

Best Dance/Electronica Album - "Don't Think"

Best Dance/Electronica Album - "> Album Title Goes Here

Best Dance/Electronica Album - "Fire & Ice"

Best Traditional Pop Vocal Album - "Christmas"

Best Traditional Pop Vocal Album - "A Holiday Carole"

Best Traditional Pop Vocal Album - "Kisses On The Bottom" Best Boxed Or Special Limited Edition Package - "Ram - Paul McCartney Archive Collection (Deluxe Edition)" Best Historical Album - "Ram - Paul McCartney Archive Collection (Deluxe Edition)"

Best Rock Performance - "Charlie Brown" Best Rock Album - "Mylo Xyloto"

Best Rock Performance - "We Take Care Of Our Own" Best Rock Song - "We Take Care Of Our Own" Best Rock Album - "Wrecking Ball"

Best Hard Rock/Metal Performance - "I'm Alive"

Best Hard Rock/Metal Performance - "Love Bites (So Do I)"

Best Hard Rock/Metal Performance - "Blood Brothers"

Best Hard Rock/Metal Performance - "Ghost Walking"

Best Hard Rock/Metal Performance - "No Reflection"

Best Hard Rock/Metal Performance - "Whose Life (Is It Anyways?)"

Best Rock Song - "Madness" Best Rock Album - "The 2nd Law"

Best Alternative Music Album - "The Idler Wheel Is Wiser Than The Driver Of The Screw And Whipping Cords Will Serve You More Than Ropes Will Ever Do"

Best Alternative Music Album - "Biophilia"

Best Alternative Music Album - "Hurry Up, We're Dreaming."

Best Alternative Music Album - "Bad As Me"

Best R&B Performance - "Thank You"

Best R&B Performance - "Gonna Be Alright (F.T.B.)" Best R&B Album - "Black Radio"

Best R&B Performance - "I Want You"

Best R&B Performance - "Climax"

NASHVILLE, TN - DECEMBER 05: Hosts Taylor Swift and LL Cool J speak onstage at The GRAMMY Nominations Concert Live!! held at Bridgestone Arena on December 5, 2012 in Nashville, Tennessee. (Photo by Kevin Winter/Getty Images)

NASHVILLE, TN - DECEMBER 05: Hosts Taylor Swift and LL Cool J speak onstage at The GRAMMY Nominations Concert Live!! held at Bridgestone Arena on December 5, 2012 in Nashville, Tennessee. (Photo by Kevin Winter/Getty Images)

NASHVILLE, TN - DECEMBER 05: Hosts LL Cool J and Taylor Swift speak onstage at The GRAMMY Nominations Concert Live!! held at Bridgestone Arena on December 5, 2012 in Nashville, Tennessee. (Photo by Kevin Winter/Getty Images)

NASHVILLE, TN - DECEMBER 05: Hosts Taylor Swift and LL Cool J speak onstage at The GRAMMY Nominations Concert Live!! held at Bridgestone Arena on December 5, 2012 in Nashville, Tennessee. (Photo by Kevin Winter/Getty Images)

NASHVILLE, TN - DECEMBER 05: (L-R) Host LL Cool J, host Taylor Swift, and musician Adam Levine speak onstage at The GRAMMY Nominations Concert Live!! held at Bridgestone Arena on December 5, 2012 in Nashville, Tennessee. (Photo by Larry Busacca/Getty Images)

NASHVILLE, TN - DECEMBER 05: Music fans take cell phone photos of LL Cool J and Taylor Swift onstage at The GRAMMY Nominations Concert Live!! held at Bridgestone Arena on December 5, 2012 in Nashville, Tennessee. (Photo by Michael Kovac/Getty Images)

NASHVILLE, TN - DECEMBER 05: Hosts LL Cool J and Taylor Swift speak onstage at The GRAMMY Nominations Concert Live!! held at Bridgestone Arena on December 5, 2012 in Nashville, Tennessee. (Photo by Kevin Winter/Getty Images)

NASHVILLE, TN - DECEMBER 05: LL Cool J and Taylor Swift onstage at The GRAMMY Nominations Concert Live!! held at Bridgestone Arena on December 5, 2012 in Nashville, Tennessee. (Photo by Kevin Winter/Getty Images)

NASHVILLE, TN - DECEMBER 05: LL Cool J and Taylor Swift onstage at The GRAMMY Nominations Concert Live!! held at Bridgestone Arena on December 5, 2012 in Nashville, Tennessee. (Photo by Kevin Winter/Getty Images)

NASHVILLE, TN - DECEMBER 05: Co-hosts Taylor Swift and LL Cool J speak onstage at The GRAMMY Nominations Concert Live!! held at Bridgestone Arena on December 5, 2012 in Nashville, Tennessee. (Photo by Kevin Winter/Getty Images)

NASHVILLE, TN - DECEMBER 05: Singer Taylor Swift (L) and rapper LL Cool J perform onstage at The GRAMMY Nominations Concert Live!! held at Bridgestone Arena on December 5, 2012 in Nashville, Tennessee. (Photo by Kevin Winter/Getty Images)

NASHVILLE, TN - DECEMBER 05: Singer Taylor Swift (L) and rapper LL Cool J perform onstage at The GRAMMY Nominations Concert Live!! held at Bridgestone Arena on December 5, 2012 in Nashville, Tennessee. (Photo by Kevin Winter/Getty Images)

NASHVILLE, TN - DECEMBER 05: LL Cool J and Taylor Swift onstage at The GRAMMY Nominations Concert Live!! held at Bridgestone Arena on December 5, 2012 in Nashville, Tennessee. (Photo by Michael Kovac/Getty Images)

NASHVILLE, TN - DECEMBER 05: Co-hosts Taylor Swift and LL Cool J speak onstage at The GRAMMY Nominations Concert Live!! held at Bridgestone Arena on December 5, 2012 in Nashville, Tennessee. (Photo by Christopher Polk/Getty Images)

NASHVILLE, TN - DECEMBER 05: Co-host Taylor Swift poses in the press room at The GRAMMY Nominations Concert Live!! held at Bridgestone Arena on December 5, 2012 in Nashville, Tennessee. (Photo by Erika Goldring/Getty Images)

NASHVILLE, TN - DECEMBER 05: Co-host Taylor Swift poses in the press room at The GRAMMY Nominations Concert Live!! held at Bridgestone Arena on December 5, 2012 in Nashville, Tennessee. (Photo by Erika Goldring/Getty Images)

NASHVILLE, TN - DECEMBER 05: Taylor Swift speaks onstage at The GRAMMY Nominations Concert Live!! held at Bridgestone Arena on December 5, 2012 in Nashville, Tennessee. (Photo by Kevin Winter/Getty Images)

NASHVILLE, TN - DECEMBER 05: Co-hosts Taylor Swift and LL Cool J speak onstage at The GRAMMY Nominations Concert Live!! held at Bridgestone Arena on December 5, 2012 in Nashville, Tennessee. (Photo by Kevin Winter/Getty Images)

NASHVILLE, TN - DECEMBER 05: LL Cool J and Taylor Swift speak onstage at The GRAMMY Nominations Concert Live!! held at Bridgestone Arena on December 5, 2012 in Nashville, Tennessee. (Photo by Kevin Winter/Getty Images)

NASHVILLE, TN - DECEMBER 05: Co-hosts Taylor Swift and LL Cool J speak onstage at The GRAMMY Nominations Concert Live!! held at Bridgestone Arena on December 5, 2012 in Nashville, Tennessee. (Photo by Christopher Polk/Getty Images)

NASHVILLE, TN - DECEMBER 05: Co-hosts Taylor Swift and LL Cool J speak onstage at The GRAMMY Nominations Concert Live!! held at Bridgestone Arena on December 5, 2012 in Nashville, Tennessee. (Photo by Christopher Polk/Getty Images)

NASHVILLE, TN - DECEMBER 05: LL Cool J and Taylor Swift speak onstage at The GRAMMY Nominations Concert Live!! held at Bridgestone Arena on December 5, 2012 in Nashville, Tennessee. (Photo by Kevin Winter/Getty Images)

Co-host Taylor Swift poses for a photo backstage at the Grammy Nominations Concert Live! at Bridgestone Arena on Wednesday, Dec. 5, 2012, in Nashville, Tenn. (Photo by Donn Jones/Invision/AP)

Co-host Taylor Swift holds up 3 fingers to signify her 3 Grammy nominations as she poses for a photo backstage at the Grammy Nominations Concert Live! at Bridgestone Arena on Wednesday, Dec. 5, 2012, in Nashville, Tenn. (Photo by Donn Jones/Invision/AP)

Host Taylor Swift at the Grammy Nominations Concert Live! at Bridgestone Arena on Wednesday, Dec. 5, 2012, in Nashville, Tenn. (Photo by Wade Payne/Invision/AP)

FILE - This Dec. 1, 2012 file photo shows Taylor Swift performing underneath a video monitor during the KIIS FM's Jingle Ball at Nokia Theatre LA Live in Los Angeles. Swift is one of many artists performing at the Grammy Nominations concert airing Wednesday, Dec. 5, at 10 p.m. EST on CBS. (Photo by Chris Pizzello/Invision/AP, file)

Hosts LL Cool J, left, and Taylor Swift speak onstage at the Grammy Nominations Concert Live! at Bridgestone Arena on Wednesday, Dec. 5, 2012, in Nashville, Tenn. (Photo by Wade Payne/Invision/AP)