Jared Leto bajó muchísimo de peso para la cinta 'Dallas Buyers Club'
Jared Leto ha estado prácticamente dejando de comer desde hace más de un mes para meterse en el papel de un transexual en su nueva cinta "Dallas Buyers Club".
El actor y cantante habló de su dramática pérdida de peso durante una entrevista con el sitio Vulture este martes en los IFP Gotham Awards, donde se vio flaquísimo, con el rostro demacrado y las cejas rasuradas:
"Tu cuerpo pasa por varias etapas extrañas", dijo Jared sobre dejar de comer. "A veces es difícil incluso aguantar el agua. Pero para mí, no se trata sobre cuánto peso puedo perder, sino encontrar la mejor manera de representar al personaje. Estoy enfocado en lo que significa ser una mujer transexual".
Pero no será la primera vez que Leto transforme su físico para un papel, ya que bajó 25 libras para su papel de drogadicto en "Requiem for a Dream" en 2000 y luego subió más de 60 libras para interpretar al asesino de John Lennon, Mark David Chapman, en "Chapter 27".
En "Dallas Buyers Club", el actor de 40 años interpreta a Rayon, una mujer transexual viviendo con SIDA en Texas durante los '80.
En la misma película, lo acompaña Matthew McConaughey, quien también ha bajado muchísimo de peso para su rol, como un hombre homofóbico que es diagnosticado también con SIDA.
JARED LETO EN UNA FOTO DE TERRY RICHARDSON: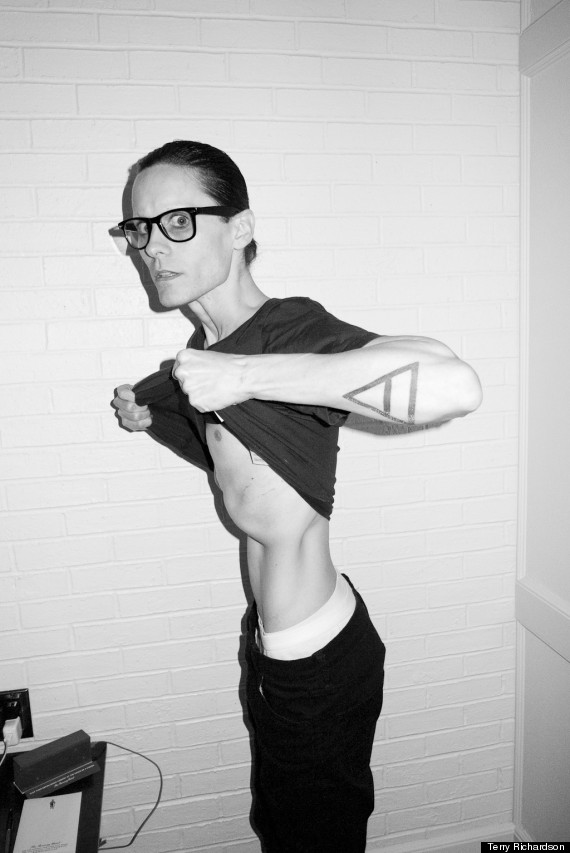 ELLOS ENGORDARON PARA UNA PELI:
Famosos que subieron de peso
Roberts ganó más de 10 libras para interpretar a Elizabeth Gilbert en la adaptación del libro "Eat, Pray, Love". De cualquier manera, eso no es nada, ya que la autora subió 30 libras en sus viajes por el mundo - sobre todo con tanta pasta en Italia.

"Eat Pray Love" trailer

Ryan Gosling y Michelle Williams aumentaron cada uno 15 libras para interpretar a la pareja con un matrimonio tormentoso en "Blue Valentine".

Michelle Williams y Ryan Gosling en una escena de "Blue Valentine." (AP Photo/The Weinstein Company, File)

Paltrow aumentó 20 libras a su esbeltísima silueta para ser una cantante agotada en "Country Strong". Con ayuda de su entrenadora personal, Tracy Anderson, ¡las bajó en dos semanas!

En esta foto cortesía de Screen Gems, Gwyneth Paltrow en una escena de "Country Strong." (AP Photo/Sony-Screen Gems, Scott Garfield)

Swank no sólo tuvo que subir de peso para "Million Dollar Baby," sino que tenía que aumentarlos en puro músculo. La actriz aumentó 20 libras para convertirse en boxeadora y se llevó su segundo Oscar.

Un clip de Hilary en acción en "Million Dollar Baby".

George Clooney aumentó 30 libras para interpretar al ex agente de la CIA Robert Baer en "Syriana" de 2005. La medida incluso le hizo ganar un Oscar a Mejor Actor de Reparto.

George Clooney en "Syriana." (AP Photo/Warner Bros., Glen Wilson, file)

Damon también aumentó unas 30 libras para su rol en "The Informant!" en 2009, pero el actor dijo que ganar peso fue "divertido". "Fue muy, muy fácil subir de peso. Me divertí muchísimo", dijo a Access Hollywood. "Básicamente me comía todo lo que me ponían enfrente, durante un par de meses".

Matt Damon gordito para "The Informant!"

Zellweger aumentó también cerca de 30 libras (¡dos veces!) para su protagónico en las exitosas "Bridget Jones's Diary" y "Bridget Jones: The Edge of Reason." Estará al parecer de regreso para una tercera parte, "Bridget Jones's Baby." ¿Volverá a subir de peso?

¡Ah, qué calzones más grandes tienes, Bridget!

En 2000, Bana aumentó también 30 libras para ser un asesino en "Chopper".

Avance de "Chopper"

Otra del club de las 30 libras extra. Charlize lo hizo para interpretar a la asesina Aileen Wuornos en "Monster". También, ganó algo más en el camino: un Oscar a Mejor Actriz.

La completa transformación de Charlize.

El esposo de Anna Faris, quien trabaja en el show "Parks & Rec" actualmente anda comiendo de todo para su rol en la comedia "Starbuck" y hasta el momento lleva más de 40 libras extra.

Bale bajó 60 libras para parecer esquelético en su cinta "The Machinist", pero los tuvo que subir inmediatamente en músculo para ser Bruce Wayne, alias Batman, en la primera cinta de Christopher Nolan.

El actor del show "Third Rock From the Sun" se convirtió en una estrella de acción en la cinta de Batman "The Dark Knight Rises." Justo como su compañero Christian Bale, Gordon-Levitt tuvo que aumentar muchas libras en puro músculo.

¿Cómo olvidar a De Niro, uno de los pioneros en subir de peso para intepretar mejor un papel? Es muy recordado que ganó 60 libras para su papel en "Raging Bull".

Escena de la cinta de Martin Scorsese "Raging Bull," con Robert De Niro como Jake La Motta. (AP Photo)

Russell Crowe aumentó 63 libras para su rol en la cinta de 2008 "Body of Lies". Lo hizo con ayuda de sus pequeños amigos: cupcakes y hamburguesas.

Crowe en esta cinta con Leonardo DiCaprio.

Pero dejándolos a todos en el camino está Jared, quien aumentó 67 libras para meterse en los zapatos del asesino de John Lennon, Mark David Chapman, en "Chapter 27". A la cinta no le fue muy bien que digamos y él sufrió para recuperar su esbelta figura, así que probablemente no lo volvería a hacer.

La sorprendente nueva figura de Jared Leto.

Artistas que han subido y bajado de peso para el cine.
FOTOS DE JARED LETO:
NEW YORK, NY - NOVEMBER 26: Actor/musician Jared Leto attends the IFP's 22nd Annual Gotham Independent Film Awards at Cipriani Wall Street on November 26, 2012 in New York City. (Photo by Theo Wargo/Getty Images for IFP)

NEW YORK, NY - NOVEMBER 26: Actor/musician Jared Leto attends the IFP's 22nd Annual Gotham Independent Film Awards at Cipriani Wall Street on November 26, 2012 in New York City. (Photo by Jemal Countess/Getty Images for IFP)

NEW YORK, NY - NOVEMBER 26: Actor/musician Jared Leto attends the IFP's 22nd Annual Gotham Independent Film Awards at Cipriani Wall Street on November 26, 2012 in New York City. (Photo by Theo Wargo/Getty Images for IFP)

NEW YORK, NY - NOVEMBER 26: Actor/musician Jared Leto speaks onstage at the IFP's 22nd Annual Gotham Independent Film Awards at Cipriani Wall Street on November 26, 2012 in New York City. (Photo by Jemal Countess/Getty Images for IFP)

NEW YORK, NY - NOVEMBER 26: Jared Leto attends the IFP's 22nd Annual Gotham Independent Film Awards sponsored by FIJI Water at Cipriani Wall Street on November 26, 2012 in New York City. (Photo by Bryan Bedder/Getty Images for FIJI Water)

NEW YORK, NY - NOVEMBER 26: Actor Jared Leto attends the 22nd Annual Gotham Independent Film Awards at Cipriani Wall Street on November 26, 2012 in New York City. (Photo by Larry Busacca/Getty Images for IFP)

DUSSELDORF, GERMANY - OCTOBER 27: (L-R) Politican Philipp Roesler and Jared Leto attend the 21st UNESCO Charity Gala 2012 on October 27, 2012 in Dusseldorf, Germany. (Photo by Andreas Rentz/Getty Images)

DUSSELDORF, GERMANY - OCTOBER 27: Jared Leto attends the 21st UNESCO Charity Gala 2012 on October 27, 2012 in Dusseldorf, Germany. (Photo by Andreas Rentz/Getty Images)

DUSSELDORF, GERMANY - OCTOBER 27: Jared Leto attends the 21st UNESCO Charity Gala 2012 on October 27, 2012 in Dusseldorf, Germany. (Photo by Andreas Rentz/Getty Images)

DUSSELDORF, GERMANY - OCTOBER 27: Jared Leto attends the 21st UNESCO Charity Gala 2012 on October 27, 2012 in Dusseldorf, Germany. (Photo by Andreas Rentz/Getty Images)

DUSSELDORF, GERMANY - OCTOBER 27: Jared Leto attends the 21st UNESCO Charity Gala 2012 on October 27, 2012 in Dusseldorf, Germany. (Photo by Andreas Rentz/Getty Images)

DUSSELDORF, GERMANY - OCTOBER 27: Jared Leto attends the 21st UNESCO Charity Gala 2012 on October 27, 2012 in Dusseldorf, Germany. (Photo by Andreas Rentz/Getty Images)

NEW YORK, NY - SEPTEMBER 09: Musician Carah Faye Charnow, left, and Jared Leto attend the Asher Levine Spring 2013 fashion show during Mercedes-Benz Fashion Week at Pier 81 Studio on September 9, 2012 in New York City. (Photo by Chelsea Lauren/Getty Images for Asher Levine)

NEW YORK, NY - SEPTEMBER 09: Musician Carah Faye Charnow, left, and Jared Leto attend the Asher Levine Spring 2013 fashion show during Mercedes-Benz Fashion Week at Pier 81 Studio on September 9, 2012 in New York City. (Photo by Chelsea Lauren/Getty Images for Asher Levine)

NEW YORK, NY - SEPTEMBER 09: Andrea Horblitt, left, and Jared Leto attend the Asher Levine Spring 2013 fashion show during Mercedes-Benz Fashion Week at Pier 81 Studio on September 9, 2012 in New York City. (Photo by Chelsea Lauren/Getty Images for Asher Levine)

NEW YORK, NY - SEPTEMBER 09: Designer Asher Levine, left, poses with Jared Leto backstage at the Asher Levine Spring 2013 fashion show during Mercedes-Benz Fashion at Pier 81 Studio on September 9, 2012 in New York City. (Photo by Chelsea Lauren/Getty Images)

WEST HOLLYWOOD, CA - JUNE 07: Jared Leto, Musician and Entrepreneur, The Hive, Vyrt attends the Fast Company celebration of the launch of Co.Create on June 7, 2012 in West Hollywood, California. (Photo by Michael Buckner/Getty Images For Fast Company)

WEST HOLLYWOOD, CA - JUNE 07: (L-R) Jared Leto, Musician and Entrepreneur, The Hive, Vyrt, Christine Osekoski, Publisher Fast Company and Dave Morin, Co-Founder and CEO, Path attend the Fast Company celebration of the launch of Co.Create presented by Cartier on June 7, 2012 in West Hollywood, California. (Photo by Michael Buckner/Getty Images For Fast Company)

WEST HOLLYWOOD, CA - JUNE 07: Jared Leto, Musician and Entrepreneur, The Hive, Vyrt attends the Fast Company celebration of the launch of Co.Create on June 7, 2012 in West Hollywood, California. (Photo by Michael Buckner/Getty Images For Fast Company)

AUSTIN, TX - MARCH 10: Actor Jared Leto attends Mobli 2.0 Launch Party at Kenichi on March 10, 2012 in Austin, Texas. (Photo by Vivien Killilea/Getty Images for Mobli 2.0)

NEW YORK, NY - FEBRUARY 14: Actor Jared Leto attends Samsung and AT&T, hosted by rag & bone, present the 'Fashion: Take Note Studio' Valentine's Day Event featuring Band Of Horses at Dream Downtown on February 14, 2012 in New York City. (Photo by Theo Wargo/Getty Images for Samsung)

NEW YORK, NY - FEBRUARY 14: Jared Leto attends the Rad By Rad Hourani Unisex Collection #5 fall 2012 collection during Mercedes-Benz Fashion Week at The Designer's Loft on February 14, 2012 in New York City. (Photo by Dario Cantatore/Getty Images)

NEW YORK, NY - FEBRUARY 14: Jared Leto attends the Rad By Rad Hourani Unisex Collection #5 fall 2012 collection during Mercedes-Benz Fashion Week at The Designer's Loft on February 14, 2012 in New York City. (Photo by Dario Cantatore/Getty Images)