Lady Gaga se disfraza de marihuana para Halloween (FOTOS)
Como muchos otros famosos, Lady Gaga también se disfrazó para Halloween. ¿Qué eligió? Ser marihuana. Sí, leíste bien. Pero no como unas hojitas o algo verde, no... El título "oficial" del atuendo de la cantante era "Princesa Drogada, la Reina del Cannabis".
Este jueves, Gaga le enseñó a sus más de 30.000.000 de seguidores en Twitter:
So i was weed for halloween. BEST COSTUME EVER ITS SO FUN. Princess High the Cannabis Queen. Photos of party on littlemonsters.com shortly

— Lady Gaga (@ladygaga) November 1, 2012
"Así que fui marihuana para Halloween. EL MEJOR DISFRAZ EN LA HISTORIA. FUE TAN DIVERTIDO. Princesa Drogada la Reina del Cannabis. Fotos de la fiesta pronto en littlemonsters.com", dijo, refiriéndose a su sitio social.
Además, Gaga mostró de más, ya que tenía el torso desnudo, con tan sólo unas decoraciones en forma de hoja de cannabis cubriéndole los pezones.
Pero la famosa ha sido muy vocal acerca de su amor por esta droga. En septiembre, se le vio fumando un "porrito" en Holanda en pleno concierto, admitiendo tras unas cuantos "toques" que es muy fan.
"Quiero decirles cuánto ha cambiado mi vida y que ha hecho que ya no tome tanto alcohol. Ha sido una experiencia totalmente espiritual para mí y mi música", compartió con el público.
SUS FOTOS DE HALLOWEEN: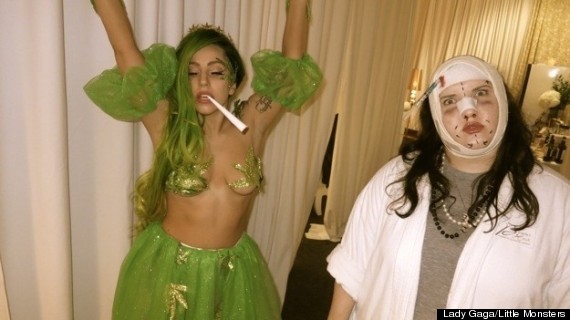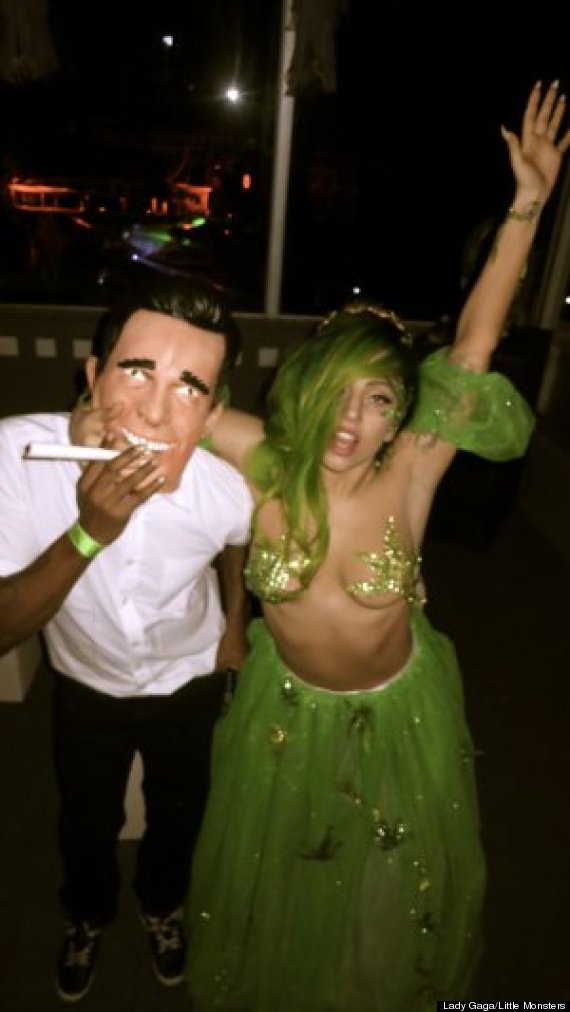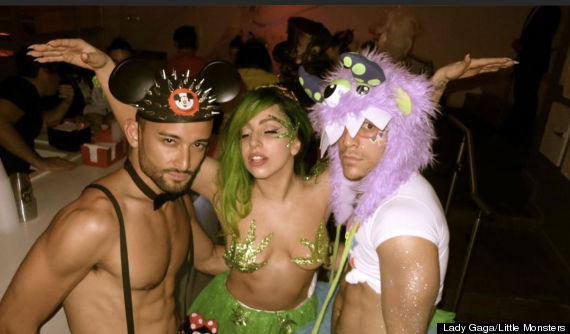 DINOS, ¿QUÉ TE PARECIÓ SU DISFRAZ? PARTICIPA Y DEJA TUS COMENTARIOS
Los famosos comparten sus disfraces en Twitter
"#happyhalloween"

"Yaaaaa! Día de los muertos locos!"

"Aqui me tienen como "Maria Morticia Adams".

"Disfrazada!!! De la REINA de CORAZONES ❤❤"

"Halloween is coming to town... "

"Happy Halloween!!!!!! Disfruten..."

"Feliz día de Halloween!! Les gusta mi disfraz??"

"Esta linda Frankie Stein esta lista para pedir su calaverita".

"Con los fastidiosos de mis Papas.. @KarlaMartinezTV @Raultvgonzalez en @DespiertaAmeric"

"Amonos!!!!"

"The Incredible's #HappyHolloween"

"Happy Halloween!!!"

Qué tal Ellen DeGeneres y su disfraz de Sofía Vergara.

"Amaneci de muy mal humor".

"bueNoS dias Malos dias jajajaja".

"Hoy en #Halloween de #TinkerBell #Campanita en @UnNuevoDia que les parece?"

"Amé mi disfraz de campanita! Y @RiverViiperi lució muy guapo en su traje ;)"

"Manolo and Blair are ready to Holloweeeen!!!"

"La batichica hermosa y sexy".

"HAPPY HALLOWEEN!!!!!!!!!!"

"En @UnNuevoDia celebrando Halloween!! Ustedes de q se van a disfrazar?"

"Buuuuu!!"

"Aqui va mi disfraz chicos...envienme los de ustedes!!! Besos para todos...".

"Malefica!!!!"

"Batman y Cat Women hoy por #Halloween".

"Una catrina azulada...happy Halloween , feliz día de los muertos!!"

"Yo & mi capitán!"

"Estamos muuuueeertooos jajaja... Pero de haaaambreeee @ogermenos #travesurasdehalloween"

"Happy Halloween !!!"

"Jijiji"
MÁS DE LADY GAGA EN FOTOS:
AUSTIN, TX - MARCH 14: Musician Lady Gaga speaks at the 2014 SXSW Music, Film + Interactive Festival at the Hilton on March 14, 2014 in Austin, Texas. (Photo by Michael Buckner/Getty Images for SXSW)

AUSTIN, TX - MARCH 14: Musician Lady Gaga speaks at the 2014 SXSW Music, Film + Interactive Festival at the Hilton on March 14, 2014 in Austin, Texas. (Photo by Michael Loccisano/Getty Images for SXSW)

HOLLYWOOD, CA - MARCH 02: Recording artist Lady Gaga attends the Oscars held at Hollywood & Highland Center on March 2, 2014 in Hollywood, California. (Photo by Jason Merritt/Getty Images)

HOLLYWOOD, CA - MARCH 02: Recording artist Lady Gaga attends the Oscars held at Hollywood & Highland Center on March 2, 2014 in Hollywood, California. (Photo by Jason Merritt/Getty Images)

WEST HOLLYWOOD, CA - MARCH 02: Musician Lady Gaga attends the 2014 Vanity Fair Oscar Party hosted by Graydon Carter on March 2, 2014 in West Hollywood, California. (Photo by Pascal Le Segretain/Getty Images)

WEST HOLLYWOOD, CA - MARCH 02: Musician Lady Gaga attends the 2014 Vanity Fair Oscar Party hosted by Graydon Carter on March 2, 2014 in West Hollywood, California. (Photo by Pascal Le Segretain/Getty Images)

HOLLYWOOD, CA - MARCH 02: Singer Lady Gaga attends the Oscars held at Hollywood & Highland Center on March 2, 2014 in Hollywood, California. (Photo by Michael Buckner/Getty Images)

HOLLYWOOD, CA - MARCH 02: Lady Gaga attends the Oscars held at Hollywood & Highland Center on March 2, 2014 in Hollywood, California. (Photo by Frazer Harrison/Getty Images)

LOS ANGELES, CA - JANUARY 24: Singer Lady Gaga attends The 2014 MusiCares Person Of The Year Gala Honoring Carole King at Los Angeles Convention Center on January 24, 2014 in Los Angeles, California. (Photo by Jason Merritt/Getty Images)

LOS ANGELES, CA - JANUARY 24: Singer Lady Gaga attends The 2014 MusiCares Person Of The Year Gala Honoring Carole King at Los Angeles Convention Center on January 24, 2014 in Los Angeles, California. (Photo by Jason Merritt/Getty Images)

HOLLYWOOD, CA - JANUARY 23: Lady Gaga arrives at an evening with Arthur Fogel hosted by EPIX at the Harmony Gold Preview House and Theater on January 23, 2014 in Hollywood, California. (Photo by Joshua Blanchard/Getty Images for EPIX)

PARIS, FRANCE - JANUARY 19: Lady Gaga attends the Atelier Versace show as part of Paris Fashion Week Haute Couture Spring/Summer 2014 on January 19, 2014 in Paris, France. (Photo by Pascal Le Segretain/Getty Images)

PARIS, FRANCE - JANUARY 19: Lady Gaga attends the Atelier Versace show as part of Paris Fashion Week Haute Couture Spring/Summer 2014 on January 19, 2014 in Paris, France. (Photo by Pascal Le Segretain/Getty Images)

LOS ANGELES, CA - JANUARY 12: Lady Gaga attends HBO's Post 2014 Golden Globe Awards Party held at Circa 55 Restaurant on January 12, 2014 in Los Angeles, California. (Photo by Mike Windle/Getty Images)

LONDON, UNITED KINGDOM - DECEMBER 08: Lady GaGa attends on day 2 of the Capital FM Jingle Bell Ball at 02 Arena on December 8, 2013 in London, England. (Photo by Stuart C. Wilson/Getty Images)

LONDON, UNITED KINGDOM - DECEMBER 08: Lady GaGa attends on day 2 of the Capital FM Jingle Bell Ball at 02 Arena on December 8, 2013 in London, England. (Photo by Stuart C. Wilson/Getty Images)

In costume of 'oiran' high-class geisha girl, US pop music star Lady Gaga look-alike doll, called Gagadoll made of silicon is displayed at a press conference in Tokyo on December 1, 2013. Lady Gaga is here for the promotion of her latest album 'ARTPOP'. AFP PHOTO / Yoshikazu TSUNO (Photo credit should read YOSHIKAZU TSUNO/AFP/Getty Images)

In colorful jumpsuit, US pop music star Lady Gaga look-alike doll, called Gagadoll made of silicon is displayed at a press conference in Tokyo on December 1, 2013. Lady Gaga is here for the promotion of her latest album 'ARTPOP'. AFP PHOTO / Yoshikazu TSUNO (Photo credit should read YOSHIKAZU TSUNO/AFP/Getty Images)

Lady Gaga arrives for the 2013 Glamour Women of the Year Award at Carnegie Hall November 11, 2013 sponsored by LOréal Paris, to honor courageous and inspiring women who are changing the world. AFP PHOTO / TIMOTHY CLARY (Photo credit should read TIMOTHY CLARY/AFP/Getty Images)

In white suits, US pop music star Lady Gaga look-alike doll, called Gagadoll made of silicon is displayed at a press conference in Tokyo on December 1, 2013. Lady Gaga is here for the promotion of her latest album 'ARTPOP'. AFP PHOTO / Yoshikazu TSUNO (Photo credit should read YOSHIKAZU TSUNO/AFP/Getty Images)

US pop music star Lady Gaga speaks at a press conference in Tokyo on December 1, 2013. Lady Gaga is here for the promotion of her latest album 'ARTPOP'. AFP PHOTO / Yoshikazu TSUNO (Photo credit should read YOSHIKAZU TSUNO/AFP/Getty Images)

US pop music star Lady Gaga poses for photographers upon her arrival at Narita Airport, outside Tokyo on November 26, 2013. Lady Gaga is in Japan to promote her latest album 'ARTPOP'. AFP PHOTO/Toru YAMANAKA (Photo credit should read TORU YAMANAKA/AFP/Getty Images)

LOS ANGELES, CA - NOVEMBER 24: Singer Lady Gaga attends the 2013 American Music Awards at Nokia Theatre L.A. Live on November 24, 2013 in Los Angeles, California. (Photo by Jason Merritt/Getty Images)

LOS ANGELES, CA - NOVEMBER 24: Singer Lady Gaga performs onstage during the 2013 American Music Awards at Nokia Theatre L.A. Live on November 24, 2013 in Los Angeles, California. (Photo by Kevin Winter/Getty Images)

LOS ANGELES, CA - NOVEMBER 24: Singers R. Kelly (L) and Lady Gaga perform onstage during the 2013 American Music Awards at Nokia Theatre L.A. Live on November 24, 2013 in Los Angeles, California. (Photo by Kevin Winter/Getty Images)

Lady Gaga arrives for the 2013 American Music Awards at the Nokia Theatre L.A. Live in downtown Los Angeles, California, November 24, 2013. AFP PHOTO / Frederic J. Brown (Photo credit should read FREDERIC J. BROWN/AFP/Getty Images)

Lady Gaga arrives for the 2013 American Music Awards at the Nokia Theatre L.A. Live in downtown Los Angeles, California, November 24, 2013. AFP PHOTO / Frederic J. Brown (Photo credit should read FREDERIC J. BROWN/AFP/Getty Images)

LOS ANGELES, CA - NOVEMBER 24: Lady Gaga performs onstage during the 2013 American Music Awards at Nokia Theatre L.A. Live on November 24, 2013 in Los Angeles, California. (Photo by Kevin Winter/Getty Images)

NEW YORK, NY - NOVEMBER 13: Lady Gaga poses inside the newly opened H&M store in Times Square on November 13, 2013 in New York City. (Photo by Larry Busacca/Getty Images for H&M)

NEW YORK, NY - NOVEMBER 11: Glamour Editor-in-Chief Cindi Leive (L) and Lady Gaga attend Glamour's 23rd annual Women of the Year awards on November 11, 2013 in New York City. (Photo by Larry Busacca/Getty Images for Glamour)

LOS ANGELES, CA - NOVEMBER 24: Singer Lady Gaga performs onstage during the 2013 American Music Awards at Nokia Theatre L.A. Live on November 24, 2013 in Los Angeles, California. (Photo by Kevin Winter/Getty Images)

WATER MILL, NY - JULY 27: Lady Gaga attends The 20th Annual Watermill Center Summer Benefit at The Watermill Center on July 27, 2013 in Water Mill, New York. (Photo by Sonia Moskowitz/Getty Images)

WATER MILL, NY - JULY 27: Lady Gaga attends The 20th Annual Watermill Center Summer Benefit at The Watermill Center on July 27, 2013 in Water Mill, New York. (Photo by Sonia Moskowitz/Getty Images)

NEW YORK, NY - JULY 27: Lady Gaga attends the 'Devils Heaven' gala benefit for Robert Wilson's Watermill Center on July 27, 2013 in Watermill New York. (Photo by Steve Sands/Getty Images)

WATER MILL, NY - JULY 27: Lady Gaga attends The 20th Annual Watermill Center Summer Benefit at The Watermill Center on July 27, 2013 in Water Mill, New York. (Photo by Sonia Moskowitz/Getty Images)

WATER MILL, NY - JULY 27: Robert Wilson and Lady Gaga attend The 20th Annual Watermill Center Summer Benefit at The Watermill Center on July 27, 2013 in Water Mill, New York. (Photo by Sonia Moskowitz/Getty Images)

WATER MILL, NY - JULY 27: Lady Gaga attends The 20th Annual Watermill Center Summer Benefit at The Watermill Center on July 27, 2013 in Water Mill, New York. (Photo by Sonia Moskowitz/Getty Images)

NEW YORK, NY - JULY 11: Lady Gaga is seen in Midtown on July 11, 2013 in New York City. (Photo by Alo Ceballos/FilmMagic)

NEW YORK, NY - JUNE 28: Musician Lady Gaga speaks at The Rally during NYC Pride 2013 on June 28, 2013 in New York City. (Photo by Michael Stewart/WireImage)

NEW YORK, NY - JUNE 28: Musician Lady Gaga speaks at The Rally during NYC Pride 2013 on June 28, 2013 in New York City. (Photo by Michael Stewart/WireImage)

NEW YORK, NY - JUNE 28: Lady Gaga attends The Rally during NYC Pride 2013 on June 28, 2013 in New York City. (Photo by Robin Marchant/Getty Images)

Lady Gaga acude al lanzamiento de su nueva fragancia 'Fame' en Londres. (Octubre 7, 2012) (Photo by Joel Ryan/Invision/AP)

Lady Gaga acude al lanzamiento de su nueva fragancia 'Fame' en Londres. (Photo by Joel Ryan/Invision/AP)

Lady Gaga acude al lanzamiento de su nueva fragancia 'Fame' en Londres. (Photo by Joel Ryan/Invision/AP)

Lady Gaga saluda a sus fanáticos en Milán, Italia. (Oct. 1, 2012) (AP Photo/Luca Bruno)

Lady Gaga en Milán, Italia. (Oct. 1, 2012) (AP Photo/Luca Bruno)

Lady Gaga en Milán, Italia. (Oct. 1, 2012) (AP Photo/Luca Bruno)

Lady Gaga en una pasarela de Philip Treacy en el London Fashion Week Spring/Summer 2013. (Septiembre 13, 2012) (Photo by Gareth Cattermole/Getty Images)

Lady Gaga en una pasarela de Philip Treacy en el London Fashion Week Spring/Summer 2013. (Septiembre 13, 2012) (Photo by Gareth Cattermole/Getty Images)

Lady Gaga asiste a un evento en Nueva York en noviembre, 2011.

Lady Gaga presenta su fragancia en Nueva York. (Septiembre 14, 2012= (Photo by Evan Agostini/Invision/AP)

Lady Gaga presenta su fragancia en Nueva York. (Photo by Evan Agostini/Invision/AP)

Lady Gaga presenta su fragancia en Nueva York. (septiembre 13, 2012)

Lady Gaga durante su tour por Asia. (Mayo 8, 2012)

Lady Gaga es recibida por sus fans en Japón durante su Tour por Asia. (Mayo 8, 2012).

Lady Gaga saluda a sus fans durante su Tour por Asia. (Mayo 8, 2012)

Lady Gaga a su llegada al aeropuerto de Narita durante su Tour por Asia. (Mayo 8, 2012)

Lady Gaga a su llegada al aeropuerto de Narita durante su Tour por Asia. (Mayo 8, 2012)

Fanáticos de Lady Gaga antes del concierto de la cantante en Hong Kong. (Mayo 2, 2012)

Lady Gaga posando para los fotógrafos en Hong Kong. (Abril 28, 2012)

Lady Gaga y el músico Paul McCartney en la ceremonia de los Premios Grammy. (Febrero 12, 2012 en Los Angeles, California.

Lady Gaga en la ceremonia de los Premios Grammy. (Febrero 12, 2012 en Los Angeles, California)

Lady Gaga y Michael Bloomberg durante el concierto de fin de año en el Times Square en Nueva York (Enero 1, 2012).

Lady Gaga y Michael Bloomberg durante el concierto de fin de año en el Times Square en Nueva York (Enero 1, 2012).

Lady Gaga y Michael Bloomberg durante el concierto de fin de año en el Times Square en Nueva York (Enero 1, 2012).

Lady Gaga durante el concierto de fin de año en Nueva York (Enero 1, 2012).

Lady Gaga y Michael Bloomberg celebran el inicio del año en Nueva York (Enero 1, 2012).

Lady Gaga durante el concierto de fin de año en Nueva York (Enero 1, 2012).

Lady Gaga durante el concierto de fin de año en Nueva York (Enero 1, 2012).

Lady Gaga a su llegada al aeropuerto de Narita para asistir a un programa de televisión. (Diciembre 20, 2011)

Lady Gaga a su llegada a Tokio para asistir a un programa de televisión. (Diciembre 20, 2011)

La réplica de Lady Gaga de cera, recibe los toques finales antes de ser colocada en Museo Madame Tussaudsen Blackpool, Inglaterra. (Diciembre 8, 2011)