Mariah Carey y Nick Cannon festejan el Día de la Familia con sus gemelos Monroe y Moroccan (FOTO)
Este sábado, Mariah Carey y Nick Cannon estuvieron felices celebrando un gran día familiar con sus gemelitos de 17 meses, Monroe y Moroccan, en el muelle de Santa Monica.
Carey, de 42 años y Nick, quien hoy celebra su cumpleaños número 32, compartieron las festivas fotos con sus seguidores en el sitio que crearon desde el nacimiento de los nenes, DemBabies.com
Mariah, por supuesto, usó un entallado vestido rojo para presumir sus curvas. Por su lado, Monroe vistió un trajecito blanco y ya presumía sus anteojos del mismo color, mientras que su hermano Roc usó khakis y un suéter azul. Roc parece fascinado con los globos de tantos colores.
Es un respiro para Mariah, quien esta semana se metió en tremenda bronca con su compañera en "American Idol", Nicki Minaj, en peleas a gritos y amenazas que causaron mucho escándalo en la prensa.
La adorable foto: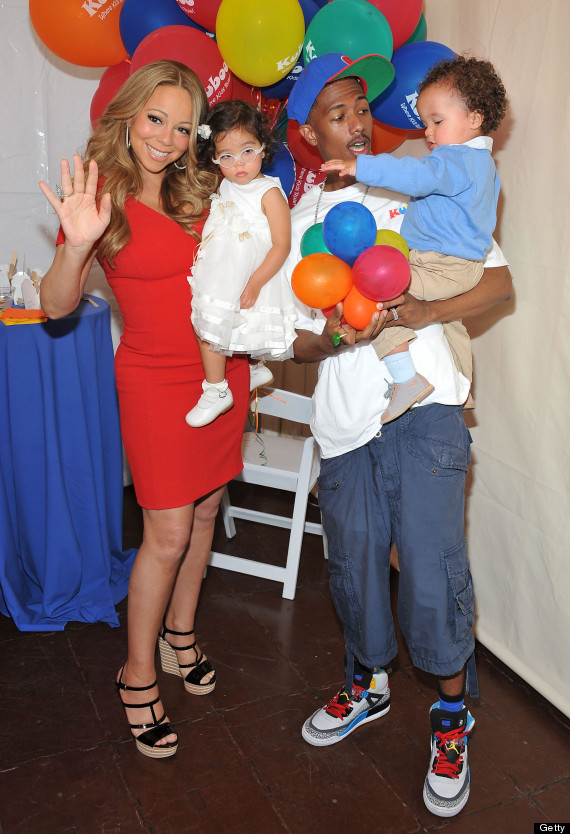 Usher Raymond V y Naviyd Ely Raymond son los nombres de los hijos del cantante Usher. Los pequeños son fruto de su matrimonio con Tameka Foster, de quien ahora está divorciado.

Valentina Paloma es el nombre de la hija de Salma Hayek y su esposo, el empresario François-Henri Pinault. La pequeña nació en septiembre de 2007 y es el más grande tesoro de la estrella mexicana.

Emme Maribel y Maximilian David nacieron el 22 de febrero de 2008 y son los simpáticos y famosos gemelos de Jennifer Lopez y Marc Anthony.

El 18 de abril de 2006 llegó al mundo Suri, la primer y hasta ahora única hija del matrimonio conformado por dos guapos y famosos: Katie Holmes y el orgulloso papá, Tom Cruise. La linda Suri es toda una celebridad y aparecen fotos de ella por todos lados.

Christopher Alexander, es el nombre del primer hijo de William Levy y Elizabeth Gutierrez, que nació en marzo del 2006. Además, la estrella de 'Dancing with the stars' y su pareja, son los felices padres de una nena de dos años de edad que lleva por nombre Kailey.

Angelina Jolie y Brad Pitt son los orgullos padres de 6 hijos, tres de ellos adoptados. Maddox Chivan, Zahara Marley, Shiloh Nouvel, Pax Thien y los mellizos Knox Leon y Vivienne Marcheline

Jessica Alba y su esposo Cash Warren son los felices padres de Honor Marie Warren, que nació el 7 de junio del 2008, y de Haven, que llegó a completar la familia el 13 de agosto de 2011. Dos pequeñas hermosas como su famosa mami.

La actriz Nicole Kidman y el cantante de música country, Keith Urban, son los amorosos padres de dos bellas hijas. Sunday Rose, que nació el 7 de julio de 2008 y Faith Margaret, de diciembre del 2010. Además Nicole es madre de otros dos hijos adoptados durante su matrimonio con el actor Tom Cruise.

Sandra Bullock adoptó en enero de 2011 a su pequeño hijo Louis, a quien decidió adoptar cuando aún estaba casada con Jesse James. Desde entonces la actriz es una amorosa madre, a quien siempre se le ve atenta al cuidado de su pequeño.

Uno de los matrimonios más estables de Hollywood es el conformado por Jennifer Garner y Ben Affleck. Este par de famosos son padres de dos bellas niñas llamadas Violet Anne, de seis años, y Seraphina Rose, de tres, y este año llegó el hombrecito a su hogar, al que pusieron por nombre Samuel y tiene sólo unos meses de nacido.

Victoria y David Beckham son los orgullosos padres de cuatro pequeños. Brooklyn, Romeo y Cruz son sus primeros hijos, todos ellos varones, pero en junio del 2011 nació Harper, la princesa de la familia.

Matthew McConaughey y Camila Alves son padres de dos niños. Levi y Vida son los nombres de estos chiquillos que sin lugar a dudas alegran sus vidas.

El cantante Juanes y la conductora Karen Martínez. tienen tres hijos. Además de Luna y Dante, que aparecen en la foto, también está Paloma.

Kate Hudson es madre de dos niños. Ryder, quien actualmente tiene siete años y es fruto de su matrimonio con Chris Robinson, y el pequeño Bingham Hawn Bellamy, que nació en julio del 2011 y es hijo de Matt Bellamy, con quien se encuentra comprometida.

Orlando Bloom y la modelo Miranda Kerr son padres de un niño llamado Flynn. El pequeño nació el 6 de enero de 2011 y como podemos ver en la foto adora a su papi.

Este bomboncito lleva por nombre Gia Francesca Lopez. Nació el 11 de septiembre de 2010 y como podemos ver es la adoración de su famoso papi, el actor Mario Lopez, quien siempre que puede la lleva al trabajo.

Jeronimo es el nombre del primer hijo de los actores Diego Luna y Camila Sodi y nació el 9 de agosto del 2008. La pareja también tiene a una nena llamada Fiona, que nació en julio de 2010.

Gwen Stefani y Gavin Rossdale son padres de dos hijos. Kingston James McGregor y Zuma Nesta Rock son los nombres de los hijos de este par de famosos.
17 de febrero de 2014 en 'The Tonight Show Starring Jimmy Fallon' en el Rockefeller Center de New York City.

12 de febrero de 2014 con Sway en MTV First, en donde estrenó su video 'You're Mine (Eternal)', en NY.

12 de febrero en New York, junto a Nick Cannon en MTV First.

12 de febrero visitando 'The Elvis Duran Z100 Morning Show' en Z100 en New York City.

12 de febrero de 2014 visitando 'The Elvis Duran Z100 Morning Show' en Z100 en New York City.

18 de enero de 2014 en Los Angeles.

14 de noviembre de 2013 en New York City.

5 de agosto de 2013 en New York City.

Mariah Carey durante una presentación en el programa "Good Morning America" de ABC en Central Park en Nueva York en una fotografía del 24 de mayo de 2013. La cantante tuvo que ser hospitalizada el domingo 7 de julio de 2013 tras lastimarse el hombro durante la filmación de un video musical, informó el cantante de la representante el lunes 8 de julio de 2013. (Foto Evan Agostini/Invision/AP, archivo)

La juez Mariah Carey saluda al público en la final de "American Idol" en el Teatro Nokia en Los Angeles el jueves 16 de mayo de 2013. (Foto Matt Sayles/Invision/AP)

Mariah Carey en el evento de finalistas de "American Idol" en el centro The Grove, el 7 de marzo de 2013 en Los Angeles.

Mariah Carey en el evento de finalistas de "American Idol" en el centro The Grove, el 7 de marzo de 2013 en Los Angeles.

Mariah Carey en el evento de finalistas de "American Idol" en el centro The Grove, el 7 de marzo de 2013 en Los Angeles.

Mariah Carey en el evento de finalistas de "American Idol" en el centro The Grove, el 7 de marzo de 2013 en Los Angeles.

Mariah Carey en el evento de finalistas de "American Idol" en el centro The Grove, el 7 de marzo de 2013 en Los Angeles.

Mariah Carey en el evento de finalistas de "American Idol" en el centro The Grove, el 7 de marzo de 2013 en Los Angeles.

Mariah Carey en el evento de finalistas de "American Idol" en el centro The Grove, el 7 de marzo de 2013 en Los Angeles.

Mariah Carey durante la función de estreno de "American Idol" el 9 de enero de 2013 en el Royce Hall de la UCLA en Westwood, California.

Mariah Carey durante la función de estreno de "American Idol" el 9 de enero de 2013 en el Royce Hall de la UCLA en Westwood, California.

Mariah Carey durante la función de estreno de "American Idol" el 9 de enero de 2013 en el Royce Hall de la UCLA en Westwood, California.

De izquierda a derecha Mariah Carey, Keith Urban, Nicki Minaj y Ryan Seacrest de "American Idol" en la gira de Fox en el Hotel Langham Huntington en Pasadena, California, en una fotografía del 8 de enero de 2013. (Foto Todd Williamson/Invision/AP, archivo)

Mariah Carey durante la presentación de la nueva temporada de "American Idol".

Mariah Carey, Keith Urban y Nicki Minaj

Mariah Carey

Mariah Carey durante la presentación de "American Idol"

Mariah responde preguntas de la prensa durante la presentación de "American Idol" en el Hotel Langham de Pasadena, California, el 8 de enero de 2013.

PASADENA, CA - JANUARY 08: Judge Mariah Carey of 'American Idol' speaks onstage during the FOX portion of the 2013 Winter TCA Tour at Langham Hotel on January 8, 2013 in Pasadena, California. (Photo by Frederick M. Brown/Getty Images)

De izquierda a derecha Mariah Carey, Keith Urban y Nicki Minaj de "American Idol" en la gira de Fox en el Hotel Langham Huntington en Pasadena, California, en una fotografía del 8 de enero de 2013. (Foto Todd Williamson/Invision/AP, archivo)

Mariah Carey grabó la canción 'Almost Home' para el soundtrack de la película de Disney 'Oz The Great and Powerful' dirigida por Sam Raimi.

De izquierda a derecha los jueces de "American Idol" Keith Urban, Nicki Minaj, Randy Jackson y Mariah Carey. "American Idol" pierde audiencia pero no anunciantes. (Foto AP/Fox, Michael Becker)

Mariah Carey en los TeenNick HALO Awards, el 17 de noviembre de 2012 en el Hollywood Palladium de Los Angeles, California. (Photo by Frederick M. Brown/Getty Images)

Nick Cannon y Mariah Carey

Mariah Carey y Swizz Beatz

Mariah Carey en los TeenNick HALO Awards, el 17 de noviembre de 2012 en el Hollywood Palladium de Los Angeles, California. (Photo by Frederick M. Brown/Getty Images)

Mariah Carey en los TeenNick HALO Awards, el 17 de noviembre de 2012 en el Hollywood Palladium de Los Angeles, California. (Photo by Frederick M. Brown/Getty Images)

Mariah Carey en los TeenNick HALO Awards, el 17 de noviembre de 2012 en el Hollywood Palladium de Los Angeles, California. (Photo by Frederick M. Brown/Getty Images)

Nick Cannon y Mariah Carey en los TeenNick HALO Awards.

La actriz y directora Penny Marshall posa con la cantante Mariah Carey en la fiesta para lanzar su libro "My Mother Was Nuts," el miércoles 19 de septiembre, 2012, en el Monkey Bar de New York. (AP Photo/Starpix, Dave Allocca)

El presentador de "American Idol" Ryan Seacrest, centro, posa con los jueces, desde la izquierda, Mariah Carey, Keith Urban, Nicki Minaj y Randy Jackson el domingo 16 de septiembre de 2012 en Nueva York. La cadena Fox anunció que Urban y Minaj son los nuevos jueces del programa de talentos. (Foto AP/Fox, Michael Becker)

Los cuatro jueces de "American Idol," Mariah Carey, Keith Urban, Nicki Minaj y Randy Jackson durante una conferencia de prensa en New York el lunes 17 se septiembre, 2012. (AP Photo/FOX, Michael Becker)

La juez de "American Idol", Mariah Carey, llega al día uno de audiciones en el Lincoln Center de New York, el domingo 16 de septiembre de 2012. (Photo by Evan Agostini/Invision/AP)

Mariah Carey a su llegada a los BMI Awards, que le entregaron un premio especial, en Beverly Hills, el 7 de septiembre de 2012.

Mariah Carey en los BMI Urban Awards.

Mariah Carey con su esposo, el actor y conductor Nick Cannon.

Mariah Carey y Randy Jackson en los BMI Urban Awards 2012, el viernes 7 de septiembre de 2012. (Photo by Arnold Turner/Invision for BMI/AP Images)

Mariah Carey a su llegada a los BMI Urban Awards. (Photo by Jordan Strauss/Invision/AP)

Jermaine Dupri, Mariah Carey y Nick Cannon backstage en los BMI Urban Awards en Beverly Hills, Calif. (Photo by Arnold Turner/Invision for BMI/AP Images)

Mariah Carey canta durante el evento de la NFL Kickoff 2012 el miércoles 5 de septiembre en New York. (Photo by Evan Agostini/Invision/AP)

Mariah Carey cantando en el Rockefeller Center New York.

Mariah Carey en su concierto de la NFL.

Mariah Carey cargando a su perrito en pleno concierto de la NFL. (Photo by Evan Agostini/Invision/AP)

Mariah Carey en el escenario de la edición número 11 del festival de música internacional Mawazine, 'World Rhythms', en Rabat, el 26 de mayo de 2012. (FADEL SENNA/AFP/GettyImages)

Mariah Carey en el escenario de la edición número 11 del festival de música internacional Mawazine, 'World Rhythms', en Rabat, el 26 de mayo de 2012. (FADEL SENNA/AFP/GettyImages)

¿Quién canta con ella? (FADEL SENNA/AFP/GettyImages)

Mariah Carey posando durante el 'photocall' del festival de música internacional Mawazine el 25 de mayo, 2012. (FADEL SENNA/AFP/GettyImages)

Mariah Carey posando durante el 'photocall' del festival de música internacional Mawazine el 25 de mayo, 2012. (FADEL SENNA/AFP/GettyImages)

Mariah Carey asiste al evento de caridad Project Canvas Charity Event conducido por su esposo, Nick Cannon, en el Opera Ballroom de Nueva York, el 11 de mayo, 2012. (Jason Kempin/Getty Images)

Mariah Carey asiste al evento de caridad Project Canvas Charity Event conducido por su esposo, Nick Cannon, en el Opera Ballroom de Nueva York, el 11 de mayo, 2012. (Jason Kempin/Getty Images)

Mariah Carey asiste al evento de caridad Project Canvas Charity Event conducido por su esposo, Nick Cannon, en el Opera Ballroom de Nueva York, el 11 de mayo, 2012. (Jason Kempin/Getty Images)

Nick Cannon asomándose un poquito a la foto con su esposa, quien muestra uno de los sneakers de subasta. (Jason Kempin/Getty Images)

Mariah Carey y Nick Cannon en el Opera Ballroom. (Jason Kempin/Getty Images)

Mariah Carey a su llegada a la alfombra roja. (Jason Kempin/Getty Images)

Mariah Carey sonríe para las cámaras en el Opera Ballroom. (Jason Kempin/Getty Images)

Mariah durante la conferencia de prensa del concierto 'Top of the Mountain' en Ischgl, Austria, el 30 de abril de 2012. (Jan Hetfleisch/Getty Images)

Mariah cantando durante el evento de Austria, con un atuendo que dio mucho de qué hablar. (Jan Hetfleisch/Getty Images)

Mariah Carey en el escenario del 'Top Of The Mountain Concert' el 30 de abril, 2012 en Ischgl, Austria. (Jan Hetfleisch/Getty Images)

Mariah Carey dejando su hotel para cenar con su marido en la Torre Eiffel, el 27 de abril, 2012, para celebrar su aniversario de cuatro años. (THOMAS SAMSON/AFP/GettyImages)

Mariah Carey y su marido, el actor y conductor Nick Cannon, dejando su hotel en París para festejar su aniversario. (THOMAS SAMSON/AFP/GettyImages)

Mariah Carey y Nick Cannon posando para sus fotos de aniversario frente a la Torre Eiffel. (THOMAS SAMSON/AFP/GettyImages)

Mariah Carey y Nick Cannon renovando sus votos el 27 de abril, 2012 en París. (Pascal Le Segretain/Getty Images)

PARIS, FRANCE - APRIL 27: Mariah Carey and her husband Nick Cannon during the their vows renewal ceremony, photocall on April 27, 2012 in Paris, France. (Photo by Pascal Le Segretain/Getty Images)

PARIS, FRANCE - APRIL 27: Mariah Carey poses during her vows renewal ceremony, photocall on April 27, 2012 in Paris, France. (Photo by Pascal Le Segretain/Getty Images)

PARIS, FRANCE - APRIL 27: Mariah Carey and her husband Nick Cannon during their wedding vows renewal ceremony, photocall on April 27, 2012 in Paris, France. (Photo by Pascal Le Segretain/Getty Images)

PARIS, FRANCE - APRIL 27: Mariah Carey and her husband Nick Cannon during their wedding vows renewal ceremony, photocall on April 27, 2012 in Paris, France. (Photo by Pascal Le Segretain/Getty Images)

Mariah Carey y Nick Cannon a bordo del nuevo crucero de Disney Cruise Line el primero de marzo, 2012 en New York. Carey fue nombrada madrina del Disney Fantasy, de 4 mil pasajeros. (Kent Phillips/Disney Parks via Getty Images)

Mariah Carey cantando en el evento Escape To Total Rewards en el Gotham Hall el 1o de marzo, 2012 en New York. (Busacca/Getty Images for Caesars Entertainment)

NEW YORK, NY - MARCH 01: Mariah Carey performs during Escape To Total Rewards at Gotham Hall on March 1, 2012 in New York City. (Photo by Larry Busacca/Getty Images for Caesars Entertainment)

NEW YORK, NY - MARCH 01: Mariah Carey performs during Escape To Total Rewards at Gotham Hall on March 1, 2012 in New York City. (Photo by Larry Busacca/Getty Images for Caesars Entertainment)

NEW YORK CITY - MARCH 1: In this handout image provided by Disney Parks, singer Mariah Carey joins Walt Disney Company President and CEO Robert A. Iger (right), Walt Disney Parks and Resorts Chairman Thomas O. Staggs and Mickey Mouse for the christening of the newest ship of Disney Cruise Line, the Disney Fantasy, in New York City, on March 1, 2012. In a maritime tradition, the award-winning recording artist served as godmother for the 4,000-passenger Disney Fantasy, which sails to her home port of Port Canaveral, Fla. later this month to begin seven-night cruises to the Caribbean and Disney's private island, Castaway Cay. (Photo by Matt Stroshane/Disney Parks via Getty Images)

WASHINGTON, DC - JANUARY 14: Mariah CareyMoroccan Scott Cannon and Nick Cannon speak during the BET Honors 2012 at the Warner Theatre on January 14, 2012 in Washington, DC. (Photo by Kris Connor/Getty Images)

WASHINGTON, DC - JANUARY 14: Mariah Carey, Spike Lee and Stevie Wonder pose for a photo during the BET Honors 2012 at the Warner Theatre on January 14, 2012 in Washington, DC. (Photo by Kris Connor/Getty Images)

Mariah Carey en la conferencia de prensa para anunciar que es la nueva vocera de la marca Jenny Craig, en el evento realizado en el Four Seasons Hotel de New York el 9 de noviembre, 2011. (Cindy Ord/Getty Images)

NEW YORK, NY - NOVEMBER 09: Recording artist Mariah Carey speaks during a press conference to announce that she is the new Jenny Craig Brand Ambassador at Four Seasons Hotel New York on November 9, 2011 in New York City. (Photo by Cindy Ord/Getty Images)

NEW YORK, NY - NOVEMBER 09: Recording artist Mariah Carey poses at a press conference to announce that she is the new Jenny Craig Brand Ambassador at Four Seasons Hotel New York on November 9, 2011 in New York City. (Photo by Cindy Ord/Getty Images)

NEW YORK, NY - NOVEMBER 09: Recording artist Mariah Carey speaks during a press conference to announce that she is the new Jenny Craig Brand Ambassador at Four Seasons Hotel New York on November 9, 2011 in New York City. (Photo by Cindy Ord/Getty Images)

NEW YORK, NY - NOVEMBER 09: Recording artist Mariah Carey speaks during a press conference to announce that she is the new Jenny Craig Brand Ambassador at Four Seasons Hotel New York on November 9, 2011 in New York City. (Photo by Cindy Ord/Getty Images)