Selena Gomez estrena nuevo tatuaje
Selena Gómez está estrenando ya su segundo tatuaje y es uno que quedará oculto detrás de su larga cabellera.
Se trata del número 76 escrito en números romanos, y que fue realizado por Bang Bang, el famoso artista de tatuajes de Nueva York .
Según información difundida por el sitio de Internet del Daily Mail, el diseño elegido por Selena Gomez tiene un significado importante para ella...
"El tatuaje fue un tributo a un miembro de su familia que significa mucho para ella. Selena estaba nerviosa y quizá haya dolido un poco, ya que ella se mantuvo tomada de la mano de su mejor amiga todo el tiempo. Ella hizo un gran trabajo", dijo Bang Bang a la publicación.
Mientras que en la imagen, donde se puede apreciar a esta famosa frente al espejo, se le ve sonriente y satisfecha con el resultado...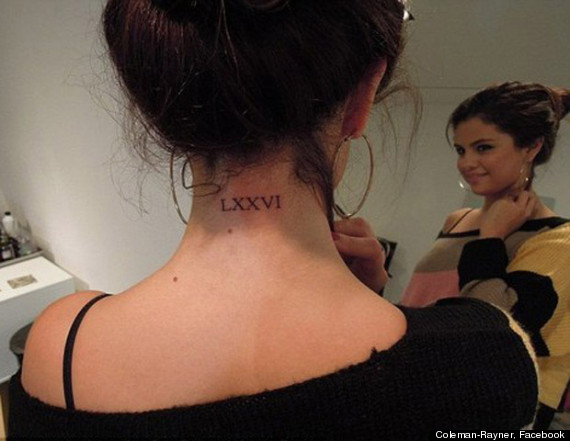 DINOS, ¿QUÉ OPINAS DEL NUEVO TATUAJE DE SELENA GOMEZ?
PARTICIPA Y DEJA TUS COMENTARIOS
MÁS DE LOS TATUAJES DE LOS FAMOSOS:
Los tatuajes de los famosos
Además de este coqueto tatuaje que lleva en su hombro con el símbolo del 'Pi' en griego, Kate del Castillo lleva otro aún más sexy... ¿Quieres verlo?

En esta imagen que circuló durante la promoción de su película "K-11", podemos ver de cerca el símbolo que lleva tatuado en la parte baja del abdomen.

"An angel now" dice este coqueto tatuaje que Lea Michele se hizo en memoria de su fallecido abuelo. ¿Quieres ver más?

Aquí la foto de su hombro en donde se tatuó dos notas musicales que se dice pertenecen a la canción "Bohemian Rhapsody" de Queen.

El galanazo argentino lleva un enorme sol en su brazo derecho pero además tiene uno más sexy en la parte baja del abdomen.

La modela brasileña eligió una pequeña estrella que lleva tatuada en su mano izquierda.

Como podemos ver en la foto David Beckham es todo un catálogo de tatuajes. Espalda, brazos, pecho y entre todos ellos no pueden faltar el nombre de su esposa Victoria y de sus pequeños.

Son varios los tatuajes que lleva Demi Lovato. Uno de ellos está en su mano en forma de cruz. ¿Quieres ver algunos más?

Aquí tenemos otros tres. Cuando junta sus muñecas podemos ver la frase "Stay Strong" (Mantente fuerte) y cerca del codo se grabó la leyenda de "Faith" (Fe).

Este galanazo lleva tatuada la imagen de un antiguo cañón naval en su antebrazo izquierdo.

Pamela Anderson lleva tatuado un brazalete en forma de púas aunque el de la espalda es el más coqueto.

El cantante boricua tiene varios tatuajes. En uno de sus brazos lleva el Padre Nuestro en arameo en forma de espiral, también lleva una flor de loto y una mujer desnuda que representa los cuatro elementos: agua, fuego, aire y tierra.

Aunque no es el único tatuaje, sí es el más vistoso. Fíjate bien en su pie donde decidió grabarse un extraño símbolo que significa amor y serenidad.

La actriz española eligió esta pequeña estrella para llevarla en una de sus muñecas. Pero, no es el único...

...también se tatuó el número "883" en uno de sus pies ya que se dice que además de supersticiosa, Penélope Cruz es fanática de la numerología.

Britney también tiene varios tatuajes. En el abdomen, en la nuca, en el pie, alrededor de los dedos de los pies, en los brazos, en la espalda y el que te mostramos en la muñeca.

La roquera mexicana tiene alrededor de 17 tatuajes en su cuerpo. De frente podemos ver el del cuello...

...aunque de espaldas tenemos varios más, cuello, brazos, nuca, todos ellos con un significado especial para la cantante, como lo es el nombre de su hija.

La cantante Katy Perry también tiene varios tatuajes. Uno de ellos es el de una pequeña flor cerca de su mano, otro más una leyenda antigua que dice "Annugacchati Pravaha" atraído por la corriente. ¿Quieres más?...

Aquí el tatuaje que lleva en su muñeca izquierda con la palabra "Jesús".

Aquí podemos ver al menos 5 de los muchos tatuajes que tiene Miley Cyrus. En el dedo meñique lleva un corazón, en el torso podemos ver un atrapasueños, en una de sus muñecas lleva un ancla, en la otra el símbolo de "OM" y también tiene escrita la palabra "karma" en otro de sus dedos. ¿Quieres más?

Aquí el de la la oreja dedicado simplemente al amor.

El famoso cantante tiene varios tatuajes pero aquí te mostramos el que lleva en la parte del abdomen con forma de ave.

En esta foto podemos ver el tatuaje que Cheryl Cole lleva en una de sus piernas. Si nos fíjamos bien se alcanza a ver otro en su mano más pequeño. Pero ¡hay más!...

Gracias a esta imagen podemos apreciar la enorme mariposa que lleva en la parte baja de la espalda.

"We will all laugh at gilded butterflies" reza el tatuaje que lleva Megan Fox en la espalda. Pero hay más...

Aunque tiene muchos más, uno de los más llamativos es el del brazo, con la imagen de Marilyn Monroe.

"Vivere senza rimipianti" que significa"Vivir sin arrepentimientos", es lo que dice el tatuaje que lleva al costado de la espalda la actriz Hayden Panettiere.

La actriz y cantante estadounidense lleva tatuada una cita del escritor Edgar Allan Poe que dice "All that we see or seem. Is but a dream within a dream" (Todo lo que vemos o parece, no es sino un sueño dentro de un sueño).

La exitosa cantante también tiene muchísimos tatuajes. Tantos, que supuestamente no recuerda cuántos son. Aquí podemos ver dos, el de la muñeca y otro enorme en su brazo izquierdo.

La cantante tiene varios tatuajes. Uno de ellos se encuentra detrás del hombro derecho, que tiene una leyenda además de una sirena con un corazón roto.

Esta rubia se tatuó en el brazo un enorme corazón con el nombre de su marido, Antonio Banderas.

El de la nuca es muy lindo y dice simplemente "amor".

El cantautor argentino lleva un tatuaje tribal en su antebrazo derecho.

La actriz estadounidense es otra de las famosas adictas a los tatuajes. Algunos de ellos son las coordenadas del lugar donde nacieron sus mellizos que responden a la latitud y altitud de Francia, uniéndose así a las coordenadas del lugar donde nacieron sus otros cuatro hijos. En la espalda lleva un dragón tribal y un tigre de bengala y en el brazo izquierdo un dragón chino de la buena suerte.

Esta simpática estrellita no es nada, pues Eva Longoria tiene varios tatuajes. En la parte baja de la espalda luce un crucifijo, en el glúteo derecho tiene una flor y por ahí hay varios que quisiera borrar, porque forman parte de su pasado amoroso con su ex esposo Tony Parker.

Este galán de Hollywood lleva varios tatuajes en el cuerpo. Uno de ellos es el que lleva en el brazo izquierdo con una cruz celta y la leyenda "Carpe Diem" (Vive el momento).

'La Chica Fantástica' tiene varios tatuajes, entre ellos: una mariposa en la parte baja del cuello y otro en la muñeca derecha, con el símbolo de una flor de loto.

Se dice que la guapa actriz y su madre llevan un tatuaje idéntico en forma de pez en el tobillo derecho. El otro tatuaje que se le ha visto es en forma de flor y está en su pie izquierdo.

A esta famosa le parece muy sensual lucir un tatuaje y lo demuestra. El que vemos es el del tobillo, pero tiene otro en el pie, dos bajo el vientre y otros dos en la parte baja de su espalda.

A la esposa del futbolista David Beckham le encantan los tatuajes tanto como a él. No dudamos que los consentidos son el que lleva en la muñeca con las iniciales de su amado y este que podemos ver en su nuca con una leyenda hebrea de amor con motivo de su sexto aniversario de bodas.

Este famoso también tiene tatuajes por todo su cuerpo, aunque quizás los más representativos son: el del nombre de su madre y su hijo y el que ahora podemos ver en esta foto, en su brazo derecho, que está dedicado a su famoso personaje 'Jack Sparrow', de la exitosa trilogía 'Piratas del Caribe'.

Romántico y sexy resulta el diseño de la cantante Rihanna, quien empezó con un tatuaje de estrellas en el cuello y luego lo extendió hasta la espalda, convirtiéndolo en una auténtica lluvia de estrellas. Rihanna también lleva el tatuaje de una guitarra en su brazo izquierdo.

El de su mano es un símbolo raro pero también muy vistoso.

El cantante colombiano tiene dos tatuajes en cada brazo y todos representan según él, una etapa de su vida. El primero es una cadena en su brazo derecho, el segundo una letra 'J' en el brazo izquierdo, el tercero un ojo sobre la 'J' y el último un sol.

Heredera de la belleza de su madre, Demi Moore y de la rebeldía de su padre, Bruce Willis, Rumer Willis luce la figura de una aventurera golondrina en su espalda.

El ex de Angelina Jolie, es uno de los actores más tatuados, ya que tiene una docena. Aquí muestra los de sus brazos.

La hija de Ozzy Osbourne tiene varios tatuajes en el cuerpo, entre ellos los que podemos ver en la foto que son un par de alas en su espalda, un trebol en la mano izquierda y ahí mismo, un poco más arriba, la palabra "lovely".

Aunque ahora ya está separada, Heidi Klum lleva tatuado, con unos símbolos raros, el nombre de Seal y una estrella por cada uno de sus hijos.

"Dios siempre estará conmigo", reza la inscripción que decidió la cantante lucir y que está escrita en chino.

Como podemos ver en la foto el vocalista de Maroon 5 tiene toda una colección de tatuajes en todo su cuepo. Una guitarra, una cadena, flores y hasta un águila han quedado plasmados en su cuerpo.

El cantante de reggaeton tiene varios tatuajes en el cuerpo. Los más visibles son los que lleva en los brazos, uno de ellos en forma de ángel.

En esta imagen podemos ver dos de las tatuajes que se ha hecho Bárbara Mori. Varias pequeñas estrellas en el brazo y una pequeña cruz cerca de su mano. ¿Quieres ver más?

También tiene tatuada una serpiente que recorre su pie izquierdo.

El cantante estadounidense Chris Brown tiene varios tatuajes en el cuerpo y como podemos ver sus brazos están totalmente ocupados. La imagen de un Cristo, una rosa, unas alas en el pecho, estrellas y muchas figuras más.

Como podemos ver en la foto la actriz Mena Suvari tiene un vistoso y enorme tatuaje en la espalda que dice: "Palabra", "Sonido" y "Poder".

Son muchos los tatuajes que lleva impresos en el cuerpo Joel Madden de "Good Charlotte". Aquí tan solo algunos de ellos.

Esta pequeña estrella es sólo un ejemplo de los muchos tatuajes que lleva Lindsay Lohan. Y es que ¡hay muchos más!

En su piel también lleva escrita varias leyendas como "I restore myself when I'm alone", "La bella vita", el más reciente que dice "Live without regrets" (Vive sin remordimientos) y hasta un fragmento de la letra de la canción "I Go To Extremes" de Billy Joel, que es el que vemos aquí.
ADEMÁS:
Actress Selena Gomez arrives at the 2013 Vanity Fair Oscar Party on Sunday, Feb. 24 2013 at the Sunset Plaza Hotel in West Hollywood, Calif. (Photo by Jordan Strauss/Invision/AP)

Actress Selena Gomez arrives at the 2013 Vanity Fair Oscar Party on Sunday, Feb. 24 2013 at the Sunset Plaza Hotel in West Hollywood, Calif. (Photo by Jordan Strauss/Invision/AP)

WEST HOLLYWOOD, CA - FEBRUARY 24: Actress/singer Selena Gomez arrives at the 2013 Vanity Fair Oscar Party hosted by Graydon Carter at Sunset Tower on February 24, 2013 in West Hollywood, California. (Photo by Pascal Le Segretain/Getty Images)

WEST HOLLYWOOD, CA - FEBRUARY 24: Actress/singer Selena Gomez arrives at the 2013 Vanity Fair Oscar Party hosted by Graydon Carter at Sunset Tower on February 24, 2013 in West Hollywood, California. (Photo by Pascal Le Segretain/Getty Images)

WEST HOLLYWOOD, CA - FEBRUARY 24: Actress/singer Selena Gomez arrives at the 2013 Vanity Fair Oscar Party hosted by Graydon Carter at Sunset Tower on February 24, 2013 in West Hollywood, California. (Photo by Pascal Le Segretain/Getty Images)

WEST HOLLYWOOD, CA - FEBRUARY 24: Actresses Vanessa Hudgens (L) and Selena Gomez arrive at the 2013 Vanity Fair Oscar Party hosted by Graydon Carter at Sunset Tower on February 24, 2013 in West Hollywood, California. (Photo by Pascal Le Segretain/Getty Images)

(L to R) US actresses Selena Gomez, Vanessa Hudgens, director Korine Harmony Ashley Benson and Rachel Korine pose during the photocall of the movie Spring Breakers in Rome on February 22, 2013. AFP PHOTO / ALBERTO PIZZOLI (Photo credit should read ALBERTO PIZZOLI/AFP/Getty Images)

(From L) US actresses Selena Gomez, Vanessa Hudgens, Ashley Benson and Rachel Korine pose during a photocall for the movie premiere of 'Spring Breakers' in Rome on February 22, 2013. AFP PHOTO / ALBERTO PIZZOLI (Photo credit should read ALBERTO PIZZOLI/AFP/Getty Images)

US actress Selena Gomez poses during a photocall for the movie premiere of 'Spring Breakers' in Rome on February 22, 2013. AFP PHOTO / ALBERTO PIZZOLI (Photo credit should read ALBERTO PIZZOLI/AFP/Getty Images)

US actress Selena Gomez poses during a photocall for the movie premiere of 'Spring Breakers' in Rome on February 22, 2013. AFP PHOTO / TIZIANA FABI (Photo credit should read TIZIANA FABI/AFP/Getty Images)

US actress Selena Gomez poses during a photocall for the movie premiere of 'Spring Breakers' in Rome on February 22, 2013. AFP PHOTO / TIZIANA FABI (Photo credit should read TIZIANA FABI/AFP/Getty Images)

US actress Selena Gomez poses during a photocall for the movie premiere of 'Spring Breakers' in Rome on February 22, 2013. AFP PHOTO / TIZIANA FABI (Photo credit should read TIZIANA FABI/AFP/Getty Images)

US actress Selena Gomez poses during a photocall for the movie premiere of 'Spring Breakers' in Rome on February 22, 2013. AFP PHOTO / ALBERTO PIZZOLI (Photo credit should read ALBERTO PIZZOLI/AFP/Getty Images)

MADRID, SPAIN - FEBRUARY 21: Actress Selena Gomez attends the 'Spring Breakers' premiere at the Callao cinema on February 21, 2013 in Madrid, Spain. (Photo by Carlos Alvarez/Getty Images)

MADRID, SPAIN - FEBRUARY 21: Actress Selena Gomez attends the 'Spring Breakers' premiere at the Callao cinema on February 21, 2013 in Madrid, Spain. (Photo by Carlos Alvarez/Getty Images)

MADRID, SPAIN - FEBRUARY 21: (L-R) Actresses Ashley Benson, Vanessa Hudgens, Selena Gomez and Rachel Korine attend the 'Spring Breakers' premiere at the Callao cinema on February 21, 2013 in Madrid, Spain. (Photo by Carlos Alvarez/Getty Images)

Actress Selena Gomez arrives at the 2013 Vanity Fair Oscar Party on Sunday, Feb. 24 2013 at the Sunset Plaza Hotel in West Hollywood, Calif. (Photo by Jordan Strauss/Invision/AP)

Actress Selena Gomez arrives at the 2013 Vanity Fair Oscar Party on Sunday, Feb. 24 2013 at the Sunset Plaza Hotel in West Hollywood, Calif. (Photo by Jordan Strauss/Invision/AP)

WEST HOLLYWOOD, CA - FEBRUARY 24: Actress/singer Selena Gomez arrives at the 2013 Vanity Fair Oscar Party hosted by Graydon Carter at Sunset Tower on February 24, 2013 in West Hollywood, California. (Photo by Pascal Le Segretain/Getty Images)

WEST HOLLYWOOD, CA - FEBRUARY 24: Actress/singer Selena Gomez arrives at the 2013 Vanity Fair Oscar Party hosted by Graydon Carter at Sunset Tower on February 24, 2013 in West Hollywood, California. (Photo by Pascal Le Segretain/Getty Images)

WEST HOLLYWOOD, CA - FEBRUARY 24: Actress/singer Selena Gomez arrives at the 2013 Vanity Fair Oscar Party hosted by Graydon Carter at Sunset Tower on February 24, 2013 in West Hollywood, California. (Photo by Pascal Le Segretain/Getty Images)

WEST HOLLYWOOD, CA - FEBRUARY 24: Actress/singer Selena Gomez arrives at the 2013 Vanity Fair Oscar Party hosted by Graydon Carter at Sunset Tower on February 24, 2013 in West Hollywood, California. (Photo by Pascal Le Segretain/Getty Images)

WEST HOLLYWOOD, CA - FEBRUARY 24: Actresses Vanessa Hudgens (L) and Selena Gomez arrive at the 2013 Vanity Fair Oscar Party hosted by Graydon Carter at Sunset Tower on February 24, 2013 in West Hollywood, California. (Photo by Pascal Le Segretain/Getty Images)

WEST HOLLYWOOD, CA - FEBRUARY 24: Actresses Vanessa Hudgens (L) and Selena Gomez arrive at the 2013 Vanity Fair Oscar Party hosted by Graydon Carter at Sunset Tower on February 24, 2013 in West Hollywood, California. (Photo by Pascal Le Segretain/Getty Images)

From ( L) US actresses Selena Gomez, Vanessa Hudgens, Ashley Benson and Rachel Korine pose during a photocall for the movie premiere of 'Spring Breakers' in Rome on February 22, 2013. AFP PHOTO / TIZIANA FABI / TIZIANA FABI (Photo credit should read TIZIANA FABI/AFP/Getty Images)

US actress Selena Gomez poses during a photocall for the movie premiere of 'Spring Breakers' in Rome on February 22, 2013. AFP PHOTO / ALBERTO PIZZOLI (Photo credit should read ALBERTO PIZZOLI/AFP/Getty Images)

US actress Selena Gomez poses during a photocall for the movie premiere of 'Spring Breakers' in Rome on February 22, 2013. AFP PHOTO / ALBERTO PIZZOLI (Photo credit should read ALBERTO PIZZOLI/AFP/Getty Images)

US actress Selena Gomez poses during a photocall for the movie premiere of 'Spring Breakers' in Rome on February 22, 2013. AFP PHOTO / ALBERTO PIZZOLI (Photo credit should read ALBERTO PIZZOLI/AFP/Getty Images)

US actress Selena Gomez poses during a photocall of US director Harmony Korine's film 'Spring Breakers' in Madrid on February 21, 2013. AFP PHOTO/ DANI POZO (Photo credit should read DANI POZO/AFP/Getty Images)

US actress Selena Gomez poses during a photocall of US director Harmony Korine's film 'Spring Breakers' in Madrid on February 21, 2013. AFP PHOTO/ DANI POZO (Photo credit should read DANI POZO/AFP/Getty Images)

(FromL) US actresses Rachel Korine, Vanessa Hudgens, Selena Gomez and Ashley Benson pose during a photocall of US director Harmony Korine's film 'Spring Breakers ' in Madrid on February 21, 2013. AFP PHOTO/ DANI POZO (Photo credit should read DANI POZO/AFP/Getty Images)

MADRID, SPAIN - FEBRUARY 21: Actress Selena Gomez attends the 'Spring Breakers' premiere at the Callao cinema on February 21, 2013 in Madrid, Spain. (Photo by Carlos Alvarez/Getty Images)

MADRID, SPAIN - FEBRUARY 21: Actress Selena Gomez attends the 'Spring Breakers' premiere at the Callao cinema on February 21, 2013 in Madrid, Spain. (Photo by Carlos Alvarez/Getty Images)

MADRID, SPAIN - FEBRUARY 21: (L-R) Actresses Ashley Benson, Vanessa Hudgens, Selena Gomez and Rachel Korine attend the 'Spring Breakers' premiere at the Callao cinema on February 21, 2013 in Madrid, Spain. (Photo by Carlos Alvarez/Getty Images)

Award recipient Selena Gomez appears onstage at the Glamour Women of the Year Awards on Monday, Nov. 12, 2012 in New York. (Photo by Charles Sykes/Invision/AP)

"The Independent Spirit" award winner Selena Gomez attends Glamour Magazine's 22nd annual "Women of the Year Awards" at Carnegie Hall on Monday Nov. 12, 2012 in New York. (Photo by Evan Agostini/Invision/AP)

"The Independent Spirit" award winner Selena Gomez attends Glamour Magazine's 22nd annual "Women of the Year Awards" at Carnegie Hall on Monday Nov. 12, 2012 in New York. (Photo by Evan Agostini/Invision/AP)

Selena Gomez attends an LA screening of "Hotel Transylvania" at Pacific's The Grove Stadium on Saturday, Sept. 22, 2012, in Los Angeles. (Photo by Todd Williamson/Invision/AP)

Fran Drescher and Selena Gomez attend an LA screening of "Hotel Transylvania" at Pacific's The Grove Stadium on Saturday, Sept. 22, 2012, in Los Angeles. (Photo by Todd Williamson/Invision/AP)

Selena Gomez attends an LA screening of "Hotel Transylvania" at Pacific's The Grove Stadium on Saturday, Sept. 22, 2012, in Los Angeles. (Photo by Todd Williamson/Invision/AP)

Actress Selena Gomez holds Justin Bieber's brother, Jaxon Bieber, at the "Hotel Transylvania" premiere during the Toronto International Film Festival on Saturday, Sept. 8, 2012, in Toronto. (Photo by Arthur Mola/Invision/AP)

Actress Selena Gomez, right, poses for a photograph with a fan at the gala for the new movie "Hotel Transylvania" during the 37th annual Toronto International Film Festival in Toronto on Saturday, Sept. 8, 2012. (AP Photo/The Canadian Press, Nathan Denette)

Actress Selena Gomez kisses Jaxon Bieber, Justin Bieber's brother, on the red carpet at the gala for the new movie "Hotel Transylvania" during the 37th annual Toronto International Film Festival in Toronto on Saturday, Sept. 8, 2012. (AP Photo/The Canadian Press, Nathan Denette)

Actress Selena Gomez holds Jaxon Bieber, Justin Bieber's brother, on the red carpet at the gala for the new movie "Hotel Transylvania" during the 37th annual Toronto International Film Festival in Toronto on Saturday, Sept. 8, 2012. (AP Photo/The Canadian Press, Nathan Denette)

Actress Selena Gomez kisses Jaxon Bieber, Justin Bieber's brother, on the red carpet at the gala for the new movie "Hotel Transylvania" during the 37th annual Toronto International Film Festival in Toronto on Saturday, Sept. 8, 2012. (AP Photo/The Canadian Press, Nathan Denette)

Actress Selena Gomez is shown on the red carpet with characters from the animated film "Hotel Transylvania" at a premiere during the 37th annual Toronto International Film Festival in Toronto on Saturday, Sept. 8, 2012. (AP Photo/The Canadian Press, Nathan Denette)

Actress Selena Gomez poses with characters from the animated film "Hotel Transylvania" at a premiere during the 37th annual Toronto International Film Festival in Toronto on Saturday, Sept. 8, 2012. (AP Photo/The Canadian Press, Nathan Denette)

Cast members, from left, actor David Spade, actress Selena Gomez, actress Fran Drescher, actor Kevin James, actor Adam Sandler, actress Molly Shannon, and actor Andy Samberg participates in a photo call and press conference for the film "Hotel Transylvania" at TIFF Bell Lightbox during the Toronto International Film Festival on Saturday Sept. 8, 2012 in Toronto. (Photo by Evan Agostini/Invision/AP)

Selena Gomez speaks during a press conference for the new movie "Hotel Transylvania" at the 2012 Toronto International Film Festival in Toronto on Saturday, Sept. 8, 2012. (AP Photo/The Canadian Press, Michelle Siu)

Actress Selena Gomez participates in a photo call and press conference for the film "Hotel Transylvania" at TIFF Bell Lightbox during the Toronto International Film Festival on Saturday Sept. 8, 2012 in Toronto. (Photo by Evan Agostini/Invision/AP)

Actress Selena Gomez participates in a photo call and press conference for the film "Hotel Transylvania" at TIFF Bell Lightbox during the Toronto International Film Festival on Saturday Sept. 8, 2012 in Toronto. (Photo by Evan Agostini/Invision/AP)

In this image released by Starpix, actress Selena Gomez poses at the premiere of "Spring Breakers" at the 2012 Toronto International Film Festival in Toronto on Friday, Sept. 7, 2012. (AP Photo/Starpix, Marion Curtis)

In this image released by Starpix, actresses from left, anessa Hudgens, Selena Gomez, Ashley Benson, and Rachel Korine pose at the premiere of "Spring Breakers" at the 2012 Toronto International Film Festival in Toronto on Friday, Sept. 7, 2012. (AP Photo/Starpix, Marion Curtis)

In this image released by Starpix, actress Selena Gomez poses at the premiere of "Spring Breakers" at the 2012 Toronto International Film Festival in Toronto on Friday, Sept. 7, 2012. (AP Photo/Starpix, Marion Curtis)

Actress Selena Gomez takes a photo with fans as she walks the red carpet for the movie "Spring Breakers" at the 2012 Toronto International Film Festival in Toronto on Friday, Sept. 7, 2012. (AP Photo/The Canadian Press, Michelle Siu)

Actor Selena Gomez poses for a photo as she walks the red carpet for the movie "Spring Breakers" at the 2012 Toronto International Film Festival in Toronto on Friday, Sept. 7, 2012. (AP Photo/The Canadian Press, Michelle Siu)

Cast members, from left, Selena Gomez, Rachel Korine, James Franco, Vanessa Hudgens and Ashley Benson pose on the red carpet for the movie "Spring Breakers" at the 2012 Toronto International Film Festival in Toronto on Friday, Sept. 7, 2012. (AP Photo/The Canadian Press, Michelle Siu)

Actress Selena Gomez participates in a photo call and press conference for the film "Spring Breakers" at TIFF Bell Lightbox during the Toronto International Film Festival on Friday Sept. 7, 2012 in Toronto. (Photo by Evan Agostini/Invision/AP)

From left, actress Ashley Benson, actress Vanessa Hudgens, actor James Franco, actress Selena Gomez and actress Rachel Korine participate in a photo call and press conference for the film "Spring Breakers" at TIFF Bell Lightbox during the Toronto International Film Festival on Friday Sept. 7, 2012 in Toronto. (Photo by Evan Agostini/Invision/AP)

From left, actress Ashley Benson, actress Vanessa Hudgens, actor James Franco, actress Selena Gomez and actress Rachel Korine participate in a photo call and press conference for the film "Spring Breakers" at TIFF Bell Lightbox during the Toronto International Film Festival on Friday Sept. 7, 2012 in Toronto. (Photo by Evan Agostini/Invision/AP)

This image released by Starpix shows Selena Gomez, and Rachel Korine during a press conference for the movie "Spring Breakers" at the 2012 Toronto International Film Festival in Toronto on Friday, Sept. 7, 2012. (AP Photo/Starpix, Marion Curtis)

PARIS, FRANCE - FEBRUARY 18: (L-R) Selena Gomez and Vanessa Hudgens attend the 'Spring Breakers' Paris Premiere at Le Grand Rex on February 18, 2013 in Paris, France. (Photo by Pascal Le Segretain/Getty Images)

PARIS, FRANCE - FEBRUARY 18: Selena Gomez attends the 'Spring Breakers' Paris Premiere at Le Grand Rex on February 18, 2013 in Paris, France. (Photo by Pascal Le Segretain/Getty Images)

PARIS, FRANCE - FEBRUARY 18: Selena Gomez attends the 'Spring Breakers' Paris Premiere at Le Grand Rex on February 18, 2013 in Paris, France. (Photo by Pascal Le Segretain/Getty Images)

PARIS, FRANCE - FEBRUARY 18: (L-R) Ashley Benson, Selena Gomez, Vanessa Hudgens and Rachel Korine attend the 'Spring Breakers' Paris Premiere at Le Grand Rex on February 18, 2013 in Paris, France. (Photo by Pascal Le Segretain/Getty Images)

PARIS, FRANCE - FEBRUARY 18: Selena Gomez attends the 'Spring Breakers' Paris Premiere at Le Grand Rex on February 18, 2013 in Paris, France. (Photo by Pascal Le Segretain/Getty Images)

PARIS, FRANCE - FEBRUARY 18: Actress Selena Gomez attends 'Spring Breakers' Paris Premiere>> at Le Grand Rex on February 18, 2013 in Paris, France. (Photo by Francois Durand/Getty Images)

PARIS, FRANCE - FEBRUARY 18: Selena Gomez attends the 'Spring Breakers' Paris Premiere at Le Grand Rex on February 18, 2013 in Paris, France. (Photo by Pascal Le Segretain/Getty Images)

PARIS, FRANCE - FEBRUARY 18: (L-R) Ashley Benson, Selena Gomez, Vanessa Hudgens and Rachel Korine attend the 'Spring Breakers' Paris Premiere at Le Grand Rex on February 18, 2013 in Paris, France. (Photo by Pascal Le Segretain/Getty Images)

PARIS, FRANCE - FEBRUARY 18: Actress Selena Gomez attends 'Spring Breakers' Paris Premiere>> at Le Grand Rex on February 18, 2013 in Paris, France. (Photo by Francois Durand/Getty Images)

NEW YORK, NY - FEBRUARY 06: Actress/singer Selena Gomez attends the adidas NEO Label fall 2013 fashion show during Mercedes-Benz Fashion Week on February 6, 2013 in New York City. (Photo by Cindy Ord/Getty Images)

NEW YORK, NY - FEBRUARY 06: Singer Selena Gomez (C) poses with models during the finale at the adidas NEO Label fall 2013 fashion show during Mercedes-Benz Fashion Week on February 6, 2013 in New York City. (Photo by Jemal Countess/Getty Images)

NEW YORK, NY - FEBRUARY 06: Singer Selena Gomez (C) poses with models during the finale at the adidas NEO Label fall 2013 fashion show during Mercedes-Benz Fashion Week on February 6, 2013 in New York City. (Photo by Jemal Countess/Getty Images)

NEW YORK, NY - FEBRUARY 06: Singer Selena Gomez addresses the crowd at the adidas NEO Label fall 2013 fashion show during Mercedes-Benz Fashion Week on February 6, 2013 in New York City. (Photo by Jemal Countess/Getty Images)

NEW YORK, NY - FEBRUARY 06: Singer Selena Gomez addresses the crowd at the adidas NEO Label fall 2013 fashion show during Mercedes-Benz Fashion Week on February 6, 2013 in New York City. (Photo by Jemal Countess/Getty Images)

NEW YORK, NY - FEBRUARY 06: Singer Selena Gomez addresses the crowd at the adidas NEO Label fall 2013 fashion show during Mercedes-Benz Fashion Week on February 6, 2013 in New York City. (Photo by Jemal Countess/Getty Images)

NEW YORK, NY - FEBRUARY 06: Actress/singer Selena Gomez speaks to the audience at the end of the adidas NEO Label fall 2013 fashion show during Mercedes-Benz Fashion Week on February 6, 2013 in New York City. (Photo by Cindy Ord/Getty Images)

NEW YORK, NY - FEBRUARY 06: Actress/singer Selena Gomez speaks to the audience at the end of the adidas NEO Label fall 2013 fashion show during Mercedes-Benz Fashion Week on February 6, 2013 in New York City. (Photo by Cindy Ord/Getty Images)

NEW YORK, NY - FEBRUARY 06: Actress/singer Selena Gomez (C) poses with models after the adidas NEO Label fall 2013 fashion show during Mercedes-Benz Fashion Week on February 6, 2013 in New York City. (Photo by Cindy Ord/Getty Images)

NEW YORK, NY - FEBRUARY 06: Actress/singer Selena Gomez (C) poses with models after the adidas NEO Label fall 2013 fashion show during Mercedes-Benz Fashion Week on February 6, 2013 in New York City. (Photo by Cindy Ord/Getty Images)

NEW YORK, NY - FEBRUARY 06: Actress/singer Selena Gomez attends the adidas NEO Label fall 2013 fashion show during Mercedes-Benz Fashion Week on February 6, 2013 in New York City. (Photo by Cindy Ord/Getty Images)

NEW YORK, NY - FEBRUARY 06: Actress/singer Selena Gomez speaks to the audience at the end of the adidas NEO Label fall 2013 fashion show during Mercedes-Benz Fashion Week on February 6, 2013 in New York City. (Photo by Cindy Ord/Getty Images)

BEVERLY HILLS, CA - JANUARY 13: Selena Gomez attends the 14th Annual Warner Bros. And InStyle Golden Globe Awards After Party held at the Oasis Courtyard at the Beverly Hilton Hotel on January 13, 2013 in Beverly Hills, California. (Photo by Jason Merritt/Getty Images)

BEVERLY HILLS, CA - JANUARY 13: Actors Sarah Hyland, Vanessa Hudson, Selena Gomez, Ashley Tisdale and Josh Hutcherson attends the The Weinstein Company's 2013 Golden Globe Awards after party presented by Chopard, HP, Laura Mercier, Lexus, Marie Claire, and Yucaipa Films held at The Old Trader Vic's at The Beverly Hilton Hotel on January 13, 2013 in Beverly Hills, California. (Photo by Mike Windle/Getty Images for TWC)

BEVERLY HILLS, CA - JANUARY 13: Selena Gomez, Sarah Hyland and Vanessa Hudson attend the The Weinstein Company's 2013 Golden Globe Awards after party presented by Chopard, HP, Laura Mercier, Lexus, Marie Claire, and Yucaipa Films held at The Old Trader Vic's at The Beverly Hilton Hotel on January 13, 2013 in Beverly Hills, California. (Photo by Mike Windle/Getty Images for TWC)

BEVERLY HILLS, CA - JANUARY 13: Actors Sarah Hyland, Vanessa Hudson, Selena Gomez, Ashley Tisdale and Josh Hutcherson attends the The Weinstein Company's 2013 Golden Globe Awards after party presented by Chopard, HP, Laura Mercier, Lexus, Marie Claire, and Yucaipa Films held at The Old Trader Vic's at The Beverly Hilton Hotel on January 13, 2013 in Beverly Hills, California. (Photo by Mike Windle/Getty Images for TWC)

BEVERLY HILLS, CA - JANUARY 13: Selena Gomez attends the 14th Annual Warner Bros. And InStyle Golden Globe Awards After Party held at the Oasis Courtyard at the Beverly Hilton Hotel on January 13, 2013 in Beverly Hills, California. (Photo by Jason Merritt/Getty Images)

BEVERLY HILLS, CA - JANUARY 13: Actress Selena Gomez attends the 14th Annual Warner Bros. And InStyle Golden Globe Awards After Party held at the Oasis Courtyard at the Beverly Hilton Hotel on January 13, 2013 in Beverly Hills, California. (Photo by Jason Merritt/Getty Images)

BEVERLY HILLS, CA - JANUARY 13: (L-R) Actresses Vanessa Hudgens, Ashley Tisdale, Selena Gomez and Sarah Hyland attend The Weinstein Company's 2013 Golden Globe Awards After Party at The Beverly Hilton hotel on January 13, 2013 in Beverly Hills, California. (Photo by David Livingston/Getty Images)

BEVERLY HILLS, CA - JANUARY 13: (L-R) Actresses Vanessa Hudgens, Ashley Tisdale and Selena Gomez attend The Weinstein Company's 2013 Golden Globe Awards After Party at The Beverly Hilton hotel on January 13, 2013 in Beverly Hills, California. (Photo by David Livingston/Getty Images)

BEVERLY HILLS, CA - JANUARY 13: Actresses Vanessa Hudgens and Selena Gomez attend the 2013 InStyle and Warner Bros. 70th Annual Golden Globe Awards Post-Party held at the Oasis Courtyard in The Beverly Hilton Hotel on January 13, 2013 in Beverly Hills, California. (Photo by Michael Buckner/Getty Images for InStyle)

BEVERLY HILLS, CA - JANUARY 13: (L-R) Actresses Vanessa Hudgens, Ashley Tisdale and Selena Gomez attend The Weinstein Company's 2013 Golden Globe Awards After Party at The Beverly Hilton hotel on January 13, 2013 in Beverly Hills, California. (Photo by David Livingston/Getty Images)

NEW YORK, NY - NOVEMBER 27: Selena Gomez attends the Unicef SnowFlake Ball at Cipriani 42nd Street on November 27, 2012 in New York City. (Photo by Bryan Bedder/Getty Images)

NEW YORK, NY - NOVEMBER 27: Selena Gomez attends the Unicef SnowFlake Ball at Cipriani 42nd Street on November 27, 2012 in New York City. (Photo by Stephen Lovekin/Getty Images)

NEW YORK, NY - NOVEMBER 27: Katy Perry, and Selena Gomez attend the Unicef SnowFlake Ball at Cipriani 42nd Street on November 27, 2012 in New York City. (Photo by Stephen Lovekin/Getty Images)

NEW YORK, NY - NOVEMBER 27: Selena Gomez attends the Unicef SnowFlake Ball at Cipriani 42nd Street on November 27, 2012 in New York City. (Photo by Stephen Lovekin/Getty Images)

Justin Beiber y su novia Selena Gomez en el juego entre San Antonio Spurs y los Lakers de Los Angeles en Los Angeles, California. (Abril 17, 2012)

Justin Beiber y su novia Selena Gomez en el juego entre San Antonio Spurs y los Lakers de Los Angeles en Los Angeles, California. (Abril 17, 2012)

Selena Gómez asiste a la entrega número 25 de los Kid's Choice Awards. (Marzo 31, 2012)

Selena Gómez recibe su premio como Actriz Favorita de Televisión en la entrega número 25 de los Kid's Choice Awards. (Marzo 31, 2012)

Selena Gómez en la alfombra roja de los Premios Kid's Choice Awards. (Marzo 31, 2012)

Selena Gómez en la alfombra roja de los Premios Kid's Choice Awards. (Marzo 31, 2012)

Selena Gómez a su llegada a la fiesta de Vanity Fair en West Hollywood, California. (Marzo 31, 2012)

Selena Gómez a su llegada a la fiesta de Vanity Fair en West Hollywood, California. (Marzo 31, 2012)

Selena Gómez durante su actuación en Montevideo. (Febrero 11, 2012)

Selena Gómez durante su actuación en Montevideo. (Febrero 11, 2012)

Selena Gómez durante su actuación en Montevideo. (Febrero 11, 2012)

Selena Gómez posa para los fotógrafos durante su visita a la Ciudad de México. (Enero 26, 2012)

Selena Gómez a su llegada a un concierto de caridad de UNICEF en West Hollywood, California. (Enero 26, 2012)

Selena Gómez a su llegada a los American Music Awards en Los Angeles, California. (Noviembre 20, 2011)

Selena Gómez y Justin Bieber desfilando por la alfombra roja de los American Music Awards en Los Angeles, California. (Noviembre 20, 2011)

Selena Gómez y Taylor Swift en los American Music Awards en Los Angeles, California. (Noviembre 20, 2011)

Taio Cruz y Selena Gomez, presentadores de los American Music Awards 2011 en Los Angeles, California. (Noviembre 20, 2011)

Selena Gómez en el escenario de los Premios MTV Europa. (Noviembre 6, 2011)

Selena Gómez en el escenario de los Premios MTV Europa. (Noviembre 6, 2011)

Selena Gómez en el escenario de los Premios MTV Europa. (Noviembre 6, 2011)