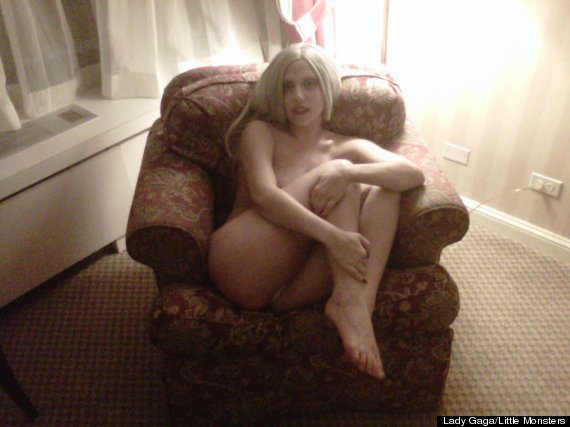 Seguramente Lady Gaga se cansó de que no le prestemos atención esta semana, con todo el escándalo de Kristen Stewart y Robert Pattinson, las peleas de la familia Jackson o el inicio de los Juegos Olímpicos, ya que decidió subir a Internet una foto donde aparece desnuda.
"Descansando después de la inauguración en New York del taller de Gaga en Barney's", escribió la famosa de 26 años en su nuevo sitio social LittleMonsters.com (vaya manera de hacerle publicidad).
Gaga se muestra sin maquillaje, reposando en un sillón, usando una diminuta ropa interior color piel y con las piernas alzadas contra el pecho, para cubrirse "estratégicamente".
También reveló que formaría parte del elenco de "Machete Kills", la secuela dirigida por Robert Rodriguez, en el papel de "The Chameleón".
MÁS FAMOSAS QUE ENSEÑAN DE MÁS:
Loading Slideshow
Aubrey O'Day

Se le desprende el top del bikini en una playa de Miami

Madonna

Enseñó <a href="http://voces.huffingtonpost.com/2012/06/11/madonna-pezon-concierto-estambul_n_1586672.html" target="_hplink">uno de sus senos</a> en Estambul.

Sara Carbonero

Sufre una caída y enseña las <em>panties</em>, enfrente de las cámaras. Mira este video del programa "Sé lo que hicisteis..."

Kate Upton

Para la sesión de fotos de la modelo para <a href="http://voces.huffingtonpost.com/2012/06/21/kate-upton-topless-gq-video-fotos_n_1616478.html" target="_hplink">la portada de la revista <em>GQ</em></a>, se subió a una atracción de feria donde se le "escapó" uno de sus senos. Y más tarde en el video, sale con camisetita mojada...

Paris Hilton

¿Quién necesita <em>panties</em>? ¡Paris Hilton no necesita <em>panties</em>! ¿Quién osa pedirle a Paris Hilton ponerse ropa interior?

Britney Spears

¿Cómo olvidar cuando Britney "olvidó" usar ropa interior y le retrataron TODO al salirse de un auto?

Maite Perroni

En este video del programa "Estrellas Hoy", traen las imágenes de Maite Perroni mostrando su ropa interior sin darse cuenta.

Janet Jackson

Seguramente el más famoso de todos, cuando Justin Timberlake le arranca una parte del vestuario a Janet Jackson durante el Súper Tazón y deja uno de sus senos al aire.

Ingrid Coronado

Un recopilado de un fanático claramente asombrado con los atributos de Ingrid y todas las veces que ha enseñado de más en la pantalla chica.

Chloe Sevigny

La actriz de "Big Love" estaba en el mar de South Beach, Florida, cuando se le desprendió el bikini.

Taylor Swift

Durante un concierto en St. Louis el 13 de agosto de 2011, a Taylor Swift se le levantó la falda y dejó ver sus calzones... un poco grandes.

Lindsay Lohan

Filmando la película "Liz & Dick", Lindsay enseñó un seno por accidente en esta escena de pelea.

Kim Kardashian

El vestido de cuero que <a href="http://voces.huffingtonpost.com/2012/06/07/kim-kardashian-vestido-roto_n_1577512.html" target="_hplink">se le reventó a Kim Kardashian </a>en plena alfombra roja.

Katy Perry

La cantante Katy Perry escogió este escotado vestido de tirantitos para asistir a los ASCAP Pop Music Awards, pero no le brindaba apoyo alguno a sus senos, los cuales estuvieron a punto de hacer una "aparición especial".

Nicki Minaj

La cantante Nicki Minaj mostró accidentalmente su pezón durante su actuación en el show matutino "Good Morning America".

Christina Aguilera

Durante el funeral de Etta James, Christina pasó un momento bastante vergonzoso cuando empezó a chorrearse su bronceado entre sus piernas.

Portia de Rossi

La actriz y esposa de Ellen DeGeneres usó una blusa transaparente en un evento de GLAAD, y no estaba usando "bra".

Nicole Scherzinger

En el estreno de "Men In Black 3" en Londres, el vestido se le desbarataba y dejaba ver de más a la (ex) integrante de las Pussycat Dolls.

Sabrina Sabrok

El programa "Ventaneando" da una probadita del show de la voluptuosa argentina, que se da "muestras de cariño" con su esposo.

Mollie King

La cantante del grupo The Saturdays Mollie King salió de un estudio de televisión y con su blusa abierta, dejó ver su pezón a los fans y fotógrafos afuera.

Demi Lovato

En un concierto en Dallas, Demi Lovato enseñó por accidente uno de sus pezones.

Anne Hathaway

Este es un video de broma, donde recordamos a James Franco tacleando a Anne Hathaway porque estaba a punto de enseñar un seno, durante su video promocional de la entrega del Oscar.

Kate Hudson

En el Festival de Cine de Tribeca, Kate Hudson estuvo a punto de enseñar de más, cuando el viento le levantó la falda en plena alfombra roja, pero afortunadamente, Jessica Alba estaba a su lado y ayudó a que no pasara a mayores.

Jessie J.

Durante un concierto, usó unos jeans mal recortados que no dejó nada a la imaginación.

Jennifer Lopez

Mucho se especuló sobre si J.Lo enseñó de más durante su participación en la entrega del Oscar 2012, aunque ella asegura que no, nada, nadita.

Cara Kilbey

La estrella de "Towie" Cara Kilbey usó un vestido con doble abertura en la premiere de "Magic Mike" que le causó un problemita.

Madonna

Un <em>"malfunction"</em> más inocente de Madonna que no tuvo que ver con su vestuario, sino con su coreografía, durante el Super Bowl, donde estuvo a punto de caerse.

Nancy Grace

La conductora Nancy Grace explica que en realidad no mostró de más en el programa de baile "Dancing With The Stars", cuando todos pensaron que había mostrado por accidente su pezón.
Loading Slideshow
Sofía Vergara

Enseñando pompas con su vestido roto. Via <a href="http://www.whosay.com/sofiavergara/photos/228802">WhoSay</a>.

Lindsay Lohan

¡Tápate, mija!

Lenny Kravitz

El cantante en el baño.

Demi Moore

¿Por esta foto que le sacó Ashton Kutcher, ayudó a que se hubiesen separado?

Hayden Panettiere

¡Ups! Olvidando el bra.

Miley Cyrus

Siempre una niña precoz...

Kim Kardashian

La reina de compartir momentos íntimos.

Tori Spelling

Su marido compartió esta foto sin darse cuenta que Tori estaba <em>topless</em> al fondo. Esa noche durmió en la tina, seguro...

Rihanna

¡Mira mamá, sin mi trajeee!

Katy Perry

Una noche tranquila y con muchos carbohidratos en la tina...

Janet Jackson

Un momento clásico e inolvidable en el Super Bowl.

Pippa Middleton

¿Oootro escándalo real?

Jennifer Lopez

Ese airecito traicionero...

Nicki Minaj

¡Sorpresa!

Emma Watson

Estos dichosos fotógrafos captando los ángulos más comprometedores...

Lady Gaga

Lady Gaga en los CDFA Awards 2011.

Selena Gomez

¡Aguas con esos brinquitos!

Lady Gaga

Con su cara de: "sí, no pasa nada, ya sé que estoy mostrando de más..."

Megan Fox

¿Estaba tal vez un poco "intoxicada"?

Emma Watson

La lluvia y el viento la traicionaron en la premiere de "Harry Potter".

Kelly Rowland

La ex Destiny's Child enseñó de más con este loco atuendo.

Brooke Mueller

La ex de Charlie Sheen.

Paula Abdul

Ah, ese viento juguetón...

James Corden

¡Ups!

Rosa Hartner

¿Quién le dijo que era buena idea dar vueltas así en la alfombra?
FOTOS DE LADY GAGA:
Loading Slideshow
Keynote: Lady Gaga - 2014 SXSW Music, Film + Interactive

AUSTIN, TX - MARCH 14: Musician Lady Gaga speaks at the 2014 SXSW Music, Film + Interactive Festival at the Hilton on March 14, 2014 in Austin, Texas. (Photo by Michael Buckner/Getty Images for SXSW)

Keynote: Lady Gaga - 2014 SXSW Music, Film + Interactive

AUSTIN, TX - MARCH 14: Musician Lady Gaga speaks at the 2014 SXSW Music, Film + Interactive Festival at the Hilton on March 14, 2014 in Austin, Texas. (Photo by Michael Loccisano/Getty Images for SXSW)

86th Annual Academy Awards - Arrivals

HOLLYWOOD, CA - MARCH 02: Recording artist Lady Gaga attends the Oscars held at Hollywood & Highland Center on March 2, 2014 in Hollywood, California. (Photo by Jason Merritt/Getty Images)

86th Annual Academy Awards - Arrivals

HOLLYWOOD, CA - MARCH 02: Recording artist Lady Gaga attends the Oscars held at Hollywood & Highland Center on March 2, 2014 in Hollywood, California. (Photo by Jason Merritt/Getty Images)

2014 Vanity Fair Oscar Party Hosted By Graydon Carter - Arrivals

WEST HOLLYWOOD, CA - MARCH 02: Musician Lady Gaga attends the 2014 Vanity Fair Oscar Party hosted by Graydon Carter on March 2, 2014 in West Hollywood, California. (Photo by Pascal Le Segretain/Getty Images)

2014 Vanity Fair Oscar Party Hosted By Graydon Carter - Arrivals

WEST HOLLYWOOD, CA - MARCH 02: Musician Lady Gaga attends the 2014 Vanity Fair Oscar Party hosted by Graydon Carter on March 2, 2014 in West Hollywood, California. (Photo by Pascal Le Segretain/Getty Images)

86th Annual Academy Awards - Arrivals

HOLLYWOOD, CA - MARCH 02: Singer Lady Gaga attends the Oscars held at Hollywood & Highland Center on March 2, 2014 in Hollywood, California. (Photo by Michael Buckner/Getty Images)

86th Annual Academy Awards - Arrivals

HOLLYWOOD, CA - MARCH 02: Lady Gaga attends the Oscars held at Hollywood & Highland Center on March 2, 2014 in Hollywood, California. (Photo by Frazer Harrison/Getty Images)

The 2014 MusiCares Person Of The Year Gala Honoring Carole King - Arrivals

LOS ANGELES, CA - JANUARY 24: Singer Lady Gaga attends The 2014 MusiCares Person Of The Year Gala Honoring Carole King at Los Angeles Convention Center on January 24, 2014 in Los Angeles, California. (Photo by Jason Merritt/Getty Images)

The 2014 MusiCares Person Of The Year Gala Honoring Carole King - Arrivals

LOS ANGELES, CA - JANUARY 24: Singer Lady Gaga attends The 2014 MusiCares Person Of The Year Gala Honoring Carole King at Los Angeles Convention Center on January 24, 2014 in Los Angeles, California. (Photo by Jason Merritt/Getty Images)

EPIX Hosts An Evening With Arthur Fogel

HOLLYWOOD, CA - JANUARY 23: Lady Gaga arrives at an evening with Arthur Fogel hosted by EPIX at the Harmony Gold Preview House and Theater on January 23, 2014 in Hollywood, California. (Photo by Joshua Blanchard/Getty Images for EPIX)

Atelier Versace : Front Row - Paris Fashion Week - Haute Couture S/S 2014

PARIS, FRANCE - JANUARY 19: Lady Gaga attends the Atelier Versace show as part of Paris Fashion Week Haute Couture Spring/Summer 2014 on January 19, 2014 in Paris, France. (Photo by Pascal Le Segretain/Getty Images)

Atelier Versace : Front Row - Paris Fashion Week - Haute Couture S/S 2014

PARIS, FRANCE - JANUARY 19: Lady Gaga attends the Atelier Versace show as part of Paris Fashion Week Haute Couture Spring/Summer 2014 on January 19, 2014 in Paris, France. (Photo by Pascal Le Segretain/Getty Images)

HBO's Post 2014 Golden Globe Awards Party - Inside

LOS ANGELES, CA - JANUARY 12: Lady Gaga attends HBO's Post 2014 Golden Globe Awards Party held at Circa 55 Restaurant on January 12, 2014 in Los Angeles, California. (Photo by Mike Windle/Getty Images)

Capital FM Jingle Bell Ball - Day 2 - Media Room

LONDON, UNITED KINGDOM - DECEMBER 08: Lady GaGa attends on day 2 of the Capital FM Jingle Bell Ball at 02 Arena on December 8, 2013 in London, England. (Photo by Stuart C. Wilson/Getty Images)

Capital FM Jingle Bell Ball - Day 2 - Media Room

LONDON, UNITED KINGDOM - DECEMBER 08: Lady GaGa attends on day 2 of the Capital FM Jingle Bell Ball at 02 Arena on December 8, 2013 in London, England. (Photo by Stuart C. Wilson/Getty Images)

JAPAN-US-ENTERTAINMENT-MUSIC

In costume of 'oiran' high-class geisha girl, US pop music star Lady Gaga look-alike doll, called Gagadoll made of silicon is displayed at a press conference in Tokyo on December 1, 2013. Lady Gaga is here for the promotion of her latest album 'ARTPOP'. AFP PHOTO / Yoshikazu TSUNO (Photo credit should read YOSHIKAZU TSUNO/AFP/Getty Images)

JAPAN-US-ENTERTAINMENT-MUSIC

In colorful jumpsuit, US pop music star Lady Gaga look-alike doll, called Gagadoll made of silicon is displayed at a press conference in Tokyo on December 1, 2013. Lady Gaga is here for the promotion of her latest album 'ARTPOP'. AFP PHOTO / Yoshikazu TSUNO (Photo credit should read YOSHIKAZU TSUNO/AFP/Getty Images)

US-GLAMOUR WOMEN OF THE YEAR

Lady Gaga arrives for the 2013 Glamour Women of the Year Award at Carnegie Hall November 11, 2013 sponsored by LOréal Paris, to honor courageous and inspiring women who are changing the world. AFP PHOTO / TIMOTHY CLARY (Photo credit should read TIMOTHY CLARY/AFP/Getty Images)

JAPAN-US-ENTERTAINMENT-MUSIC

In white suits, US pop music star Lady Gaga look-alike doll, called Gagadoll made of silicon is displayed at a press conference in Tokyo on December 1, 2013. Lady Gaga is here for the promotion of her latest album 'ARTPOP'. AFP PHOTO / Yoshikazu TSUNO (Photo credit should read YOSHIKAZU TSUNO/AFP/Getty Images)

JAPAN-US-ENTERTAINMENT-MUSIC

US pop music star Lady Gaga speaks at a press conference in Tokyo on December 1, 2013. Lady Gaga is here for the promotion of her latest album 'ARTPOP'. AFP PHOTO / Yoshikazu TSUNO (Photo credit should read YOSHIKAZU TSUNO/AFP/Getty Images)

JAPAN-US-ENTERTAINMENT-GAGA

US pop music star Lady Gaga poses for photographers upon her arrival at Narita Airport, outside Tokyo on November 26, 2013. Lady Gaga is in Japan to promote her latest album 'ARTPOP'. AFP PHOTO/Toru YAMANAKA (Photo credit should read TORU YAMANAKA/AFP/Getty Images)

2013 American Music Awards - Arrivals

LOS ANGELES, CA - NOVEMBER 24: Singer Lady Gaga attends the 2013 American Music Awards at Nokia Theatre L.A. Live on November 24, 2013 in Los Angeles, California. (Photo by Jason Merritt/Getty Images)

2013 American Music Awards - Show

LOS ANGELES, CA - NOVEMBER 24: Singer Lady Gaga performs onstage during the 2013 American Music Awards at Nokia Theatre L.A. Live on November 24, 2013 in Los Angeles, California. (Photo by Kevin Winter/Getty Images)

2013 American Music Awards - Show

LOS ANGELES, CA - NOVEMBER 24: Singers R. Kelly (L) and Lady Gaga perform onstage during the 2013 American Music Awards at Nokia Theatre L.A. Live on November 24, 2013 in Los Angeles, California. (Photo by Kevin Winter/Getty Images)

US-ENTERTAINMENT-MUSIC-AMERICAN MUSIC AWARDS-ARRIVALS

Lady Gaga arrives for the 2013 American Music Awards at the Nokia Theatre L.A. Live in downtown Los Angeles, California, November 24, 2013. AFP PHOTO / Frederic J. Brown (Photo credit should read FREDERIC J. BROWN/AFP/Getty Images)

US-ENTERTAINMENT-MUSIC-AMERICAN MUSIC AWARDS-ARRIVALS

Lady Gaga arrives for the 2013 American Music Awards at the Nokia Theatre L.A. Live in downtown Los Angeles, California, November 24, 2013. AFP PHOTO / Frederic J. Brown (Photo credit should read FREDERIC J. BROWN/AFP/Getty Images)

2013 American Music Awards - Show

LOS ANGELES, CA - NOVEMBER 24: Lady Gaga performs onstage during the 2013 American Music Awards at Nokia Theatre L.A. Live on November 24, 2013 in Los Angeles, California. (Photo by Kevin Winter/Getty Images)

H&M And Lady Gaga Open Epic H&M Store In Times Square

NEW YORK, NY - NOVEMBER 13: Lady Gaga poses inside the newly opened H&M store in Times Square on November 13, 2013 in New York City. (Photo by Larry Busacca/Getty Images for H&M)

Glamour Honors The 23rd Annual Women Of The Year - Arrivals

NEW YORK, NY - NOVEMBER 11: Glamour Editor-in-Chief Cindi Leive (L) and Lady Gaga attend Glamour's 23rd annual Women of the Year awards on November 11, 2013 in New York City. (Photo by Larry Busacca/Getty Images for Glamour)

2013 American Music Awards - Show

LOS ANGELES, CA - NOVEMBER 24: Singer Lady Gaga performs onstage during the 2013 American Music Awards at Nokia Theatre L.A. Live on November 24, 2013 in Los Angeles, California. (Photo by Kevin Winter/Getty Images)

The 20th Annual Watermill Center Summer Benefit

WATER MILL, NY - JULY 27: Lady Gaga attends The 20th Annual Watermill Center Summer Benefit at The Watermill Center on July 27, 2013 in Water Mill, New York. (Photo by Sonia Moskowitz/Getty Images)

The 20th Annual Watermill Center Summer Benefit

WATER MILL, NY - JULY 27: Lady Gaga attends The 20th Annual Watermill Center Summer Benefit at The Watermill Center on July 27, 2013 in Water Mill, New York. (Photo by Sonia Moskowitz/Getty Images)

Lady Gaga Attends Devil's Heaven Gala Benefit For Robert Wilson's Watermill Center

NEW YORK, NY - JULY 27: Lady Gaga attends the 'Devils Heaven' gala benefit for Robert Wilson's Watermill Center on July 27, 2013 in Watermill New York. (Photo by Steve Sands/Getty Images)

The 20th Annual Watermill Center Summer Benefit

WATER MILL, NY - JULY 27: Lady Gaga attends The 20th Annual Watermill Center Summer Benefit at The Watermill Center on July 27, 2013 in Water Mill, New York. (Photo by Sonia Moskowitz/Getty Images)

The 20th Annual Watermill Center Summer Benefit

WATER MILL, NY - JULY 27: Robert Wilson and Lady Gaga attend The 20th Annual Watermill Center Summer Benefit at The Watermill Center on July 27, 2013 in Water Mill, New York. (Photo by Sonia Moskowitz/Getty Images)

The 20th Annual Watermill Center Summer Benefit

WATER MILL, NY - JULY 27: Lady Gaga attends The 20th Annual Watermill Center Summer Benefit at The Watermill Center on July 27, 2013 in Water Mill, New York. (Photo by Sonia Moskowitz/Getty Images)

Celebrity Sightings In New York City - July 11, 2013

NEW YORK, NY - JULY 11: Lady Gaga is seen in Midtown on July 11, 2013 in New York City. (Photo by Alo Ceballos/FilmMagic)

NYC Pride 2013 - The Rally

NEW YORK, NY - JUNE 28: Musician Lady Gaga speaks at The Rally during NYC Pride 2013 on June 28, 2013 in New York City. (Photo by Michael Stewart/WireImage)

NYC Pride 2013 - The Rally

NEW YORK, NY - JUNE 28: Musician Lady Gaga speaks at The Rally during NYC Pride 2013 on June 28, 2013 in New York City. (Photo by Michael Stewart/WireImage)

NYC Pride 2013 - The Rally

NEW YORK, NY - JUNE 28: Lady Gaga attends The Rally during NYC Pride 2013 on June 28, 2013 in New York City. (Photo by Robin Marchant/Getty Images)

Lady Gaga acude al lanzamiento de su nueva fragancia 'Fame' en Londres. (Octubre 7, 2012) (Photo by Joel Ryan/Invision/AP)

Lady Gaga acude al lanzamiento de su nueva fragancia 'Fame' en Londres. (Photo by Joel Ryan/Invision/AP)

Lady Gaga acude al lanzamiento de su nueva fragancia 'Fame' en Londres. (Photo by Joel Ryan/Invision/AP)

Lady Gaga saluda a sus fanáticos en Milán, Italia. (Oct. 1, 2012) (AP Photo/Luca Bruno)

Lady Gaga en Milán, Italia. (Oct. 1, 2012) (AP Photo/Luca Bruno)

Lady Gaga en Milán, Italia. (Oct. 1, 2012) (AP Photo/Luca Bruno)

Lady Gaga en una pasarela de Philip Treacy en el London Fashion Week Spring/Summer 2013. (Septiembre 13, 2012) (Photo by Gareth Cattermole/Getty Images)

Lady Gaga en una pasarela de Philip Treacy en el London Fashion Week Spring/Summer 2013. (Septiembre 13, 2012) (Photo by Gareth Cattermole/Getty Images)

Lady Gaga asiste a un evento en Nueva York en noviembre, 2011.

Lady Gaga presenta su fragancia en Nueva York. (Septiembre 14, 2012= (Photo by Evan Agostini/Invision/AP)
NO DESNUDA... PERO SIN MAQUILLAJE:
Loading Slideshow
Lady Gaga

"Have a beautiful day!!" (Tengan un bonito día) <br><a href="http://twitpic.com/91nsx4" target="_hplink">http://twitpic.com/91nsx4</a>

Rihanna

"Just realized how dumb u look takin self pix on iPhone thanx to @leandra246" (Me acabo de dar cuenta lo tonta que se ve una tomándose fotos a sí misma con su iPhone)<br><a href="http://instagr.am/p/KEe0oyBMys/" target="_hplink">http://instagr.am/p/KEe0oyBMys/</a>

Katy Perry

Esta foto se la sacó su ahora ex marido Russell Brand a la mitad de la noche en su cama.

Nicole Scherzinger

"Uhh...Does anyone know how to work this twisty towel thing? Haha!" (¿Alguien sabe cómo funciona esta cosa de la toalla envuelta en el cabello?)<br><a href="http://say.ly/ObH1iZN " target="_hplink">http://say.ly/ObH1iZN </a>

AnnaLynne McCord

"I woke up this morning and decided I'm over Hollywood's perfection requirement. To all my girls(and boys) who have ever been embarrassed by their skin! I salute you! I'm not perfect - and that's okay with me!" La estrella de "90210" dijo: "Desperté esta mañana y decidí que me he cansado del requisito de la perfección en Hollywood. A todas mis niñas (y chicos) que han sido avergonzadas por su piel, mis saludos. No soy perfecta - y estoy bien con eso".<br><a href="http://twitpic.com/9h9dm3" target="_hplink">http://twitpic.com/9h9dm3</a>

Jennifer Love Hewitt

"The no make up look... Glam look to follow" <br>("Mi look sin maquillaje... el look glam viene más adelante") <a href="http://lockerz.com/s/202020384 " target="_hplink">http://lockerz.com/s/202020384 </a>

Snooki

"No make up day :) and IDC :)" ("Día sin maquillaje y no me importa")<br><a href="pic.twitter.com/ikJ1JJLX" target="_hplink">pic.twitter.com/ikJ1JJLX</a>

Kelly Osbourne

"Just found my favorite pj's! Got to be up at 5am for @e_fashionpolice thank god for my jet lag & comfy bed night night #tweethearts" ("Acabo de encontrar mis pijamas favoritas. Debo estar despierta a las 5am para el programa Fashion Police y gracias a Dios por mi cansancio tras el vuelo y una cama cómoda. Buenas noches")<br><a href="http://instagr.am/p/L1mX8xgb0n/" target="_hplink">http://instagr.am/p/L1mX8xgb0n/</a>

Katy Perry

"Reunited and it feels so good... Me & Kitty Purry havin a kip." ("Reunidas y se siente tan bien... Yo y Kitty Purry tomándonos una siesta") <br><a href="http://twitpic.com/7lhr69" target="_hplink">http://twitpic.com/7lhr69</a>